We Want Your Reviews
And we will pay for them.... Its true, for a limited time I will pay £5.00 directly into your Paypal account on every review submitted to the site.
To make sure that I don't go bankrupt I am limiting this to the first 20 people who submit per month. And its one review per submission please?
Whats the Catch?
No catch really. Just submit your 250-500 word review of your family car with a picture to verify you do actually own the said car, or have at least driven it whilst borrowing or hiring. You can submit as many reviews as you like but submit them individually. They have to be written for a family audience, and that means no Swearing! Please include the Make, Model and Year of the Car in your Title and a few pointers on what you liked and didn't like. Then finally please mark your vehicle out of 10.
How do I get my Fiver?
Follow the Step by Step Instructions Below:-
Step One
Become a Fan on Facebook - www.facebook/Motormum - This is the first of many offers so being a Fan is the best way to find out new things.
Step Two
Email us at reviews@motormum.com with your review and attach a picture if possible, (not mandatory). If you can send in a picture, please don't worry because I'll smudge out your number plate if its in view.
Step Three
In the email you send me make sure you tell me which Paypal Email Address to send the £5.00 too. (This is Very Important!)
Step Four
Wait for confirmation that you are one of the months 20 people that will receive a Fiver for their review. If you missed your chance I can add you to the following months submissions.
Step Five
Spend your fiver on whatever you like. You can get a million and one things off Ebay for less than a fiver - and thats including postage!
Step Six
Share your fiver fortune on your facebook wall so that others will know that its a genuine offer. Because I bet you weren't sure at first were you?
Review Example:
Kia Carens 58 Plate Dark Blue
Mark out of 10 = 7
★ ★ ★ ★ ★ ★ ★ ☆ ☆ ☆
I bought my Carens a while back and it has really served me well. The flip down seat in the third row are ideal for extra passengers, even adults. Considering the size of the car it actually has a lot of space. The middle row seats have two ISOFIX fixings on the outer two seats. The middle seat in the middle row is a bench seat. I had the 1.6 Diesel, which worked out about £165 in Car Tax a year. I got an average of about 40 miles per gallon. I bought it when it was 18months old for about 10K. I think it was about 16K new.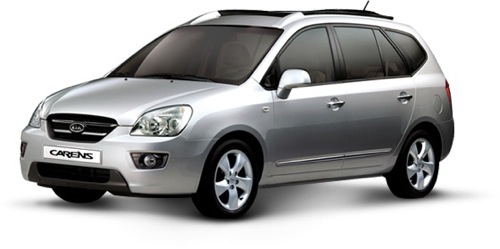 What I liked
The easy flip down seats in the back. The cheap Car Tax and 5-Year warranty. The initial purchase price. Quite Cheap servicing, (about £200).
What I didn't like
No tinted windows – but you can get these on higher specification versions. Sounded a bit clunky and the engine was a bit loud.
Review by AJ, Mum and Personal Slave to Four Children