Ssangyong Rodius
Expert & User Reviews
The SsangYong Rodius has been reviewed by Experts (4) and Users (27). Its average score is 55 out of 100. This is based on 31 reviews.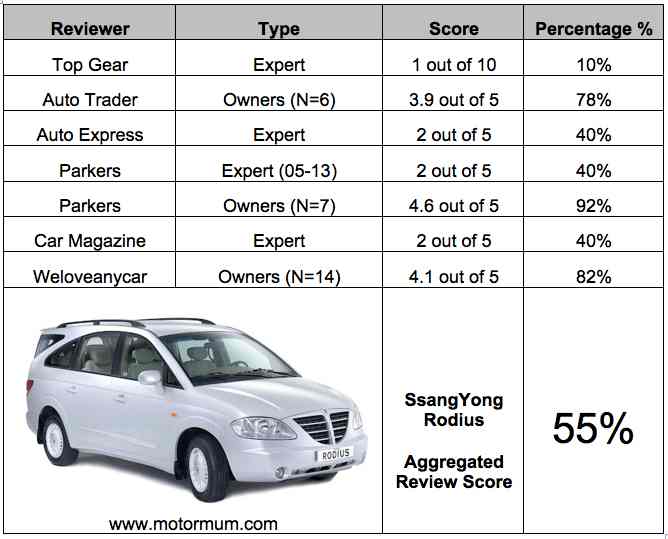 Top Gear - Expert
Hated by Top Gear, the SsangYong Rodius' only redeeming feature is how big it is. They hate the look but love the practicality. It is big but it is ugly. It is cheap and they say it looks it.
Not surprisingly this is reflected in their low score. Personally I think they are being a bit mean. The rating given is 1 out of 10.
Auto Trader – Owners (N=6)
In contract to Top Gear the owners a SsangYong Rodius love these huge MPV's. The space, swivel seats, head room and large boot space (with all seats upright) are positively commented about from most owners. Okay so there maybe a problem just popping down the shops and nipping into a small parking space, but forgetting that, it is the perfect Family Car if you want big and you want cheap.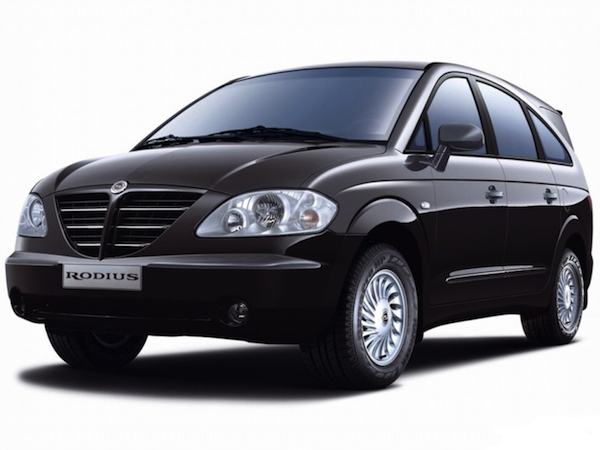 Ssangyong Rodius front view pictured above.
One owner says his SsangYong Rodius is just as thirsty as his friend's Audi Q7 (I love Audi's). You could pimp up your ride with some alloys and extras (something SsangYong has been improving on). The score is 3.9 out of 5.
Auto Express - Expert
Despite the low marks assigned by Auto Express, they do like the diesel engine it has from Mercedes. Despite this there are still negatives stated about the performance, ability to reach 60MPG and general lack of style of the SsangYong Rodius. It is not a refined cruiser like the Ford Galaxy. The rating given is 2 out of 5.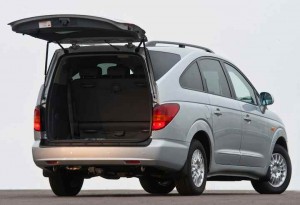 Ssangyong Rodius boot space pictured above.
Parkers - Expert
Parkers love the long warranty that has come into force since 2009 (5 years and 250K miles). It is not green (because it is big). It is cheap with a reasonable amount of equipment on basic models. Some feel the size is too big to drive. It is the biggest MPV available in the UK. The rating given is 2 out of 5.
Parkers – Owners (N=7)
One owner paid £6,000 for his 2nd hand SsanYong Rodius and says it's the best MPV (+7-seats) he's ever had and he's owned a few (Renault, Ford, Kia and Mercedes). The space for families is just so incredibly practical. Did I mention that this car is big with a capital B. Most people are shocked with the low cost of buying one new or 2nd hand. It seems you get a whole lot of car for your money. Not one real owner says anything negative to about owning the SsangYong Rodius. It is such a shame the experts are portraying it differently. The rating given is 4.6 out of 5.

Ssangyong Rodius seating options pictured above.
Car Magazine - Expert
This review was undertaken in 2008 on the 270 S SsangYong Rodius. Car Magazine is on the money when they suggest people buy this car because they want practicality without giving a stuff about the not so popular badge. The SsangYong Rodius a sensible choice in an expensive world.
If you want more by paying less, here's your answer. Although it is a bit tricky to park (due to its size) there are parking sensors and lots and lots of boot space. This review is surprisingly positive, which doesn't quite relate to the overall score given of only 2 out of 5.
www.weloveanycar.com – Owners (N=14)
These write ups are so positive it brings a tear to my eye. I do well up a lot though. I feel sorry for the SsangYong Rodius. So many real owners love this MPV. A few people have travelled through Europe in extreme comfort (good A/C and heating). The only gripes (albeit small) are the availability of second hand parts. That aside people love the SsangYong Rodius and hold onto them for as long as they can. The overall score rating given is 4.1 out of 5.
Conclusion
It depends on what type of person you are when choosing to buy a SsangYong Rodius MPV. Do you want to spend what you want to get more than you need? Or do you want to spend more paying for a car with a posh badge. It's like buying branded products for twice the price.
It is clear that the experts have been (in my opinion) overly critical and disregard the huge requirement and satisfaction a car like this gives the regular Joe Blogs like you and I. I fancy buying one of these to drive through France. Let's face it I'd be saving around £10K buying a Rodius over a Chrysler. Oh and a plastic interior (in my opinion) is perfect for children. I do wonder if any of the expert reviewers have ever had to transport children.
The Aggregated Car Score given by motormum for the SsangYong Rodius is 55%.
.more...