Hyundai 7-Seaters
South Korean automaker Hyundai has come a long, long way since it first emerged in the West with its Pony car in the 1980s. Today, the automotive group is a global giant, with some 75,000 employees around the world.
Last year, Hyundai sold 1.7 million vehicles internationally. Some of those were seven-seaters, two of which you can buy today in Britain. The Hundai Santa Fe and the i800.
Hyundai Santa Fe
The more accessible and radically more attractive of these is the Santa Fe. In production for more than a decade, this mid-sized crossover SUV is a world away from 1983, when the company first sold its cheap but very basic Pony in Canada.
In the USA, Hyundai sold its first Pony in 1986. This was rapidly followed by the Excel, which became a top-ten hit for economy.
Hyundai Santa Fe pictured above
The Santa Fe brought Hyundai another huge hit in the USA. This snappy seven-seater proved so popular with Americans that Hyundai struggled at times to meet demand.
What makes the Santa Fe so popular? Well, for a start, there aren't that many seven-seat vehicles available at this size and price.
The first-generation Santa Fe may not have been the sexiest-looking beast alive but it did a lot of things right. Exterior styling has improved in successive generations and today, though it's still not beautiful it has a certain charm.
With price starting at around £25,000, the Santa Fe is a bit of a bargain. For this money, you get a seven-seat crossover with a 4wd system that splits torque as required, a roll-over sensor, six airbags, air-conditioning, electronic stability programme and reversing sensors.
The Santa Fe's 2.2 CRDi engine manages some impressive emissions figures whilst maintaining excellent fuel economy. An Eco Drive indicator make sit even easier to keep fuel bills down.
What to do if you like the Santa Fe but the seating arrangements are still too limited for you? Well, Korea's motoring powerhouse has you covered there, too.
i800 - Eight Seater Car.
The Hyundai i800 costs even less than a Santa Fe and yet it manages to carry even more people. Thanks to the van format, eight people can enjoy plenty of room inside and still carry a lot of luggage. With eight people aboard, the i800 has 851 litres of cargo space left.
The i800 is powered by a 2.5-litre diesel engine, the i800 should be able to maintain decent progress, even when carrying a small sports team and equipment. Air-conditioning comes as standard and second-row passengers even get their own controls.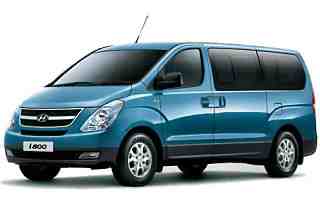 Hyundai i800 Eight (8) Seat MPV pictured above.
And that's not all, as they say. The Hyundai i800 comes with remote central locking, an alarm, electronic stability programme, reversing sensors, electric windows in the front, privacy glass, a heated driver's seat and front fog lights.
The i800's 170bhp engine is mated to a five-speed manual gearbox. The stereo radio and CD player is compatible with MP3s and powers six speakers.
Safety is provided with anti-lock brakes, front air bags, traction control and an immobiliser. There's no option for an automatic transmission but you can choose leather seat trim, metallic paint and a SmartNav system.
.more...