Volkswagen (VW) 7‐Seater Cars
Volkswagen seven seater cars include the Caravelle, Shuttle, Touran, Sharan and Cady Maxi Life. Quite a choice!
When you need to move a large family or maybe family and friends, you need something with plenty of room and seating. Even today, it can be quite a challenge to find a vehicle that comfortably seats seven people while retaining plenty of storage space without resorting to trucks or large vans.
A few European automakers have made concerted efforts to develop multiple models offering seven seats plus luxury and efficiency. Even those companies, however, started by adapting vans for the job. Volkswagen today offers one of the best choices of seven-seat vehicles for family use. However, the range largely retains its roots in the world of vans.
Volkswagen Caravelle
The longest-serving model is the Caravelle. Also known as the T5 Transporter, this is most definitely a product from the company's commercial vehicle department.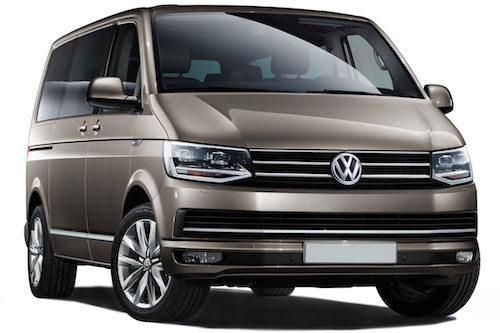 Volkswagen Caravelle pictured above.
In fact, the VW Caravelle is just one of several passenger-vehicle variations on the T5 theme. The Kombi model is VW's entry-level Transporter van for passengers and only has seating for six people.
Volkswagen Shuttle
The Shuttle variant comes in at an entry price of £26,406 and offers either eight or nine seats.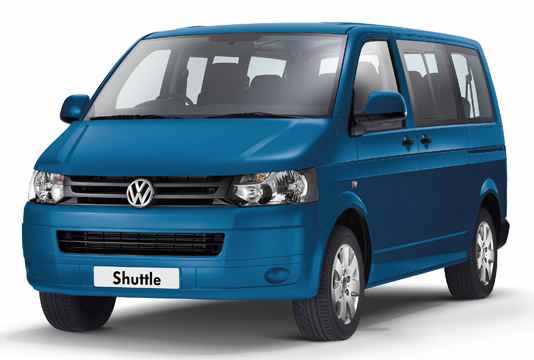 Volkswagen Shuttle pictured above.
A capable performer when it comes to carrying plenty of people, the Shuttle is, alas, rather basic.
If you're seeking something in the Transporter range with a little more luxury, you'll want to look at the Caravelle (above). The entry price of £33,365 gets you a lot of seating but this time, it's provided in a much more executive style. Seating can easily be re-arranged and opting for the long wheelbase Caravelle ensures you still have room for cargo.
Despite the facility and luxury available from the Caravelle, you and your passengers will still be left in no doubt about the vehicle's van/truck origins. In fact, the Transporter Shuttle is no longer offered in the USA, as its designation as a truck means it is charged with a whopping 25-per cent tax, which destroys the competitiveness of the model in a market that already eschews the van format in favour of SUVs. If you really need eight or nine seats, then the Caravelle and Shuttle are excellent options. However, most families will be seeking something a little smaller and more akin to a car or an SUV.
Volkswagen Touran
The VW Touran has less overall interior room than the Sharan but the Touran's format is much newer and probably easier to live with on a daily basis. Not only will you pay less to buy the Touran but your outlay for fuel, insurance and car tax will also be lower.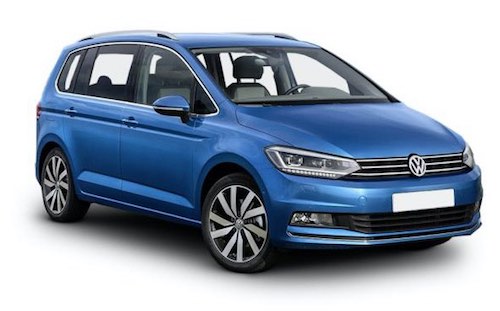 Volkswagen Touran pictured above.
For many buyers, especially those in the USA, the term seven-seater has become synonymous with the SUV. Many drivers in the USA expect to sit high and at least pretend that they can drive off-road. The Touareg is VW's oldest SUV model and sits in the sector occupied by the Audi Q7, the Porsche Cayenne and other similar luxury SUVs.
Volkswagen Sharan
For drivers seeking seven seats without the truck-like driving experience, the Sharan has long offered one of the top MPVs on the market. Originally built on a platform shared with Ford's Galaxy, the model is now a totally separate product. Base prices for the VW Sharan start at £23,470 and range up to £31,230, making it a relatively pricey option in terms of family vehicles.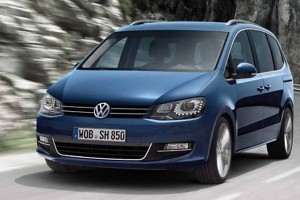 Volkswagen Sharan pictured above.
The Sharan does, however, come with a fairly good specification and the BlueMotion model offers both excellent fuel economy and relatively low emissions. For a similar level of space and facility at a much lower price, you'll want to look at the Touran. For less money, you get slightly less car in some ways but this could be a plus, especially when it comes to driving.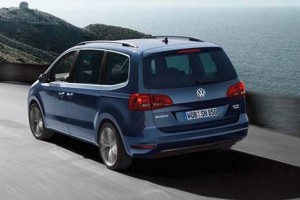 Volkswagen Sharan pictured above.
Where the Sharan offers a good basic level of luxury, even in the cheapest version, the Touran gives you seven seats for a good deal less money. What is more, the smaller vehicle is easier to drive and enjoys significantly better fuel economy. In terms of fuel economy, the Sharan aims to beat 50mpg. This is not bad but the most efficient Touran offers fuel economy that exceeds 60mpg, which is quite astonishing for a seven seater.
VW Caddy Maxi Life
The VW Caddy Maxi Life is a commercial 7-Seater. If you can wait a little while, you may also get to enjoy the first of the seven-seat Touaregs.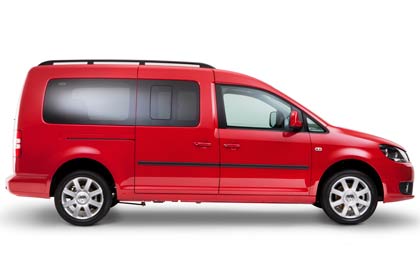 Volkswagen Caddy maxi life pictured above.
Possible Touereg 7-Seater
Past Touaregs failed to set the market on fire. Reviewers were unimpressed with the model and buyers struggled to reconcile the idea of spending up to £60,000 on something with a VW badge on the bonnet. The recently-redesigned Touareg 2 has been a bigger hit with reviewers but alas suffers from one significant failing – it only has five seats. This is a big limit on VW's potential sales in the USA so recent rumours of a new seven-seat Touareg being in the works could well be true.
.more...