Kia 7-Seater Cars
Kia, which is South Korea's oldest automaker, has come a long way since it was born in 1944. There are three 7-Seaters available from Kia UK, these are the compact Kia Carens larger Sedona and 4WD Sorento. Offering its first cars in 1974, their automotive output was for many years known only for cheap but otherwise rather uninspiring automobiles.
This has changed dramatically in recent years, however. Kia has steadily improved both the designs and the build quality of its cars to the point where in many cases, the only thing stopping some buyers from choosing one instead of a Toyota, a Nissan or in some cases, an Audi or a Volkswagen, is the bonnet badge and the name on the boot lid.
Kia Carens
The smallest of these seven-seaters is the Carens. With prices starting at £14,305 on the road (OTR) for what is a well-built and reliable vehicle with a range of engine and transmission options. The Kia Carens is a strong offering in the mid-sized MPV sector. One little wrinkle in this formula is the fact that the cheapest is only available with five seats. If you want seven seats in your Carens, you'll have to stump up a few thousand pounds more and go for the 1.6 CRDi '2' or '3'.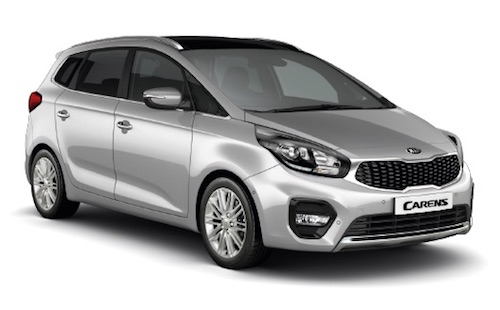 Kia Carens pictured above
So, what do you get for your £16,000 and change? Well, you get a tidy, capable and relatively compact MPV that will carry seven people in fair comfort. Granted, the looks will have few people lusting after your new car but it's not a bad-looking car. Though neither the looks nor the dynamics will set a motorist's heart on fire, this is actually a pretty good car and at this price, buyers are highly unlikely to find anything comparable.
The diesel engine is the best choice as it provides similar overall performance to the petrol engine, better torque and superior fuel economy. The low insurance costs, reasonably frugal thirst for fuel and good reliability should make this car economical to run. Kia also supplies a seven-year warranty, which should hopefully shore up what might otherwise be poor residuals.
One of the other potential problem areas is the lack of boot space. Once you get seven people into the car, the remaining available storage space is a little on the tight side. On a brighter note it come with a roof rack for adding a roof storage box.
Kia Sedona
For drivers seeking a bigger option for moving seven people, Kia offers the Sedona. The purchase cost is substantially higher than that of the Carens but of course, you get much more car. As with the smaller Carens, motorists looking for verve, flair and passion will definitely want to look elsewhere. Unless your wallet precludes you from doing so, of course, in which case this has what you need at a price that is more palatable than the sexier alternatives.
Kia Sedona (original style) pictured above.
The Sedona will happily seat seven people with plenty of comfort and space. As with the Carens, the Sedona's exterior styling is nothing to write home. On the other hand, it's far from offensive and pretty well tells you what to expect: a solid and practical MPV that does what most people need without any real personality. When it comes to purchase and running costs, the Sedona continues the theme introduced with the Carens. For starters, the cheapest Sedona clocks in at less than £21,000. That's not exactly pocket change but you are getting a reliable and roomy MPV that can carry seven people in comfort.
At that price, you and your six friends won't be getting anywhere in a hurry, however. The 2.2-litre engine, especially mated to the automatic transmission, will struggle to make haste. Opt for the (slightly quicker) manual gearbox and you'll also save about £1,500. The Sedona is far from the best in its market sector but it does offer safe, sensible, seven-seat motoring at a bargain price. Fuel economy is good, insurance costs are low and the seven-year warranty is nothing to sneeze at.
The 4WD Sorento 7-Seater
The Sorento is a 4x4 seven seated vehicle that has much the same bootspace as the Carens. It costs between £20,000 and £30,000 and is supposed to be the most upmarket of the 7-seater options.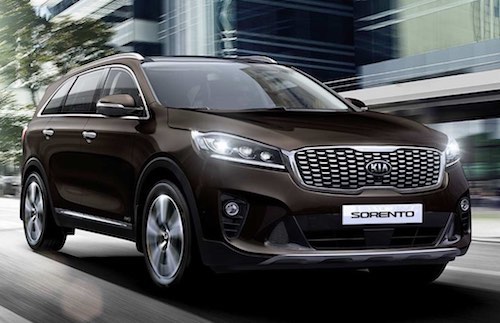 Kia Sorento (2016 Facelift style) pictured above.
The stereo is a better model and the interior specifications are more superior than the Sedona and Carens. Car insurance falls between brackets 12 and 15 with running costs being about 36MPG and quite a high Car Tax bracket. With the new facelift the Sorento is serious competition to the Audi Q7 or BMW X5.
Seven (7!!) Year Guarantee
As well as the more affordable 7-Seater option, the Kia comes with a fantastic 7 year long warrantee that will help most families feel secure that they will have relatively hassle free motoring for a significant length of time.
Kia Seven Seaters