Mercedes Benz MPVs
This page details the 7 Seater Mercedes Benz MPVs which include the GL, E-Class, G-Class, R-Class & 8-seat Viano.
In the 1980s and 1990s, if you had a huge pile of money and needed a luxury car with seating for seven, you really didn't have a big problem. Say you happen to be the Sultan of Brunei, you just pop down to coachbuilders Mulliner and order a custom extended Bentley estate with four-wheel drive.
Few people outside the world of dedicated car geeks know that Bentley and Mulliner produced a few of these exotic SUVs. Not only did these custom builds cost more than a small house but they're so rare you're unlikely ever to see one. So where does that leave the relatively wealthy motorist seeking a way to move seven people in luxury?
If you have between £30,000 and £100,000 to spend on a seven seater in the UK, you actually have a reasonable range of choices but finding out what is available can be a challenge.
The German luxury automaker Mercedes-Benz probably produces a greater variety of luxury seven seaters than any other company in the world but figuring out exactly which options the maker offers takes some work. We've done the homework for you.
R Class (LWB)
Perhaps the most spacious car-shaped vehicle Mercedes-Benz offers with seven seats is the R-Class. However, you'll need to opt for the bigger LWB or the long wheelbase model in the Mercedes-Benz R-Class range to get seven seats.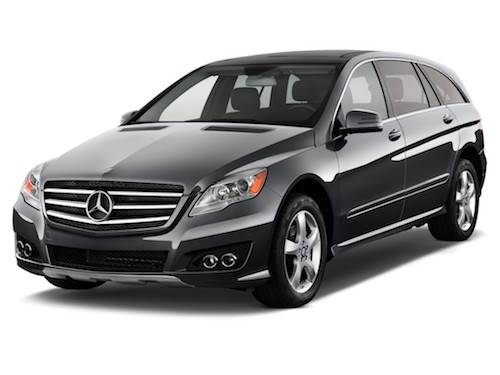 Mercedes Benz R Class pictured above
Appearing like a stretched E-Class with a tall tailgate, the Mercedes R-Class LWB has a reasonably handsome look. Pricing on the road starts at just under £45,000 for the R350 CDI LWB, which gives you a V6 diesel engine with the 7G-Tronic seven-speed automatic transmission.
If you think the price is a little on the low side, don't worry: Mercedes-Benz gives buyers plenty of options that will rapidly push up the price. Let loose on the options list like a kid in a candy shop, we had no trouble adding £15,000 in extras to the base price.
If the R-Class is a little too car-like for your tastes, Mercedes-Benz has a few alternatives when it comes to seven seaters. The GL model, which has been around for a few years now, recently became available with seven seats.
The GL 7-Seater
The Mercedes GL is a big vehicle and it looks rather like a German take on the Toyota Landcruiser. The price tag, however, definitely does not say Toyota.
The price of a Mercedes-Benz GL starts at more than £58,000 for a V6 diesel GL 350 CDI BlueEFFICIENCY model. If you want the GL 500's big V8 engine, expect to fork out at least £70,000.
Mercedes Benz GL Class pictured above
If that's still not enough luxury for you, don't worry. Playing with the Mercedes GL options list on either GL will soon have you adding another £15,000 to £20,000 to the cost.
If there is one complaint that can be levelled at both the R-Class and the GL, however, it is that neither is truly a seven-seat car. In both cases, the third row of seats offers a kind of seven-seat lite.
They'll do for ferrying small kids but most adults will be uncomfortable and worse, using these seats puts a serious dent in the car's ability to carry cargo. So if you're trying to take the whole family with friends and toys to the beach or for a picnic, you could even find your £100,000 Mercedes-Benz wanting.
Viano – 7 or 8 Seat Car
That is unless you buy a Viano. The Viano is a large MPV offering true seven-seat motoring in luxury. There's even an option for eight seats.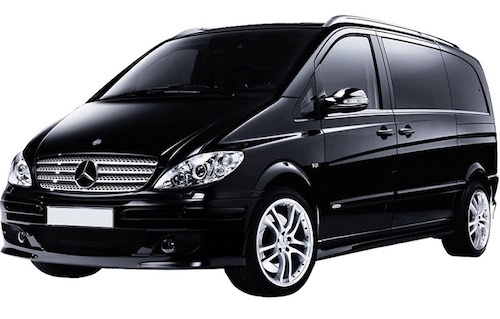 Mercedes Benz Viano (8 seats) pictured above
The Mercedes Benz Viano is, however, a luxury-specced van rather than a car or even an SUV. The Viano is available with a range of engines, from a pair of four-cylinder diesels to a 3.0-litre V6 diesel. Despite the size of the vehicle, the latest engines produce a remarkably low level of CO2 emissions.
Pricing for the Viano starts at just over £28,000. That's not bad for a vehicle that lets you carry up to eight people and plenty of cargo in the luxury style you expect from Mercedes Benz.
E-Class Estate
The Mercedes Benz E-Class was new for 2011. It has two rear seats that face backwards.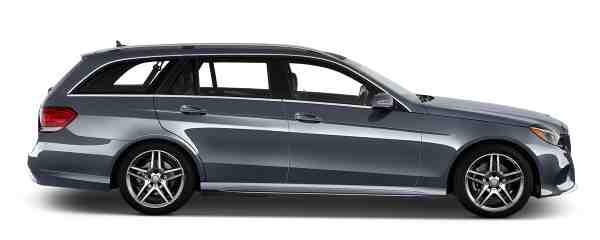 Mercedes Benz E Class Estate pictured above
Although quite a unique concept I can see what Mercedes were trying to do. The seats would only ever be used on a temporary basis for short journeys
The G-Class Off Roader
Another addition ot the Mercedes MPV family is the Mercedes-Benz G-Class which is a true off roader with a third row bench seat.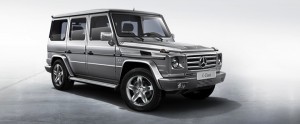 Mercedes Benz G Class Estate pictured above
.more...