SEAT 7‐Seater Cars
There are two types of MPVs from SEAT (with seven seats). These are the SEAT Alhambra and the SEAT Tarraco. The Alhambra has been around for a number of years whereas the Tarraco is a new kid on the block (production began in 2019).
SEAT is a Spanish company, which aims to built its cars using as much solar power as possible. For example the SEAT Tarraco is built using 50% solar power in sunny Barcelona. SEAT has been in business since the 1950s. SEAT is the largest car manufacturer in Spain.
SEAT owned by Volkswagen
Despite being the largest manufacturer in Spain, SEAT couldn't hold its own and in 1986, for whatever reason, the Spanish Government sold the company to German motor company Volkswagen. That is why there are so many similarities between SEAT and Volkswagen cars. For example the SEAT Alhambra is very similar to the Volkswagen Sharan. SEAT is generally considered a more affordable option but without the Volkswagen badge.
SEAT Alhambra
The SEAT Alhambra is large and functional. It has been around for a few years and is very similar to the Ford Galaxy and Volkswagen Sharan. As it has been around since the 90s you can reasonably expect to pick up a second hand version for around a thousand pounds. Although larger than the SEAT Tarraco it isn't the largest 7‐Seater available in the United Kingdom.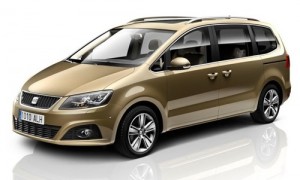 At just under 5 metres long miles per gallon average around 30, although newer models are far more fuel efficient (as expected).
SEAT Tarraco
The new SEAT Tarraco is a recent edition to the SEAT brand. It also comes with seven seats as standard and promises up to 47 miles to the gallon with the 150PS diesel engine.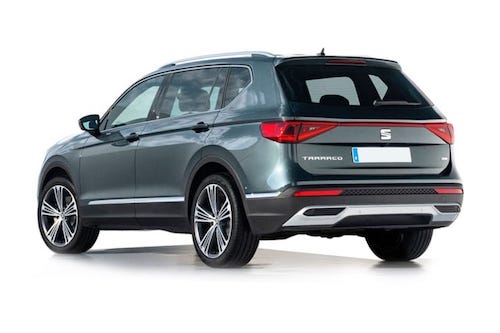 On the road prices vary from around 30k and rise to just under 40k. The Tarraco is slightly shorter than the Alhambra and this leads to it looking more like a 5 seat MPV than a seven seater.
SEAT Headquarters
SEAT headquarters are near beautiful Barcelona in the city of Martorell (30 km from Barcelona). The production plant is one of the most modern of its kind in Europe. It covers a huge area (more than 400 football fields). Around seven thousand people work 24/7 to produce over two thousand units a day.
SEAT Cars Shipped Worldwide
SEAT cars are shipped to over 75 countries worldwide. As well as the 7,000 staff working in the plant there are over 2,400 robots, 10.5 kilometers of railway lines and 25 kilometers of roads. This amazing facility can produce a car every 40 seconds.
SEAT Energy Preservation
The railway line aim is to save power. Rather than road transportation a 25km track takes finished vehicles, by rail, direct to Barcelona. There is also a heat and power plant which helps to generate half the electricity required for manufacturing. This, along with the heat energy it consumes helps to reduce the amount of co2 emissions by at least 12,800 tonnes annually.
.more...