Ssangyong Rodius
4WD 7-Seater
The Ssangyong Rodius is a 4WD with seven seats produced by the South Korean car company Ssangyong (Double Dragons).
Established in 1954 it has a long history producing industrial 4x4s. The first consumer multipurpose vehicle (MPV) manufactured was the Korando in 1988. This was followed by the Musso in 1993, the Rexton in 2001 and the Rodius in 2004. The Rodius has a 2-2-3 seating configuration which gives excellent captain seats in the middle row and easy access to the third row. This is a vehicle that has been criticized for its looks in the past, a shell that was the brainchild of British designer Ken Greenley. But whether consumers like its looks or not there is one factor that they clearly adore and that's its price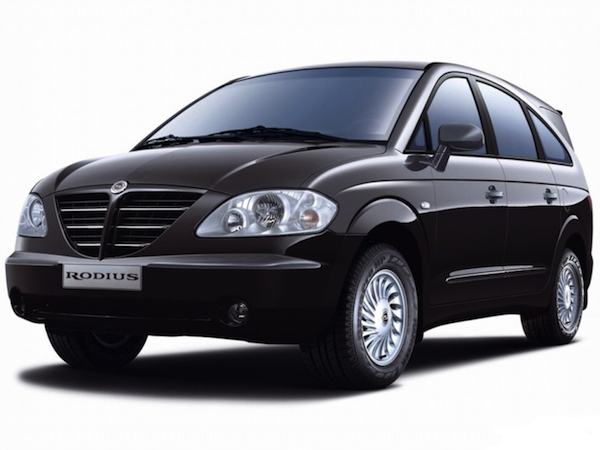 Ssangyong Rodius front view pictured above.
This has got to be one of the cheapest for its size people carrier out there. With prices starting at only £15,995 and going up to £21,995 its hard to beat. Extras such as metallic paint cost £500. For a touch screen sat nav, you're talking an extra grand. They don't seem to hold their value that well with second hand prices ranging from £2,000 to £20,000. All new models come with a 5-year warranty.
Running Costs
Fully servicing a costs approximately £195. A full service and MOT costs £235. An interim service costs £130. An interim service with added MOT costs £165. A MOT with a one year guarantee costs £59.
A MOT with a 3-year guarantee costs £119. It is advisable to check these prices before you budget for a car service and/or MOT. Prices can rise over time and change by locality. In terms of CO2 emissions, it is not a particularly green minded. The 270 S and ES manual models emit 223 g/km; the 270 ES auto model emits 247 g/km and the 270 EX auto model emits 250 g/km. This is at the top range of CO2 car emissions meaning that the Car Taxbands range from L to M.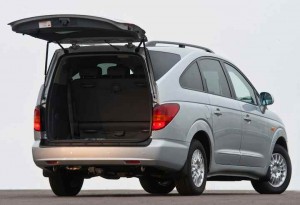 Ssangyong Rodius boot space pictured above.
Miles Per Gallon (MPG)
The urban miles per gallon (mpg) cycle ranges from 21.7 to 25.2, depending on the model chosen. The extra-urban cycle ranges from 35.5 to 38.2. The combined cycle ranges from 28.8 to 32.1. The fuel tank holds up to 80 litres of fuel.
Optional Equipment
The optional equipment includes Kenwood full touch-screen single CD player, RDS radio with navigation and reverse parking sensors (optional in the 270 S manual model but standard in all the other models). There are a multiple of ways to configure the seats, including being able to swivel the 2nd Row of seats.
Safety Features
Standard safety features include ABS with electronic brake distribution (EBD), an electronic stability programme(ESP), door impact beams, fog lights, dual airbags, power assisted steering and speed sensing door locks. Notably there are no curtain air bags for rear passengers which is a definite negative.

Ssangyong Rodius seating options pictured above.
Performance
The Ssangyong Rodius achieves 0-62 miles per hour in 14.18 to 15.05 seconds. Its maximum speed is 105 to 108 miles per hour. It has a 5 speed manual transmission; Mercedes Benz 5 speed T-Tronic Automatic for the 270 ES auto and 270 EX auto models. It runs on a Mercedes Benz-licensed engine that comes in a 3.2-litre petrol and 2.7-litre diesel generating more than enough power to ferry around the extended cargo that can fit over its three rows of seats. There is also a four-wheel drive version to add that extra bite in challenging conditions.
Dimensions and Cargo Space
Among the largest MPV vans on the market, the Ssangyong Rodius comes in different versions that pack in 7, 9 or 11 seats as part of a design that allows the folded seats to act as tables or go right down into the floor. To fit in all the seats the car comes with 3 or 4 rows of seats.
But please note, only the 7-Seat variant is available in Britain. However on a brighter note, the seats can slide, swivel and rotate to offer bags of space and flexibility when it comes to the huge interior that makes comparable models seem tiny by comparison. Being 5.125 meters long this certainly could be classified as a large seven seater. It is 1.915 meters wide and 1.845 meters high. The boot capacity with all seats upright is a generous 875 cubic litres.
Insurance Group
All of the Ssangyong Rodius models fall within insurance group 12. This is rather surprising considering the size of the vehicle and the emissions being at the top end of the scale.
Conclusion
Ssangyong itself compares the Rodius with the Chrysler Grand Voyager, Ford Galaxy and Kia Sedona. Although the Ssangyong Rodius has sometimes been negatively reviewed, it remains a very spacious and affordable people carrier. Price-wise nothing comes in this category, partly because in terms of space it's in a segment all of its own which makes it even better value. Ssangyong has been selling this MPV for about the same as a middle of the road Kia Venga super mini MPV. And that includes a five-year warranty. With this in mind there simply isn't a more cost-effective way to transport around large groups of people.
You May Also Like