Mitsubishi 7-Seater Cars
Mitsubishi 7-Seater Cars include the 4WD Outlander & Grandis. When you are looking to move a large group of friends, your family or team-mates around, then a seven-seater car is just what you need. They can minimise the need to buy two cars and have plenty of room to carry lots of equipment and luggage. There are many manufacturers out there that are designing and building vehicles just for this purpose and Mitsubishi is one of the best values for money out there.
While the styling may not be of European manufacturers' quality, the interiors, the ergonomic thought that goes into Mitsubishi 7-Seater Cars and the reliability of the Japanese car manufacturer can sway your vote.
Mitsubishi Grandis
The Grandis may not be the prettiest and looks like another stretched estate car, but the Grandis is a highly versatile seven-seater car. It's cheap to run compared to some of its rivals, returning 43mpg from the highly efficient 2.0 D-ID diesel that's seen in nearly all of Mitsubishi's models, and only pumps out 176g/km CO2, although it does command a hefty car tax, with a £550 showroom fee and £245 per year.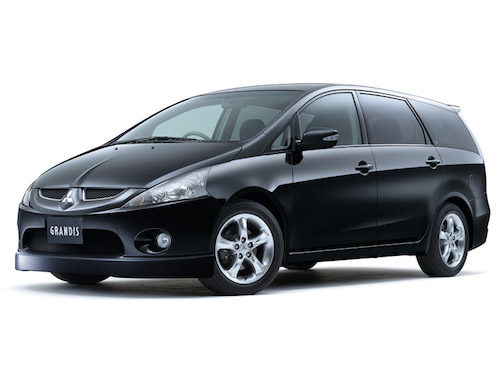 Mitsibishi Grandis pictured above.
Despite the Grandis odd looks on the outside, it looks great on the inside. The dashboard layout is easy to find switches while you're on the move, the seating arrangement, head- and leg-room are exceptional and if you don't use it to carry seven people around, the Grandis clever rear seats fold flat into the floor to make a huge boot space.
Mitsubishi Outlander
Previously called the Shogun or Challenger, the new 7-seater 4WD Outlander is a rugged off-roader first and a family seven-seater second. That doesn't mean it's no good on the road, but point it at the rough stuff, and you'll see why.
The list price for the Outlander is between £20-28,000 although that buys you an awful lot of car for your money. Again, it's available with the deeply impressive 2.0 D-ID diesel engine that still manages to return around 40mpg, despite being larger and heavier than the Grandis, and has similar road tax prices. There is a three-year service plan which keeps regular servicing costs low and it only pumps out 176g/km CO2.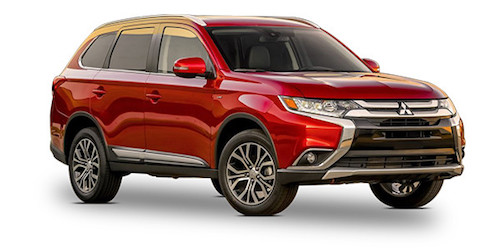 Mitsibishi Outlander pictured above.
Although the Mitsubishi Outlander has seven seats, due to the way it's designed those rearmost seats are only really good for children. It's best to think of the Outlander as a 5+2 seater, rather than an out-and-out seven-seater.
One of the best reasons to buy an Outlander is the wealth of standard equipment and the array of options on offer. There is ABS, driver and passenger airbags, electric windows and mirrors, Isofix child safety seat points, and even a DVD player. The ride is smooth, thanks to the softer off-road suspension and it would be no chore going on a long-distance drive in one.
The smart looks of the Outlander smash the competition, apart from maybe Audi's Q5 or Q7, but when you're looking for something a little different with seven seats, the Outlander is a great choice.
Mitsubishi Shogun
The Mitsubishi Shogun is a proper off-Roader vehicle that is available from about £26,000 new or even cheaper second hand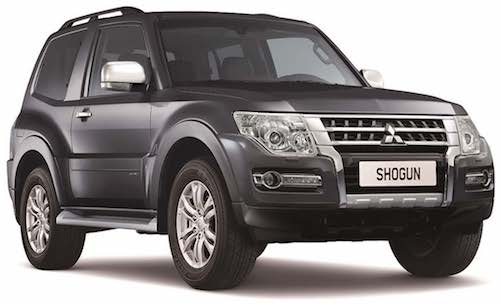 Mitsibishi Shogun pictured above.
The Mitsubishi Shogun concentrates on more power rather than cutting C02 emissions. If its a workhorse 7-Seater that you want the Shogun is perfect.