Toyota 7-Seater Cars
From rather humble beginnings selling the West cheap, efficient and sometimes fun cars that usually banked on the strength of being small, Japan's Toyota has expanded to become the world's number-one carmaker. Along the way, Toyota has created some notable sports cars, a luxury brand nearly capable of rivaling Mercedes-Benz, and a whole new market for green motoring. Toyota 7‐Seater Cars include the Prius Plus, Verso & Land Cruiser
Toyota Prius+
Perhaps the most notable of Toyota's MPVs is the Toyota Prius Plus. Launched in Japan in 1997, it represented a revolution in environmental motoring. Until recently, the Prius, which offers a hybrid power train, a range of technologies aimed at maximizing the vehicle's environmental efficiency, and some novel packaging ideas, was only available as a five seater. The model is now in its third generation and it has become one of the hottest saloons in some markets.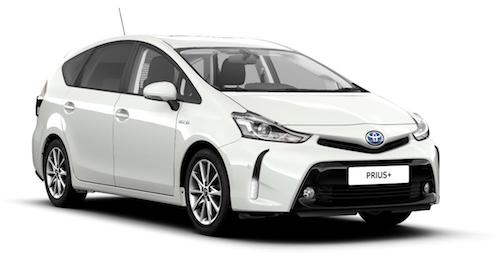 Toyota Prius Plus pictured above.
Toyota recently announced a seven-seat model to be sold alongside the regular five-seat hatchback. Called the Prius Plus, the new model is called the Alpha in Japan and the Prius+ in Europe. All models are plug in hybrid electric vehicles (PHEV). They combine battery power that can be charged from plug-in power points with small petrol engines that takeover when the battery runs low on juice or performance demands exceed the output of the electric power train.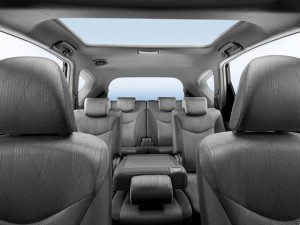 Toyota Prius Plus interior seating pictured above.
The Prius+ is on sale in the UK now. Though it looks very much like a stretched Prius, the Seven Seat Prius+ model is actually different in many ways and is both slightly longer and taller. Thanks to that hybrid power train, the Prius+ also offers something few other seven-seaters can offer: near-silent operation. When operating in completely electric mode, the Prius+ produces no engine noise and no tailpipe emissions.
Toyota Verso
The most practical is probably the Verso, a highly-regarded compact MPV that has been available for several years. Offering a 5+2 seating format, the Verso is remarkably compact people mover, though these relatively small dimensions represent a bit of a compromise.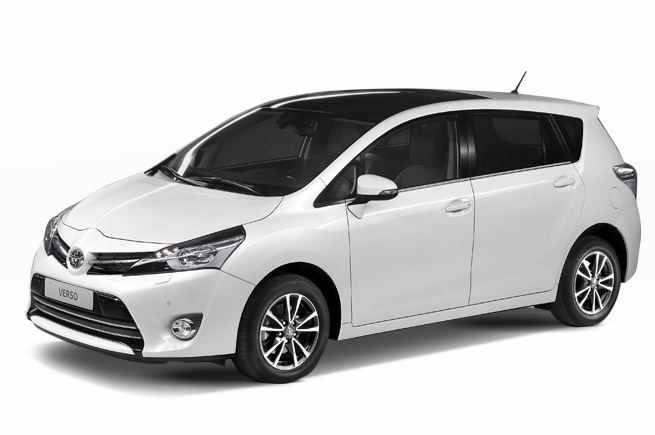 Toyota Verso pictured above.
The Verso is a good-looking car, something made more remarkable by its status as a seven-seater. That status, however, is a bit iffy as sticking a full complement of seven people inside the Verso is likely to lead to complaints, especially if you put full-sized adults in the third row of seats.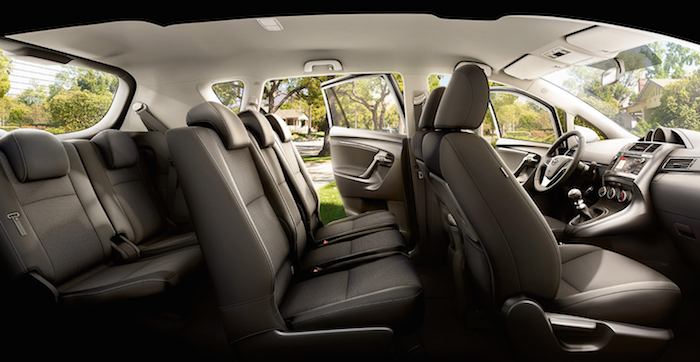 Toyota Verso seating layout pictured above.
The Verso's clever seating does make it very easy to make the most out of this cabin and children should be fine in the back for longer trips. Otherwise, the Verso makes a clever and capable performer that lacks any real sparkle in either its styling or its road manners.
The Verso comes with the usual legendary engineering and build quality. It is also available with several different engines, though the diesel is probably the one to go for, as it offers reasonable pace and superior fuel economy to the petrol units.
Toyota Land Cruiser
If the seven people you need to carry regularly includes adult rugby players or even teenage volleyball teams, then the LC V8 is probably the only seven-seat option available for you. A stretched Land Cruiser, the LC V8 is neither an environmental masterpiece nor available to those on slender budgets.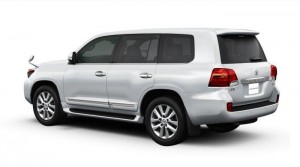 Toyota Land Cruiser pictured above.
The Toyota Land Cruiser V8 ranks amongst the most expensive production vehicles available from Japanese automakers. The Nissan GTR and Toyota's Lexus LS range may be the only mass-produced Japanese car available in the UK today that costs more than the LC V8. So what do you get for your £60,000-plus? You get a large truck that is built as well as anything else in the world, packs world-class off-road ability and offers a solidly-made, if rather plasticky interior.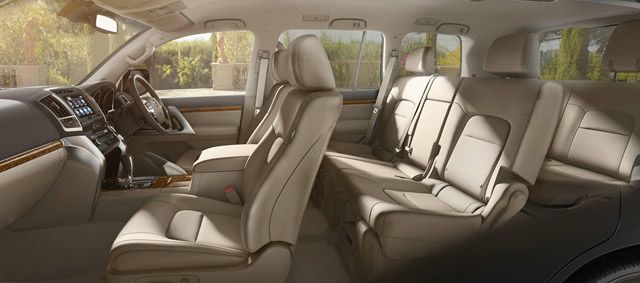 Toyota Land Cruiser interior seats pictured above.
Few people will find the Land Cruiser V8's exterior styling to be, well, stylish. This is a large, bluff beast but thanks to a 4.5-litre V8 diesel engine with two turbochargers, it should have no trouble keeping up with traffic. You'll be burning through fuel and road tax while doing it, however. The diesel engine won't bankrupt you as quickly as a petrol engine but this is a big vehicle.
Insurance costs are high and servicing the power train, brakes and tyres will likely add up. The bottom line is: if you're eager for a reasonably-capable seven-seater and don't have a lot of money to spend on running or buying your car, you'll either want to try the Verso or wait for the Prius+.
.more...