Volvo XC90
XC90 Facts & Figures
The Volvo XC90 is a luxury crossover SUV with 4WD driving technology and seven seats. A crossover SUV is built on a car platform: it handles like a car but has the space of a 7-seater. The XC90 was launched at the Detroit Motor Show in 2002. It won the North American Car of the Year prize in 2003.
Volvo is a Swedish car company that provides a combination of practicality, utility, comfort, spaciousness in large-saloon 'luxury crossover' format that arguably isn't available from any other car company. Perhaps Subaru's Forester comes close but it offers neither the levels of luxury found in the XC90 nor the seven seats
Purchase Price
The D5 AWD diesel engine model starts at around £33,000. The petrol 3.2 AWD starts from just under £40,000. Second hand models are available from around £5,000 and go up to costing around £20,000.
Highly Capable Vehicle
The Swedish car company has long been famous for bucking convention and insisting on producing its own special blend of practicality, security and motoring character. Fans of the marque have long been known for their devotion to what is pretty well the only remaining volume Scandinavian automaker.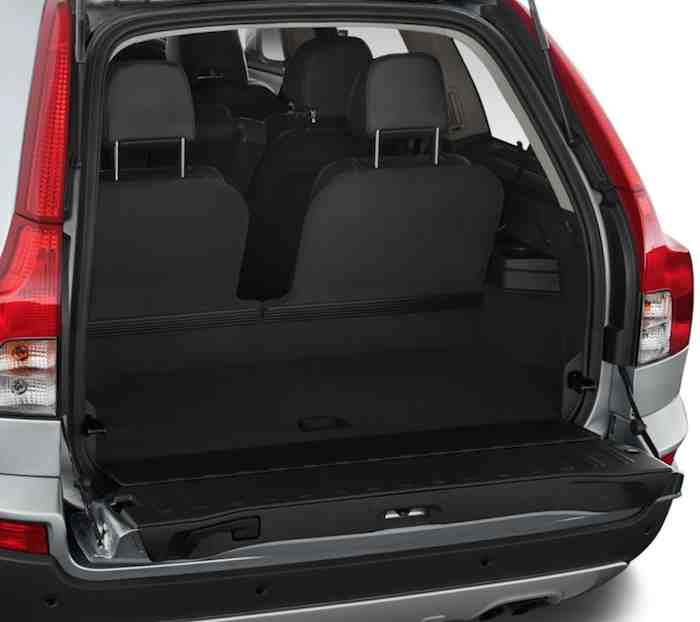 The above image shows the larger than average 7-seater boot space in the XC90.
Though much of the unique character so beloved of the 'boxy but cute' Volvo saloons and estates of old is missing from its modern products, they continue to provide the world with highly-capable cars, many of which provide a solidity and luxury not found elsewhere. The XC90 luxury crossover, however, sticks pretty close to its historic formula of doing something the way it sees fit and showing the world why it deserves to have its place on our roads.
Running Costs
Fully servicing costs around £195. A full service with added MOT costs £230. An interim service costs £130 or £165 for an interim service with added MOT. A MOT with a one-year guarantee costs £59. A MOT with a three year guarantee costs £119. It is advisable to check prices when you are planning to have your 7-seater serviced or to take it in for a MOT. The above prices were checked online with a major national car service provider: prices with your local provider may vary.
Dependent on which model you opt for the insurance typically falls within groups 15 and 16.
Fuel Efficiency (MPG)
The petrol engine model of the Volvo XC90 has an urban miles per gallon cycle of 17.5, extra mpg of 31.7 and combined mpg of 24.6. The diesel engine Volvo XC90 has an urban miles per gallon cycle of 25.7, extra mpg of 41.5 and a combined mpg of 34 mpg.
C02 Emissions and VED Band
The Volvo XC90 has an average CO2 emissions level of 219 g/km (diesel engine) or 269 g/km (petrol engine). Emissions levels depend on the exact model chosen. Linked to its CO2 emissions, the Volvo XC90 falls within car tax bands (VED) K and M. These are the highest car tax bands, which run from A through to M.
Performance
The Volvo XC90 achieves 0-62 miles per hour in an average 9.7 seconds. This makes it one of the fastest 7 seaters on the market. Its average top speed is 127 miles per hour.
Additional Features
The options included an engine protection shield, an electronic automatic leveling system, silver roof cross bars, an exterior chrome kit, a front bumper bar, roof protector ribs, footsteps, mud flaps, comfort pillows, sunshades for the windows, an electric cooler and heater box, a parking assist camera, a portable navigation system and cruise control.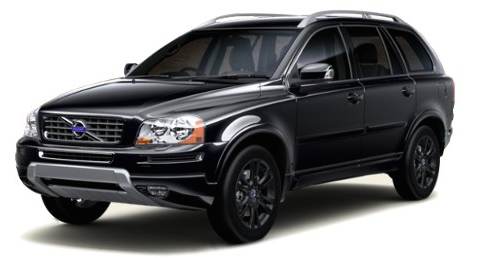 Just to be on the safe side, there are auxiliary lamps, snow chains, a towing rope, modified child seats and kick guards (protecting seats from children's kicking) and a first aid kit.
Interior
Inside, not only is there room for seven people but they sit in wonderful comfort. The comfort of Volvo's seats has long been the stuff of legend but in the XC90, they feel truly luxurious, especially when trimmed in leather. Passengers can enjoy the fine view or they can enjoy the in-car entertainment.
All models come with a high-performance audio system with wired and wireless connections for MP3 and Bluetooth. Back-seat passengers get their own headset volume controls and the top-spec models come with integrated head-rest video screens. So, even if the view through those big windows is boring, the kids should be able to stay happy.
Conclusion
The Xc90 although luxurious, expensive to run with lower fuel efficiency than other 7-seaters is a reasonably cheap car to buy when you compare it to the Audi Q7. You could spend up to £90,000 on a Q7, whereas you could pick up an XC90 for far less, whilst still having about the same bang for your buck. Another attractive aspect of the XC90 is that it offers all that room and luxury whilst still managing to avoid looking and feeling like an over-the-top big SUV bought mainly to impress the neighbours instead of to be used. This is a big vehicle but somehow the design manages to soften the impression of it being so large.
.more...