Audi Q7 2015 (2nd Generation)
2015 (2nd Generation)
Not much has changed with the way the 2015 Audi Q7 looks. The boot space remains the same. Although Audi have added a modern grill (3D-hexagonal) and airplane looking daytime LED lights. The Audi Q7 is a large, luxurious and rather lovely seven seater car.
According to Audi the Second Generation 2015 Audi Q7 luxury MPV 7 seater is a whole lot lighter helping it to be more economical. According to Audi the 2015 has shifted weight comparable to a grand piano. This equates to about 500kg or 1000 bags of sugar.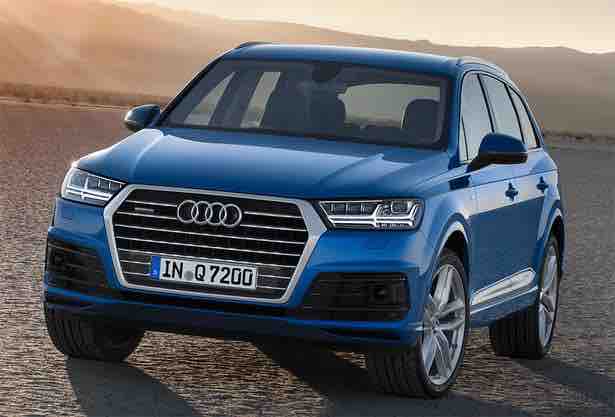 There's a new retractable touch screen to control systems with an added bonus of using the steering wheel or MMI button as controls too. There are seven driving modes. An example of which is the ability to control your speed when driving downhill. This will (I assume) save on brake pads. I've not tested my theory. The Q7 prevents collision by applying brakes with the pre-sense function (the pre-sense function is an add-on).
Purchase Price
The on the road price for a 2015 Audi Q7 ranges from £46,925 to £53,970. The cheaper one (albeit by only 5K) is the 218 PS SE model. The most expensive is the S line 272 PS. Both versions have 8-speed Tiptronic engines.
Co2 Levels / Car Tax
Considering the beast that is the Audi Q7 7-seater the Co2 levels are impressive ranging from 150 g/km or 153 g/km. These figures fall into Band F or G VED bands. This is a drop from previous Q7 variants. I can't believe that you could actually tax a Q7 for £145 to £180 a year. If you want to be even more budget conscious you could opt for monthly installments of £12.69 or £15.75 (based on 2015/2016 VED rates). Opting for bigger wheels (21 inches) will increase your Co2 emissions to 163 g/km but this still falls within VED bracket G.
Fuel Consumption (MPG)
The amount of miles per gallon ranges from 42.2 mpg (urban 3.0 TDI Quattro with 21 inch wheels and 272 PS) to 53.3 mpg (urban 3.0 TDI Quattro with 18 inch wheels and 218 PS). Therefore the most economical Q7 is the one with smaller wheels and less horsepower.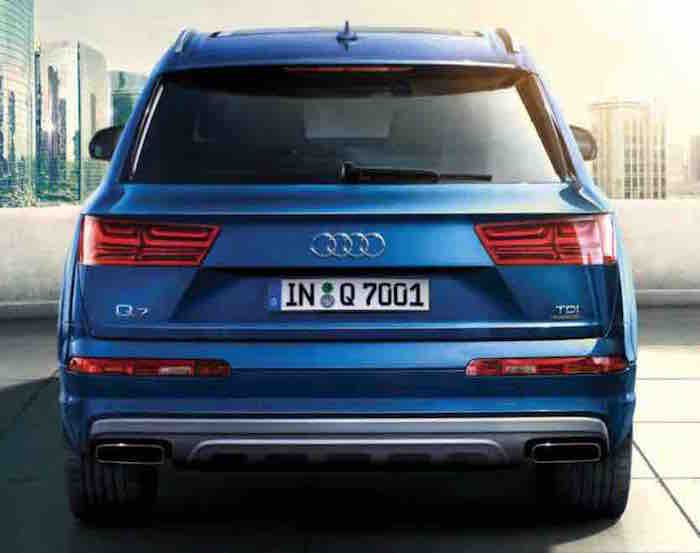 Audi Q7 Boot Space
With all seats upright the Audi Q7 boot space is 295 cubic litres. With rear seats folded flat the q7 boot space increases to 770 cubic litres. With two rows of seats folded flat the available boot pace in the q7 increases to 1955 cubic litres.
Insurance Bracket
Insurance brackets range from 1 to 50. The Q7 (understandably) falls into the higher figures for insurance purposes. The stated Q7 insurance bracket is 41E.
Load Limits
If you want to carry extra stuff on the roof you'll have to make sure it's 115 kg or less. As for pulling a trailer it will have to be 2800 kg or less. I'm not sure about both at the same time. It's probably advised to double check with the Audi garage if you intend using both the Q7's roof box and trailer.
Dimensions
The cars width is 1.691 metres without wing mirrors or 2.212 metres with them. The length is just over 5 metres and longer if you're adding a tow bar.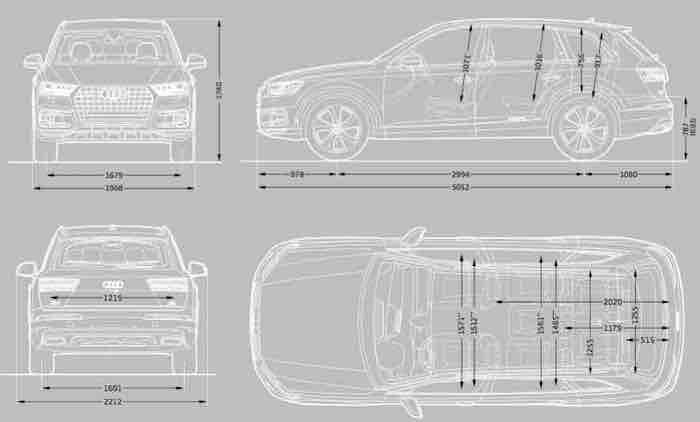 Matrix LED Lights
According to Audi these lights will adjust to whatever type of light you are driving in, they can swerve round corners and automatically adjust to dip when sensing oncoming traffic.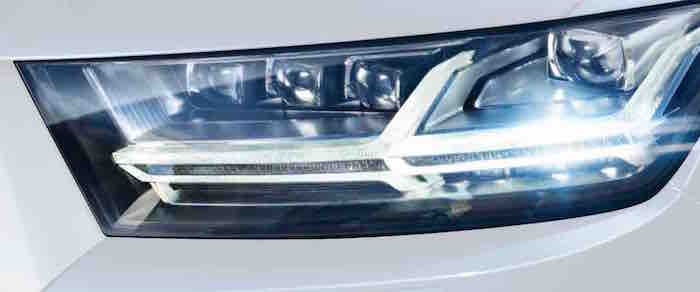 Quattro as Standard
All Audi Q7 7-seaters have Quattro as standard. This basically is a 4-wheel drive function. The aim is to provide more grip on the road with each wheel responding appropriately to whatever driving conditions are experienced. The outcome is a car with more control.
Passenger Comfort
The new 2015 Q7 has greater headroom for all passengers. Six of the seven seats can be fitted with child ISOFIX seats and the rear two seats can be propped up or down at the touch of a button.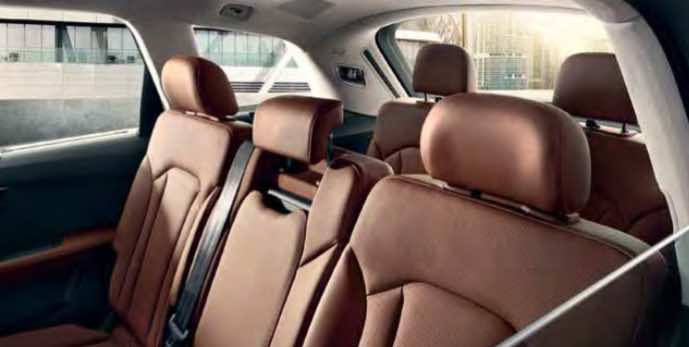 Virtual Dashboard
The virtual dashboard is only available as an option. It has the original features such as revs, mileage and music but with an added option of shrinking these displays to enable you get a full view of the navigation map. Changes to what you see are achieved by using the intelligent steering wheel.
Internet on the Move
Provided you have an external data source you'll be able to get online whilst travelling. This does come at a cost. You will get a 3-month free trial or a discounted 3-year subscription. When I say external data source I mean your car has to be in an area where there's a 4G or a mobile network signal.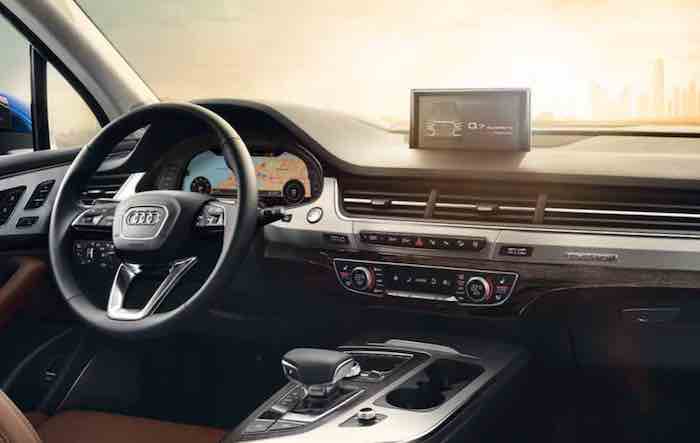 Safety Features
There are three main safety features the second generation Audi Q7 (2015) has to improve safety. There's the Collision Avoidance feature that can sense someone walking in front of you or a car that has suddenly braked. Secondly there's the Exit Warning Assist. This will activate an LED warning light if you get out of your car and there's a bollard, bike or car in the way. Thirdly the Cruise Control is improved to ensure you keep a safe distance between you and the car in front. Although to get this benefit you will need to activate the Traffic Jam Assist option.
Control
The Trailer Assist option helps when towing a trailer. Using the MMI touch dial does this. You will be warned if there's a risk of collision to both the car or the trailer. However Audi do write a disclaimer highlighting that these features are not a replacement for attentive driving.
The Predictive Efficiency Assist suggests methods to drive more economically. It also warns you of speed limits, hills and hidden bends. By following the advice given it claims to reduce fuel wastage by 10%. This option is only available when you buy the Audi Q7 Dynamic pack.
Models
Two models (S line and SE) are available with 2 types of engines (3.0 litre quarto with either 218 PS or 272 PS). This gives four different types of Q7 to choose from.
S Line and SE Standard Features
7 inch TFT screen (high resolution).
75-litre tank.
A function that stores kinetic energy from braking in the battery. This energy is converted when accelerating to reportedly save 3% on fuel.
Airbags (driver, front passenger, front side and curtain).
Anti theft alarm.
Audi Pre-sense city.
Audi sound system (6 channel amplifier, 180 watts and 10 speakers including a subwoofer).
Automatic start stop.
Bluetooth.
Cruise control with speed limiter.
Duel Zone climate control.
Dynamic suspension.
Electric heated exterior mirrors (automatically tilting passenger mirror when reversing).
Electromechanical parking brake.
ESC, ABS, ASR and EDL.
Front and back parking sensors.
Headlight washers.
Hill descent and Hold Assist.
Internet connection (3 month trial).
ISOFIX seating for 6 seats.
Keyless entry and engine start.
Leather heated and electrically adjustable front seats.
Light and rain sensors.
MMI navigation.
MMI radio plus with DAB and iPod connectivity.
Multi Function 4 spoke steering wheel.
Power operated tailgate.
Seat belt monitoring.
Seven seats. Seven seats. Seven seats. The middle row are split folding with the middle seat 5 % smaller than the outer ones. The seats by the doors tilt and fold. There's a center armrest with cup holders. The two rear seats are powered by electric, can fold and are of equal size.
Tyre pressure loss indicator.
Xenon Plus headlines with LED daytime running lights and LED rear lights.
S line Equipment
4 Zone climate control (2 more than the SE).
Adjustable front centre armrest.
All weather LED Headlights (extra sensitive to prevent dazzle).
Better leather with perforated Alcantara and S line embossing.
Bigger wheels (up to 21 inches)
Dynamic rear indicators that sweep in the turning direction.
Front sports seats.
High beam assist (automatically adjust headlights to dip when needed).
Privacy glass.
S line body styling on bumpers, ventilation grills, side skirts and roof spoiler.
S line logo where you'd expect it.
Stainless steel luggage compartment sill.
Colours
Colours are your typical Audi ones. The standard (free ones) are pure white or night black. There are seven optional metallic colours (£675); Orca black, Floret Silver, Glacier White, Graphite Grey, Argus Brown, Ink Blue and Diamond Beige. A metallic Daytona Grey is available for the S line model. You can choose your own colour for between £2,155.00 and £2655.00.
Leather Interior Seats
There are so many options here that it may take you a while to decide. You must also accept that some options may delay getting your Q7.
The standard seats have four leather options and up to four colours. There's twin, perforated, cricket and perforated cricket leather. The colours are Black, Nougat brown, Rock Grey or Pistachio beige. The first two options are standard in the SE model and the last two options cost an additional £900. From the pictures on the brochure (page 40) there doesn't appear to be that much difference.
Sports seats are available in both models but you'll pay extra. The leather choice is different again (Alcantara or Valcona leather). There's an additional colour option of Cedar brown with the S line Q7. These seats will cost from £1,900.00 to £2850 more.
If you opt for a comfort seat in the SE (you can't get them in the S line) you'll get seat ventilation, thigh support and electric adjustment. They cost £3250.00.
The S line sports seat can be either Black or Rotor Grey in either perforated Alcantara or Valcona leather. The later costing £1,100.00.
To increase comfort further there are additions such as memory function, heating, massage and seat ventilation. These cost between £350 and £1,050.
A Choice of inlays
If you want to add a unique finishing touch to your Q7 (& you can afford it) you can spend up to £1,900 on getting upper and lower inlays to your liking. Examples such as Beaufort Walnut or Anodised anthracite are available as an exclusive extra (£1,350).
Options
On page 53 of the brochure there's a chart with the wheels, tyre and suspension options. Tailor making your Q7 can cost up to £2,000 (Adaptive Air Suspension option).
Packages
Audi have so many packages you can add to your Q7 that it might take you quite a while to decide which to go for. Here's some of them:-
1. There's the Technology Pack at £1,950 which gives you a virtual cockpit, internet, head up display, phone and high beam assist.
2. The Comfort Pack (£3,500) gives you comfort front seats, perforated leather, drivers adjustable front memory seats, electrically adjustable, folding, heated and auto dimming door mirrors.
3. The Dynamic Pack adds adaptive air suspension, active lane assist, adaptive cruise control, traffic jam assist, traffic sign recognition, predictive efficiency assist, pre-sense front with collision avoidance assist and turn assist. It's cheaper to buy if your getting an S line Q7 (£2,655.00 instead of £2800.00).
4. The Parking Assist pack includes ultrasonic sensors and four surround view cameras. (£1,150).
5. The Parking Assist Advance package adds the side assist function for changing lane and the pre-sense basic & rear function (an anti collision aid). There's also the rear traffic crossing option, which detects any cars coming behind you at speed. The Exit warning gives a warning when attempting to exit when vehicles, cyclists or people are in the way. (£1,800).
6. The Audi Side Assist (£750) package makes changing lane safer using radar sensors. It includes the exit warning and the presence basic and pre-sense rear.
7. The Trailer pack (£1,300) includes a tow bar which is electrically folding, the trailer assist function (helps reversing) and a 13-pin socket.
8. There are three headlight options to choose from including High Beam Assist, All weather LED headlights and Audi Matrix LED headlights.
9. There are ten Audi Communication packages.
10. There are fifteen Audi Interior Equipment packages.
11. There are twelve Exterior Equipment options.
12. There are six Safety and Security options.
13. There are four Steering Wheel options.
Warranty and Servicing
As standard you get three years warranty when buying an Audi Q7 from new. You can opt to purchase year 4 and 5 for £560 or £1,335 respectively. The warranty starts from the date the Q7 is delivered. If you sell before the warranty runs out it is fully transferable to the new owner.
If you order accessories after that date they are covered for 2 years. When servicing in a fully approved Audi garage you'll to get a courtesy car or refreshments while you wait. Included with all new Q7's is three years roadside assistance, which covers you in the UK and Europe.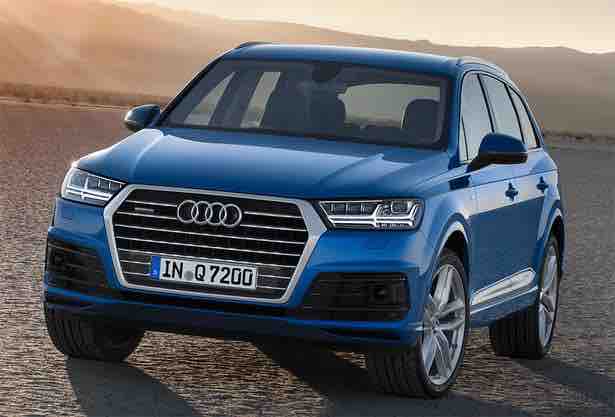 Servicing is dependent on whether you drive over 10,000 miles. If you do they put you on a flexible service schedule. Each service includes a full valet.
.more...