Peugeot 7‐Seater Cars
Motorists looking for a 7-seater from Peugeot have a pretty good selection (five models) from which to choose:
The Gallic automaker currently sells five MPV vehicles (listed above) capable of carrying seven people. Some can carry even more than this.
Compact Peugoet 308 SW (Station Wagon)
At the bottom of the range, in terms of both price and size, is the 308 SW (no prizes for guessing the Americanized meaning of 'SW'). The 308 SW will appeal to drivers who need to carry six passengers but want to retain the feeling of driving a car. The 308 SW is based on the award winning 308. Despite being slightly larger than the basic 308 saloon, the seven-seat version offers excellent interior space, plenty of room for cargo and plenty of safety.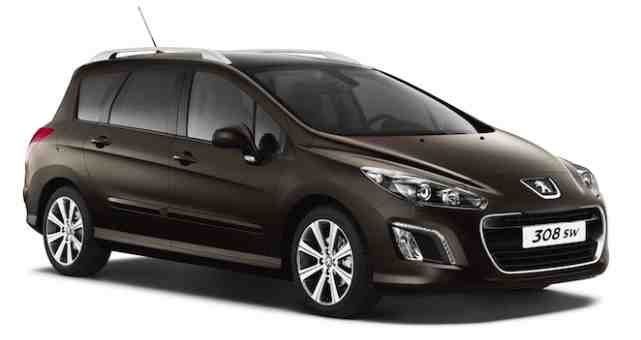 Peugeot 308 Station Wagon pictured above.
The 308 SW comes with a choice of petrol and diesel engines and offers incredible fuel economy. Some models are capable of more than 60mpg. The car won a superb five stars in EuroNCAP crash-safety tests.
Award Winning Peugeot 5008
Drivers seeking a bit more room and who are willing to put up with a larger vehicle will appreciate the 5008, an award-winning compact MPV. Described by some observers as the most desirable MPV, the 5008 offers a choice of legendary Peugeot petrol and diesel engines in a vehicle that combines slick styling, a capable chassis and excellent interior packaging.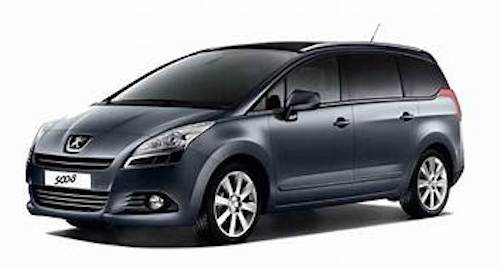 Peugeot 5008 pictured above.
Running on the HDi 110FAP EGC engine and transmission, the 5008 can manage nearly 57mpg while still delivering a 0-60mph acceleration time of 12 seconds. In addition to great design touches in the cabin. The 5008 offers slick wizardry like an electronic handbrake, ESP (electronic stability programme) and an optional heads-up display.
Peugeot 4007
For a long time, Peugeot enthusiasts who wanted a SUV found themselves disappointed. A few years ago, however, this manufacturer did a deal with Mitsubishi to re-badge the Japanese company's well-establish Outlander SUV as the 4007. Mitsubishi's heritage of great 4wd vehicles has combined nicely with Peugeot's styling and engineering expertise to produce an excellent seven-seat crossover that performs admirably on the road and handles muddy roads with ease.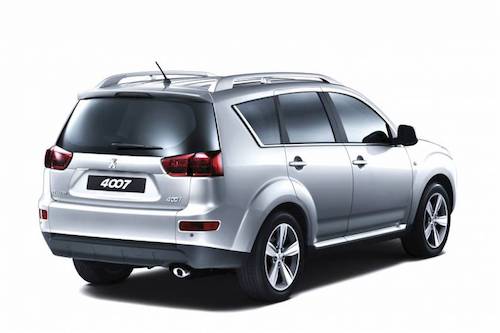 Peugeot 4007 pictured above.
This is no simple styling exercise, however. In addition to modifying key aspects of the Outlander's body to ensure it is clearly a Peugeot, the French carmaker has also donated specialized versions of its own excellent engines. The 4007 is a large vehicle but thanks to road-going tweaks, it does a good job of handling slick and twisty roads.
The all-wheel drive transmission has three modes that can be switched while on the move. The basic two-wheel drive mode sends all power to the front wheels. An automatic 4wd mode allows the car to decide when all-wheel drive is needed. The permanent 4wd mode does what it says. The 4007 is only available with Peugeot's HDi 156 diesel engine but this is no great shame. Amongst the best in the business, this engine has plenty of power and torque, and a minimum of noise. At 9.9 seconds for the 0-60mph dash, acceleration is brisk, and the car manages almost 40mpg. It can even run on a 30-per-cent bio-ethanol diesel mix without modifications.
Partner Tepee Van +Windows
There are also a couple other seven-seaters, though they are more van-like than the other offerings. One of these, the Partner Tepee, however, is a truly amazing mix of utility and economy. Known as the Peugeot Expert Tepee, this miniature van offers excellent saloon-like manners on the road, as well as plenty of interior space. Even better, the Peugeot Expert Tepee sliding side door makes this car incredible easy for passengers to access.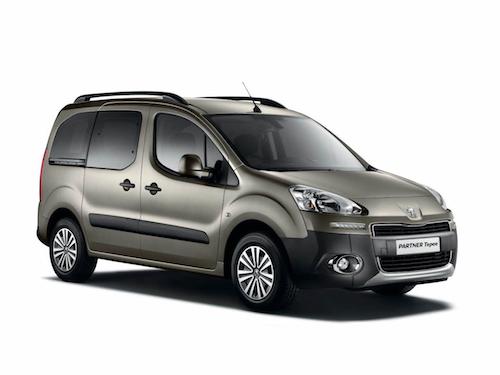 Peugeot Partner Tepee pictured above.
Peugeot designer brilliance abounds on the Partner Tepee. An 'interior roof rack' lets you stow long objects under the ceiling. The seats are easily removed to create a proper 'van' capable of carrying lots of cargo.
Expert Tepee - MPV
If that still isn't enough passenger and cargo space for you, there is one more option. As it's a real van, however, don't expect the car-like driving characteristics or economy of the other products in Peugeot's range of seven-seaters. The Peugeot Expert Tepee is based on a van chassis.
Peugeot has added lots of big windows and generous seating to make this a people mover par excellence. All the room and size comes with drawbacks, however. This is a big vehicle and it is unlikely to make much sense for daily driving in town, unless you regularly need to move lots of people. This is an excellent choice commercially. An airport or regular taxi would find this option perfect for carrying multiple passengers on a daily basis.
Peugeot 807 - Available 2nd Hand
Peugeot 807 pictured above.
The 807 is an older MPV but is still seen on the roads today as it is widely used as a second hand MPV.
.more...