Jeep Commander
Seven Seat Grand Cherokee 4WD Vehicle
The Grand Cherokee Jeep Commander is the first model produced by the renowned 4x4 manufacturer to feature a 7-seat layout inside the cabin. These seven seats are combined with the Jeep's characteristic strong diesel engine and excellent off road performance to provide their first all purpose family car. However, be warned that the two rear seats are on the small side and so are only suitable for either children or small adults.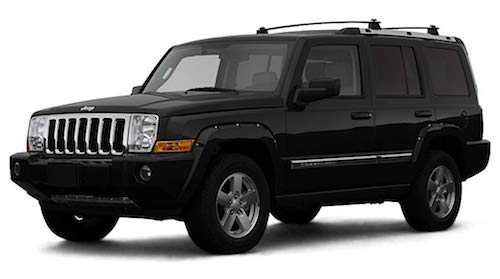 Jeep Commander pictured above.
Purchase Price
The Jeep Commander is no longer available in this Country from new. There are second hand models widely available. Prices range from £6,000 to £13,000.
Insurance
Like most vehicles this size, it itself placed into Group 14 for insurance purposes.
Ongoing Running Costs
Servicing on a Grand Cherokee Jeep Commander needs to be undertaken every 12,000 miles for a diesel engine and every 7,500 miles for the petrol engine option. Prices for servicing a Jeep Commander do vary around the country, so checking local garages is advised.
Car TAX (VED)
Both of the Grand Cherokee Jeep Commander's engine options, a 3.0 CRD diesel engine and a 5.7 V8 petrol engine, fall into Band M due to their emissions of 284g/km and 368g/km respectively.
Fuel Efficiency (MPG)
The 3.0 CRD engine shows good efficiency considering the size of the vehicle it is powering, producing a combined fuel consumption rate of 26mpg. The 5.7 V8 option, however, only manages a lowly 18mpg to go alongside it's sky high emissions.
Additional Features
The standard model of the Grand Cherokee Jeep Commander, known as the Predator, comes with a generous amount of safety features and equipment. Along with key safety features such as ABS, drivers, passengers and side air bags, an alarm, fog lights, Isofix points, power steering and traction control, the Predator trim also features air conditioning, a CD player, body colour bumpers and electric mirrors and seats. On the more expensive models, which have the Limited trim, heated seats, parking sensors, an audio remote and leather trim are also available. In terms of toys, there are plenty of additional options available. These include a DVD player and television, plus there's a rear-parking camera, a very valid choice given the vehicle's size.
Performance
Unsurprisingly, the Jeep Commander comes with a choice of huge engine sizes. The smallest is a hefty 3.7-litre V6 engine and from here it only gets bigger. There's a 4.7-litre V8 and an enormous 5.7-litre V8. In Europe, Jeep added a V6 5.7-litre version that was produced by DaimlerChrysler. For the petrol version, that means a huge 345 horsepower. . Both the petrol and diesel engine options give a good performance, with the 3.0 CRD hitting 60mph in 8.7s and reaching a top speed of 125mph while the 5.7 V8 reaches 60mph in 7.5s and tops out at 129mph.
Nagging issues
Despite having a good standard trim, excellent safety features, a roomy interior and an excellent reputation, the Jeep Commander does have several nagging issues which could put off potential buyers. The car's aesthetics will leave a lot to be desired for some, with the boxy design supposedly being a tribute to earlier models in the 70's and 80's but instead just looking outdated. The diesel engine, which is by far the better option over the uneconomic and polluting 5.7 V8 petrol option, is also rather noisy, especially when accelerating.
Seating Positions
Space in the cabin is maximised courtesy of a stepped seating plan that means the second row is higher than the first, and the third higher than the second, so each position gets a good view of the road. To accommodate this extra height the stepped roof is cunningly disguised by a roof rack.
Conclusion
The curious thing about the Commander is Jeep's decision to discontinue the vehicle in 2010 after just 4 years of production, especially given the brand no longer has a seven seat option in production. However, this is due to change by 2013 when the company is scheduled to release a top end 7-seater SUV as it revives the Grand Wagoneer tag.
.more...