Mazda5
Mazda5 7‐Seater
The Mazda 5 is a surprisingly sleek and stylish, combining good looks and a generous trim with great functionality and comfort. Occupying the space somewhere between a minivan and a saloon, it is part of the new wave of MPVs that do a good job convincing us they're anything but. In terms of fitting in seven passengers, it does well, but it's still something of a compromise. Clearly, this vehicle is never going to afford the space of a minivan or a four-wheel drive.
As a result, the third row of seats is much better suited to children, but it offers a whole lot of space when folded down, for shopping and other cargo. This is an ideal option for large, growing families, especially when budget is a primary consideration.
Purchase Price
A brand new one of these will prove good value for money, as prices start from just £18,175 for the Mazda5 TS (1.8 Petrol) and go up to £21,290 for the Mazda 5 Venture 1.6 115 PS Diesel. Prices quoted are for the well-fitted basic models. Second hand models can be bought for as little as £2,000.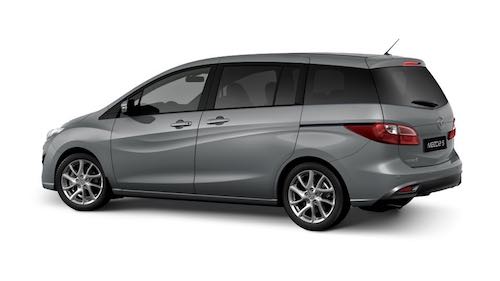 Mazda5 pictured above.
Running Costs
With C02 emissions starting at 138g/km (with the diesel model) this vehicle falls into Car Tax Band E. The Petrol Model emits 168g/kg of C02 and falls into Car Tax bracket H. Fuel economy is reported as being up to 54.3mpg on the combined cycle. Insurance is very affordable, with the car being placed into groups 6 to 9 depending on the model. Servicing costs will vary nationally. Any good local garage generally offers affordable MOT tests.
Performance
Top speed averages around 120 miles per hour with zero to 62 miles per gallon gained in just over 10 seconds for all models. Fuel economy is excellent in the 1.6 diesel model ranging from 44 to 61 mpg. The larger diesel engine is slightly less economic with an average of 40.9mpg. The petrol engine averages 39.2mpg.
Dimensions and Volume
Being 4.585metres long and 1.988 meters wide this certainly fits into the compact range of seven seat vehicles. My benchmark is under 5m in length. Height is a stated as 1.615m. The cargo volume ranges from 857cubic litres with second and third row seats down to 112 cubic meters with all seats in use. With just the two back seats down you get a boot space of 426 litres.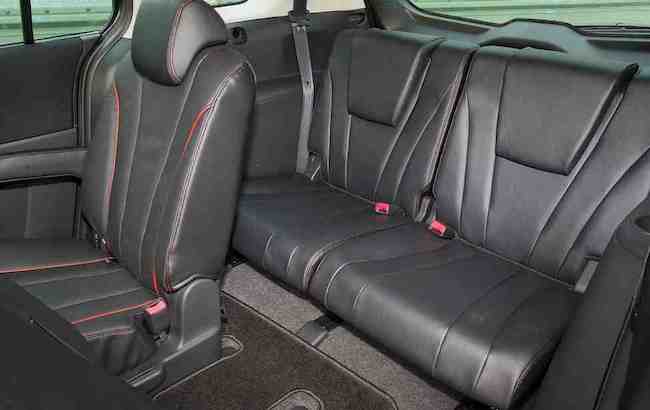 Mazda5 rear seating pictured above.
This MPV comes with a generous standard trim considering it's price, and includes ABS, a CD player, driver's, passenger's and side air bags, remote locking, folding rear seats, power steering, Isofix points and electric windows and mirrors. Amongst the upgrade options are alloy wheels, lumbar support seats, roof rails, front fog lights, traction control, leather trim, parking sensors and a Sat Na system.
Conclusion
Despite it's several strong points, it does occasionally suffer from space issues. Along with the cramped sixth and seventh seat, the boot space is limited while the rearmost seats are occupied. However the contours on the body, the long front headlights and the sleek side window styling mean this is a vehicle that hides its bulk extremely well. And it's got good access to the back row of seats courtesy of a rear sliding door.
.more...