Citroen Dispatch Combi
Aggregated Review
The Citroen Dispatch Combi has been reviewed by Experts (3) and Users (15). Its score is 71 out of 100. This is based on 18 reviews in total.
| Review Source | Type of Review | Score | In Percentage (%) |
| --- | --- | --- | --- |
| Road Test Reports | Owners (N=7) | 2.5 out of 5 | 50 |
| AutoTrader | Expert | 3.4 out of 5 | 68 |
| AutoTrader | Owner (N=1) | 4.8 out of 5 | 96 |
| CarSurvery.org | Owners (N=7) | 6.9 out of 10 | 69 |
| RAC | Expert | 72 out of 100 | 72 |
| Buy a Car | Expert | 7.1 out of 10 | 71 |
The Citroen Dispatch Combi scores an overall 71 out of 100 which is 71%.
Considering this MPV has been around for a few years now, none of the big Car Review sites have looked at this longer than average MPV. There's a lot about the van variant, but much on the version with windows and up to nine seats. After a bit of trawling and being side tracked by an Indian takeaway I found a few sites that had tested the MPV version of this workman's van.
Road Test Reports - Owners
Seven people have left reviews on the RoadTestReports site. There are some grumblings about mechanical issues; one from a guy who's driven 135,000 miles. I think after that distance it might be expected. Another guy uses the Combi as a taxi and is very pleased with its seating configuration and fuel economy. His only complaint is the way passengers get on and off the vehicle when accessing the third row. Something about the single seats being on the French side. I don't understand what he means but he is a happy bunny otherwise. A few have mentioned the driving experience not being too great but at the end of the day guys this isn't a Mercedes Vito it's a Van with windows. The overall score is 2.5 out of 5.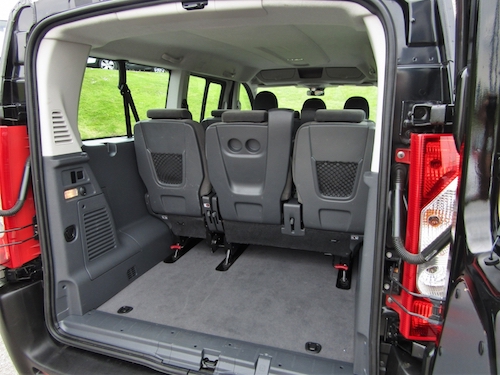 Citroen Dispatch Combi Boot space pictured above.
AutoTrader - Experts
AutoTrader review the Combi MPV with their usual ten point sub headings. Its practicality scores the most with other headings such as Safety scoring a 4. They say that the suspension is good but its handling isn't great because its more of a van than a car. But we knew it was a van and it does have nine seats so we shouldn't expect miracles. The Dispatch Combi Leisure 136 SX, the middle variant, is currently the best seller. If you want to forget the pennies go for the premium model as you have better performance and more kit. The overall score given is 3.4 out of 5.
One consumer review has been left on the site in December 2010. He owned the 1.6 HDI L1 6Door, six seat variant. He uses it as a taxi and from the look of his scores absolutely loves it. He says it drives like a car despite being a van. Although he thinks the running costs are good he does say that because its used commercially the insurance is slightly higher.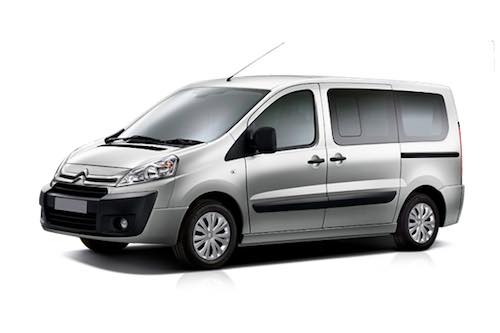 Citroen Dispatch Combi pictured above.
Car Survey.org - Expert
Generally fuel economy is considered good but again there are grumblings about the mechanics. One person never liked Citroën but will be getting a new Dispatch again. Another reviewer has stated that they've had nothing but trouble. There is mention of a severe steering drift, but no one else seems to have had this issue. The models reviewed range from 1999 to 2009, they are all diesel variants, either the 1.9 or the 2 litre. Each of the seven consumer reviewers gave a score on their opinion. I calculated the average of these scores to be 6.9 out of 10, (as at March 2013).
RAC - Expert
The RAC introduction summarises the main concept of the Combi, in that it seats up to nine individuals and is based on a van. It is very similar to the Fiat Scudo and the Peugeot Expert Tepee. Their background information is on the money, and their opinion of the driving experience is positive when comparing it to a bus, but not so appealing if you prefer driving a sports car. There is some very techy speak about its torque and horsepower which I summarise as, if you get the bigger diesel its better. They love the boot space with all seats in situ and all the little cubbyholes on top. They realistically state that you would only buy one of these if the deal was good because there are very similar priced and looking MPVs out there. Their score is 72 out of 100. The highest score given for the space it provides.
Buy A Car - Expert
The experts at Buyacar drove this nine seat MPV in October 2007. The review is very similar to the RAC write up even down to the final score of 7.1 out of 10. They say the same things about its space and practicality. They are commending its 80-litre fuel tank and fuel economy in comparison to its size.
Conclusion
For those who don't care about driving a van looking vehicle and using it to carry passengers the Dispatch Combi is the ideal choice. Its fuel economy can compete with some of the smaller MPVs out there whilst offering more room to store stuff in the boot. If you want something similar the Fiat Scudo or Peugeot Partner Tepee might also be worth a look.
The overall percentage for the Citroen Dispatch Combi, with 6 to 9 seats is 71%
.more...