Ford S-Max
Aggregated Expert Reviews
The Ford S-Max (mini MPV) has been reviewed by Experts (8) and Users (121). Its score is 79 out of 100. This is based on 129 reviews in total.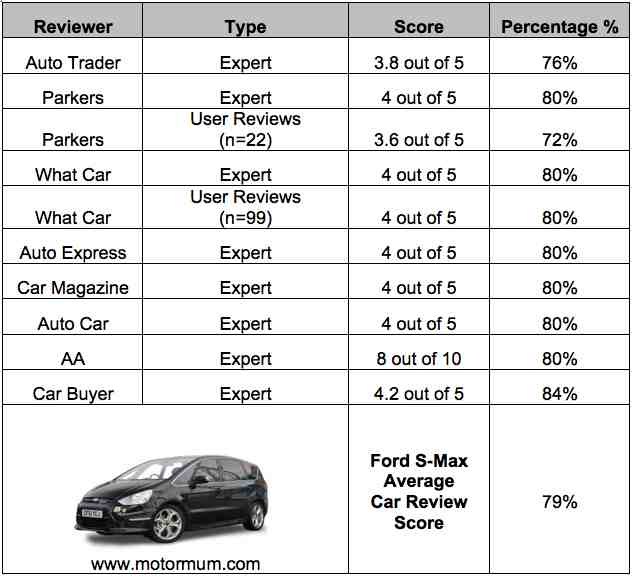 The Ford S-Max sits between the Galaxy and Grand C-Max. It has been reviewed by most of the larger vehicle websites. Over 100 consumer reviews have contributed to the final scoring of this mid sized MPV with 7 Seats.
AutoTrader - Expert
According to Auto Trader the S-max perfectly combines practicality with driving appeal. They love its looks and trim levels but are less keen on the higher costs associated with petrol engines.
Along with its older brother the Galaxy and younger sibling the C-Max it has scored 5 in the NCAP crash test rating. Score = 3.8 out of 5.
Parkers - Expert
Parkers reviewed the Ford S-Maxin June 2006. Despite its practicality they love that it doesn't feel like an MPV but instead has a sporty edge. In 2010 there was a makeover given with a prettier grille, LED lights at the back and more engines. They say it has a huge boot, but this must be when five seats are in use. Oh hang on, I've now read the comfort section and I'm right because they tell us about the cramped third row seats. The thicker window at the front has reduced wind noise and air conditioning isn't available on entry models. Who needs air conditioning in Britain anyway? Well maybe for a couple of days a year, but that's all. Score = 4 out of 5.
Parker – Owner
Interestingly the user reviews range from top scoring to low scoring. Which sounds like consumers either love or hate it. With 22 reviews this does kind of back that theory up. One guy's favourite gadget is the fuel system that has done away with the filler caps. What? I'll have to Google that later. Oh dear, one poor chap has really had a bad experience. He had a 08 variant and was just outside warranty and had electrical faults and a fire. Sounds dangerous to me, but glad he and his family are okay.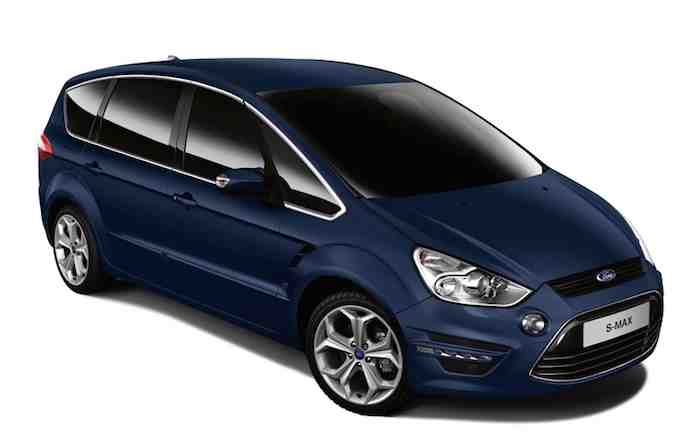 Ford S Max pictured above.
Another unsatisfied customer with a S.0 TDCi (140bhp) Zetec 5d (2010/10) S-Max had problems with brake discs, parking sensors and other electrical faults. Doesn't sound good. Although despite his woes is quite sarcastic when asked if he would buy the car again, by answering, what do you think? Here's the math's bit. The total is 79 out of a possible of 110 which gives an average result of 3.6 out of 5.
What Car - Expert
What Car say the cabin is roomy, in a statement that appears to be ignoring the lack of space for third row passengers. But in their against section they say that the third row is somewhat cramped and the seats are rather fiddly to flip up and down. They say that all Ford S-Max versions are well equipped. Perhaps they are also ignoring that entry models come without air conditioning. Score 4 out of 5.
What Car - Owners
Nowhere has more user reviews on the S-Max than What Car? Did they run a competition? There are 99! You can select the drop down menu for specific reviews on each model. Most reviews are positive and I won't bore you with them, but there are a few problems experienced by the minority. These are more interesting. One person owned the TDCi 2.0 140 Titanium and felt the steering was jittery and the wipers were a nightmare. He also goes onto say that for long journeys it's not comfortable. Another writer discusses an apparent common problem of Ford Cars of an unknown battery drain. An owner of the 2.0 LX felt that the rear seats were useless and only suitable for babies. Another owner was disgruntled at the only being able to use the two outer seats of the middle row for baby seats. According to them the third row seats and small middle row seat in the second row are all useless. This must be in older models. Overall the opinions are given a 4 out of 5 with running costs and quality scoring only 3 out of 5.
Auto Express - Expert
According to Auto Express the S-Max is real competition for would be Audi A4 or BMW 3 series owners. Neither of them have seven seats so I'm not sure what they are on about. They think the S-Max is one of the better seven-seaters to drive and are looking forward to the new 2014 model. Their video shows the three individual seats in the second row and how adaptable they are so you can get comfy. A big bottle can fit into the side door. Oh and there's a central cubbyhole too. This sounds great. The model in their video was the S-Max 2.0 TDCi (140) Zetec. At three minutes into the video you get a good idea of the rear seats as the very nice presenter takes a seat in the third row. He doesn't pull the second row seat back into seating position, probably because he can't do so without removing his knees. The overall score 4 out of 5.
Car Magazine - Expert
In 2010 Car Magazine test drove the 2.0 SCTI Eco Boost (2010) S-max. They discus it's first release and the improvements since. Overall score = 4 out of 5.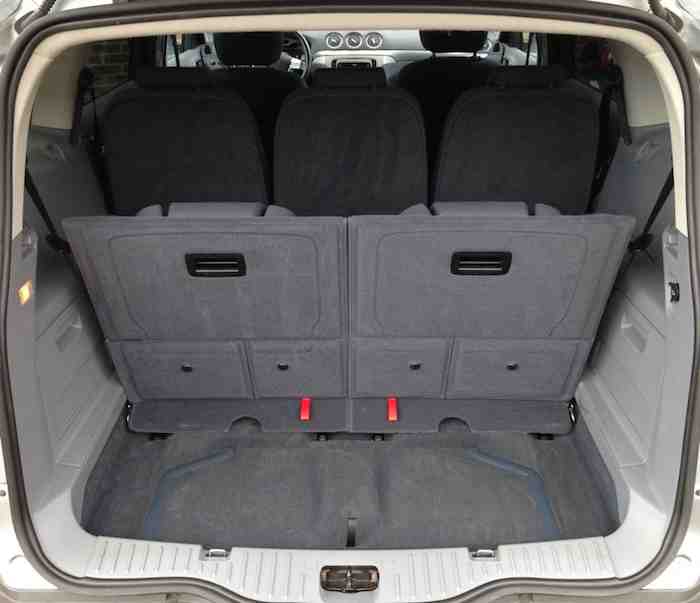 Ford S-Max boot space pictured above.
Auto Car - Expert
Whilst accusing Ford of jumping on the MPV bandwagon they love the S-Max because it looks and drives so well. This isn't expected when you own a seven seater. Newer version have better engines with improved ride and handling. But this is nothing new. All newer cars improve from previous models. The picture under the design tab really shows off how beautiful the S-Max looks. The pictures of the interior are clear giving a good idea of third row space. To me it looks like your knees would be in your chin, but the seat quality looks excellent and in no way bench like considering it would flip up and down. Score 4 out of 5.
The AA - Expert
In February 2010 the AA test drove the Titanium 2.0 Litre Ecoboost SCTi. They imply its aimed at the premium market, I guess for its price it has to be. They rate each category highly and give an overall score of 8 out of 10. Their ratings are based on newer models and although they like the 2.0 litre petrol they prefer diesel alternatives due to cheaper running costs. The AA safety test is based on the 2006 model, which despite scoring full marks for safety only had a 2 out of 5 for pedestrian safety. Well you can't please everyone!
Car Buyer - Expert
What is interesting is that the greenest option, the Zetex 1.6 TDI 115 PS S/S variant is also the cheapest to buy. Does that mean you buy the entry model and it will do the most Miles Per Gallon? That never happens. It can't be true. Well if Car Buyer said so, it must be. I believe them. But then again I'm a pessimist. Nice pictures with an identical video to Auto Express and an overview of possible alternatives for you to ponder over. Overall score 4.2 out of 5.
Conclusion
For looks and performance the S-Max is a leader. There are some, (I said some), disgruntled owners but in general everyone loves their sporty S-max. Newer models are better and cheaper ones are also green.
Although the Ford S-Max rides and handles like a dream this is at the cost of third row passenger comfort. Whilst your racing away from Aldi's with your music blaring and thinking your driving an Audi R8, please remember you are in an MPV and your children are resting their chins on their knees. As I've said before, you can't please everyone!
The overall percentage for the Ford S-Max MPV is 79%
.more...