Land Rover Defender
Aggregated Reviews
The Land Rover Defender has been reviewed by Experts (11) and Users (28). Its score is 61 out of 100. This is based on 39 reviews in total.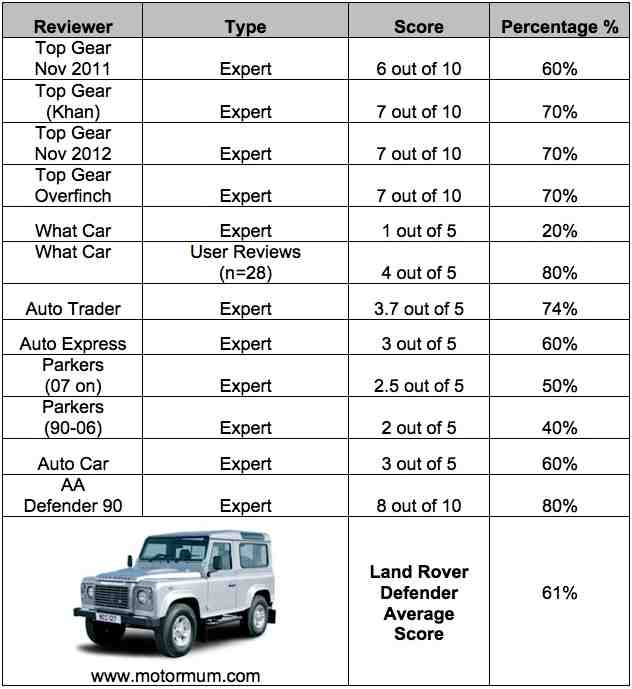 Top Gear
Top Gear reviewed four different Land Rover Defenders. The 7 Seaters reviewed vary in price from £20,000 to over £75,000.
Defender Nov 2011 - Top Gear is impressed with the downsized 2.2 litre engine. This has increased the Defender's fuel economy. The engine noise is better but despite that its smaller engine it is still a muscle SUV that would tow a horse bearing trailer easily. They scored it a out of 10;
March 2013 Defender Khan - With a score of 7 out of 10 the Kahn Land Rover Defender is a more expensive variant costing about 30K more than the one above. I'd like to know what's so special about the Khan Defender? It must be the quilted leather and Harris Tweed seats. Or maybe it's the chrome steering wheel? Still only 25 miles to the gallon, so hardly efficient in either initial cost or fuel economy;
P10 Red Edition (Nov 12) - With a score of 7 out of 10 this is for those Essex chicks who want a bit of bling with what they bring. It costs £75,000 on the road so would fall right out of the reasonable family car category. According to Top Gear the gear stick looks like a rounders bat. How retro! It's for the posh farmers out there and not for the mums on a budget. I'm sure there are quite a few dotted around The Only Way is Essex;
Overfinch Defender (Nov 12) - with a score of 7 out of 10 this is similar in performance to other Land Rover Defender models. At a whopping 55K you get lime leather seating. This is another poshed up Defender for the uniquely rich farmers who can afford it;
What Car - Experts
Ouch, What Car have scored it a 1 out of 5. They love the Defender's off road ability, but on road they aren't so keen. There is loads of space and it is practical but as for refinement and other measurable categories it scores poorly.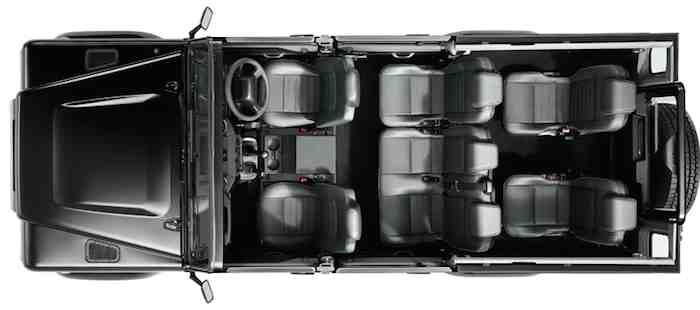 Land Rover Defender birds eye view of seating layout.
The real owners love their Defenders. With 28 write-ups from real people this isn't just one persons viewpoint. Variants reviewed include the 110-2.2DXS Station Wagon, which got a 5 out of 5 from a guy who described it as fun. His kids loved climbing up the roof ladder. A 90 TD5 Xs Defender didn't do so well with the reviewer never using it for everyday transport. Most other reviews are positive. Generally the 4WD lovers who do actually drive off road have written the reviews. So their positive opinion is directly linked to it being able to drive off road well. The overall score works out at a generous 4 out of 5.
Auto Trader
Auto Trader love its off road ability, appearance and practicality. However do not like the steering, economy and dated interior. I'm assuming they aren't talking about the Khan or P10 red editions. The best option on a budget is the 90 Station Wagon, which is also Land Rovers bestseller. They are surprised at how comfortable motorway driving is. The expert at Auto Trader scored the Defender a 3.7 out of 5.
Parkers
Parker didn't rate the 90-06 Defenders highly. Although they note its excellent 4WD capability every other comment is negative. I like their summation of the Defender maturing but not developing. Again its off road ability is its strongest quality. They are against everything behind the wheel. They couldn't reach the hand break and found the controls confusing. They also thought taller people wouldn't be comfortable sat behind the wheel. The overall score was a meager 2 out of 5.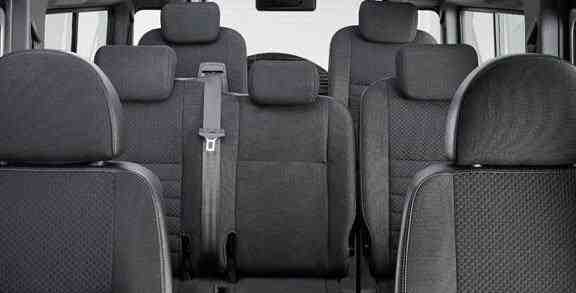 Land Rover Defender interior seating view pictured above.
In 2007 Parkers gave their overview of the 110 (07) Defender. They liked the refreshed interiors and improved performance but said it felt old. Out of everything the cargo capacity section has the most useful information. Here is where it gets interesting. The Defender 110 can have up to Seven Seats, or the option of just carrying stuff with no rear seats. From 2007 the 110 Defender with seven seats has the two rear seats facing forwards instead of side facing. The experts at Parkers gave an overall score of 2 out of 5.
Auto Car
Avoiding the cliché of calling the Defender old and tired the Auto Car experts prefer to call it an Icon. I think it's nicer a nicer description. Matt Prior the road test editor has a good point about the boot carpet. He's right, why have a boot carpet when Defender's are built to be mud trodden workhorses? If there is a carpet in the boot there's no way you could hose out the dirt! But then again, maybe the boot carpet is extractable and washable. That would solve the issue. The overall score given was 3 out of 5. This review was undertaken in 2007. The entry model is priced at just over £21,000 but beware of the limited extras which are lacking when choosing buying one.
AA: Defender Review
The AA reviewed the Defender in April 2007 and scored it 8 out of 10 overall. It is described as the ultimate off roader and the most recognizable one at that. It mirrors other reviewers in that it is a working vehicle.
Land Rover Defender pictured above.
More comfortable that previous models as there are now horizontal grab bars and face level air vents. Does that really make it more comfortable? They go onto describe the mechanical improvements such as the 6-speed gearbox and higher sixth ratio. They also like the better stereo. They score the Defender a 7 out of 10 for costs, which seems quite strange considering it averages 25 miles per gallon. Its noisiness is a tad annoying for them too.
Conclusion
If you need to tow stuff around, the Defender 7 Seater is the best in its class. Did I mention it was a 4WD? If you have lots of money you can get a gold plated variant with lime leather seats. If you want 25mpg fuel economy this is the car for you. If your over 6 feet tall it might not be. If you want seven seats then it is an option. Oh, did I mention it was excellent at driving off road?
.more...