Land Rover Defender
Land Rover Defender - 7 Seat 4WD
The Defender is a tribute to the Land Rover's of old, when the cars were designed to actually go off road and not just help ferry children about on the school run. Because of this it is lacking some of the aesthetic touches that other, road going vehicles have, looking boxy and simple. It's on road performance too suffers when compared to other models, however when taken off road there is nothing that can touch it in terms of performance.
Land Rover Defender pictured above.
A mainstay of the British Army and indeed, the off-roading circuit since it was first produced back in 1983, the Land Rover Defender has undergone something of a facelift in 2011.
Purchase Price
A basic model, such as the Defender 90 Pick Up 2 door model, will set you back £19,755, while more advanced models such as the Defender 110 XS Station Wagon will cost upwards of £30,000. Prices for second hand models start below £1,000.
The servicing needs to be undertaken every 12 months or 12,000 miles. This can be an expensive process as full services can cost upwards of £350, although prices do vary nationally so it may be best to check with local garages and explore service plans to keep the cost down.
Car Tax (VED)
Despite being driven by a handy 2.4ltr diesel engine, this 4WD is a relatively uneconomical car in terms of emissions. All of the models emit between 266g/km and 295g/km of CO2, placing the Defender into Band M.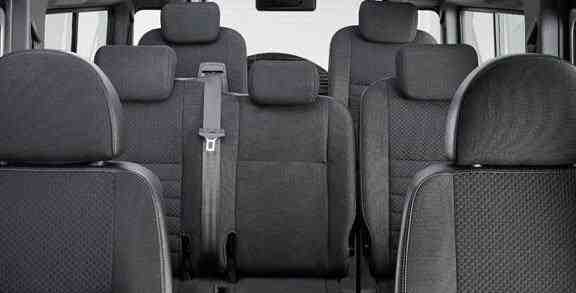 Land Rover Defender interior seating view pictured above.
Fuel Economy (MPG)
It is also rather wasteful with fuel, as an economy of just over 20mpg for urban roads and 29mpg over more open terrain only gives an average fuel consumption of 25mpg.
The Land Rover Defender finds itself ranked between insurance groups 12 to 14, depending on the model.
Safety Features Prior to 2011
Where it falls down the hardest as an every day 7-seater car is in it's safety features. Although the sturdy build, which is inherent to a Land Rover, will ensure a basic level of protection in the event of an accident, some key safety features are not available. These include all air bags; side impact bars and Isofix points, while other features such as ABS and traction control are expensive upgrades on cheaper models. Electric mirrors, power seats, automatic transmissions, Bluetooth compatibility and a Sat Nav system are also not available throughout the range.
2011 Safety Features
Gone are the days when this 4WD Vehicle was considered a unsafe to pedestrians, and indeed the environment. While this new model, unveiled in November 2011, is indeed brand spanking new, in many ways it represents a revision of the Land Rover Defender that was in production back in the 1940s. Except, of course, it now offers drastically improved features.
Performance
The engine gives a poor performance by traditional standards, taking 14.7s to reach 60mph and only managing a top speed of 82mph, however it's huge power means that it can easily tow trailers and caravans as well as go off road without a problem. The 2.4-litre engine that graced the older version of the Defender has become a slightly smaller 2.2-litre diesel engine with superior fuel economy and power that remains unchanged. It's also less noisy than the Defender of old, courtesy of a new acoustic engine cover. Land Rover buyers that have previously been seduced by the growl may be slightly disappointed, but this is still a proper off-roader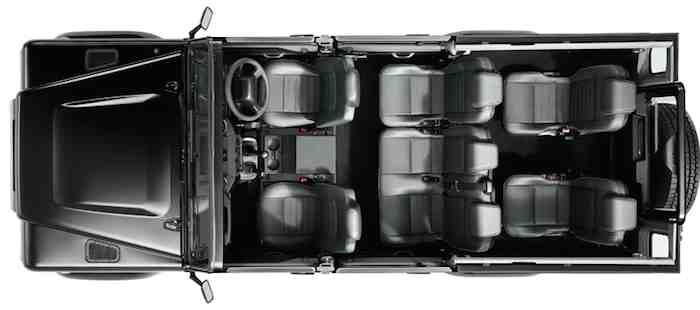 Land Rover Defender birds eye view of seating layout.
Conclusion
Make no mistake about it, this vehicle is not a traditional family car thanks to it it's awful economy and lousy safety features. However, for a family who likes to get off the beaten track and explore the wilderness, there won't be a better 7-seater model on the market for it's performance and stability truly off road.
This is a vehicle that is used to getting dirty. Unlike, the new generation of SUVs and 7-seaters, the Land Rover Defender is perfectly capable of being submerged above the bonnet in muddy water and coming out unscathed. It is a mighty 4WD off-roader!
Similar Topics