Fiat Doblo
Aggregated Reviews
The Fiat Doblo Family has been reviewed by Experts (7) and Users (33). Its score is 64 out of 100. This is based on 41 reviews in total.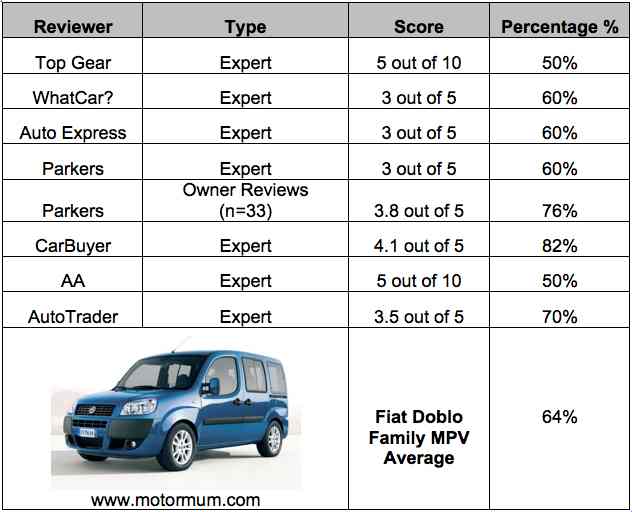 The Fiat Doblo has been around for over 10 years. In that time Top Gear, Auto Express, Honest John, Parkers and at least 33 individual owners have reviewed it. They love its practicality but feel differently about its looks. Poor Doblo!
Top Gear - Expert
Top Gear tested the 2.0 litre variant in 2010. They felt it still drove like a van but other than that couldn't find anything negative to say about it. That's not like them is it? They like the abundance of doors and cavernous cargo space but ultimately if given the choice would buy a Citroen Berlingo. They don't say why. They score the Doblo a 5 out of 10.
What Car - Experts
The What Car reviewers score nothing higher than a 3 for the Fiat Doblo in each of their rating headings. Their recommended choice is the 1.6 Multijet 105 my Life 5 door version. They aren't keen on the limited spec available on entry models but agree with Top Gear in that it is practical for what it is. There were no user reviews at the time of writing on the WhatCar site. The experts at What Car scored the Doblo a 3 out of 5. They say that the legroom is more than you'd see in a golf but the third row seats need to be removed if you want to carry any form of cargo.
Auto Express - Experts
Auto Express like the economical diesels available in the range but say top of the range Fiat Doblo isn't cheap. They agree with What Car about the best version. Ultimately they call this a spacious car on a budget with no style. But I say, who cares about style when you want to go camping with your brood and don't want a roof rack or trailer to drag you down? I don't. Would I drive one? No! But I know a lot of people who do and love them. Auto Express say that if you opt for the 7-seater you'll need to go for a bigger engine to deal with all that extra weight. I'd like to thank them for pointing that out. They also score the Doblo a 3 out of 5, but on individual ratings, it's practicality has scored a whopping 4.5 out of 5.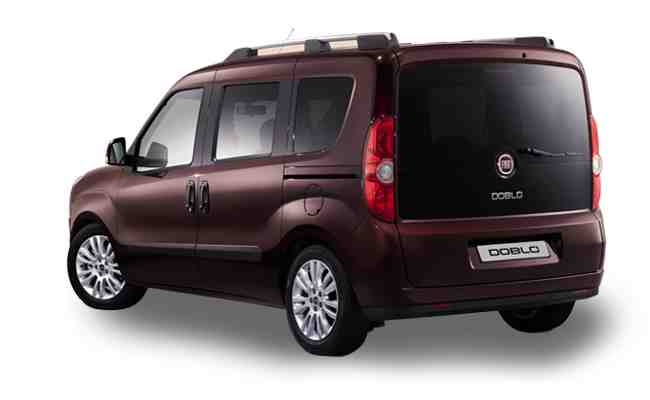 Fiat Doblo pictured above.
Parkers - Expert
The Parkers rating is pretty similar to the write-ups above. They agree with going for a bigger engine and prefer the face lifted version that appeared in 2006. Although they don't think the car is that great to drive they say it's better than a van or what its looks might suggest. Parkers who scored the Doblo a 3 out of 5.
Parkers - Owner Reviews (33)
Thirty three owners left their reviews on various models of the Doblo. They score it from a 1 to 5 out of 5. The total score out of a possible 165 is 126. This gives an average score of 3.8 out of 5. Individual owner reviews are from 2004, which is a whole lot of useful information for any prospective Doblo owners, especially if you are buying a second hand one. The most commonly owned model is the 1.9 diesel. Six people owned the "Family" model but it's not easy to get a majority opinion on what they thought as some scored it low and some scored it high. For example one person thought it was stiff to drive and didn't like the problems encountered with the brake warning light. They concluded that they wouldn't buy a Fiat again. However on a lighter note another reviewer who owned the 1.3 Multijet Family 5 door (2005/5) liked its no frills work mate ability. They thought it ticked all the boxes even though it isn't the prettiest. They paid less then £3,000 for a second hand version. What a bargain! They also loved the sliding doors. The overall feeling I'm getting about sliding doors is once you've had them you'll never go back.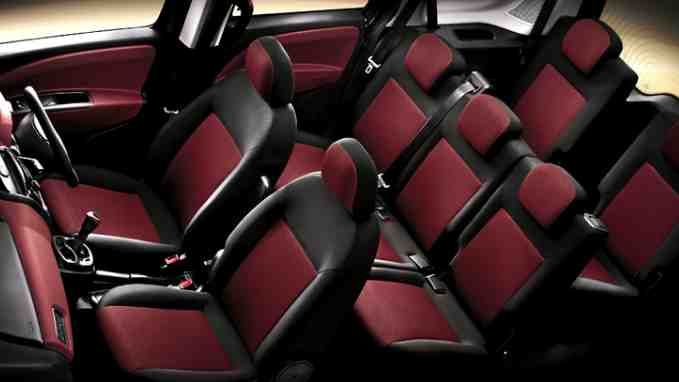 Fiat Doblo Interior Seating pictured above.
Honest John - Expert
Although Honest John doesn't score his road tests I like the way he has put information on the real MPG values. For example, he says that you get 81% of the miles per gallon claimed by the manufacturer. The 2004 review written by John says that the Doblo is the cheapest 7-Seater in the UK to buy, although you will pay more than the base price to get it.
CarBuyer - Expert
Car Buyer don't like the noise the diesel engine makes but on other headings they approve of the Doblo. Running costs, value for money and practicality score very well. The review says the same as what everyone else does. The Car Buyer experts score the Doblo a 4.1 out of 5.
The AA - Expert
Although the AA are somewhat displeased with the driving experience they do like the visibility and seating position. They conclude that the reason people would choose a Doblo is down to its price. And they are right! It is cheap and cheerful and can be extremely practical. Although they think if it was cheaper it would be an absolute bargain. The AA's score is 5 out of 10.
AutoTrader - Expert
AutoTrader test drove a post 2009 Fiat Doblo in November 2010. They thought it was good to drive, but don't like its looks. Poor little ugly ducking. They thought it lacked clever storage ideas, but in my opinion with the amount of space that it so clearly already has, why be clever with what is left? Their engine of choice is the 1.6 Multijet Dynamic, which achieves the best economy and comes with a reasonable amount of stuff when bought new. The Auto Trader experts scored the Doblo a 3.5 out of 5.
Conclusion
The overwhelming majority don't like the way the Fiat Doblo looks. But if you don't judge a book by its cover then it sounds like the most practical of cars. With low costs and reasonable kit you really could tick all the boxes with just one car. Second hand prices are also very low.
The overall percentage for the Fiat Doblo Family Edition is 64%
.more...