Fiat Scudo Combi
The Fiat Scudo Combi has been reviewed by Experts (5) and Users (66). Its score is 58 out of 100. This is based on 71 reviews in total.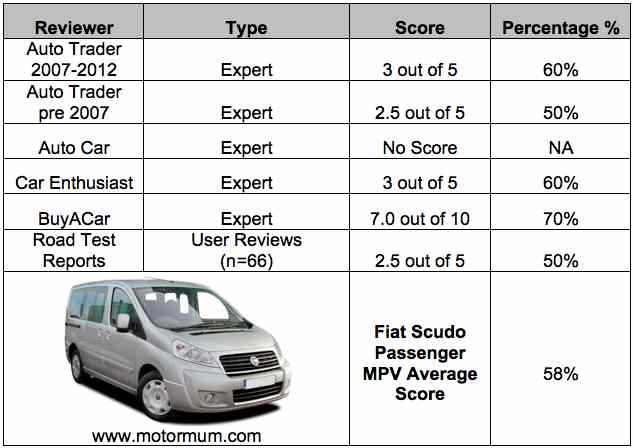 Fiat Scudo Passenger - Expert Reviews
It hasn't been reviewed as much as other more popular vehicles, but there are some good opinions out there. Auto Trader, Buyacar, roadtestreports and others have kindly written their opinion on this van like people carrier.
Auto Trader
Auto Trader reviewed the Scudo-Panorama (2007-2012) in December 2010. They like that it can carry so many people, the higher driving position and space. They aren't keen on the driving experience, interior plastics or difficulty encountered when removing seats. Despite the negativity towards the interior plastics they say they are built to last. That's good if you have lots of feral children or paying customers! Top marks go to practicality and reliability, with lower marks given to ride, handling and performance. The overall scored is 3 out of 5.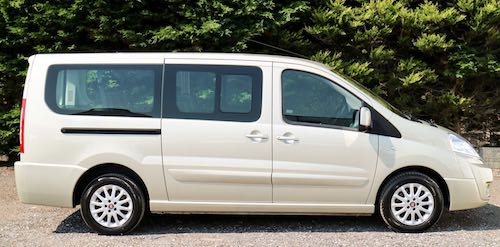 Fiat Scudo Combi pictured above.
Auto Trader also looked at a 2007 variant. The pros and cons were pretty much identical to the newer model. They felt it was more like a van. They wanted to see parking sensors as standard due to the vehicles length, but were sadly disappointed at their non-existence. Lower scores were given across the board with an overall rating of 2.5 out of 5.
Auto Car
It doesn't say when AutoCar reviewed the Scudo Panorama but it does say they tested the 2.0 litre 136 bhp tune model. They don't like that it looks like a van either. Why is everyone so negative about driving a van? I don't think it's such a negative! Why is driving a van so bad? Isn't everyone just been a tad prejudiced towards vans? Being in a van is cool. You sit higher up. You have more space. What's there not to like? Being wholly inconsiderate to my needs they haven't given a score either.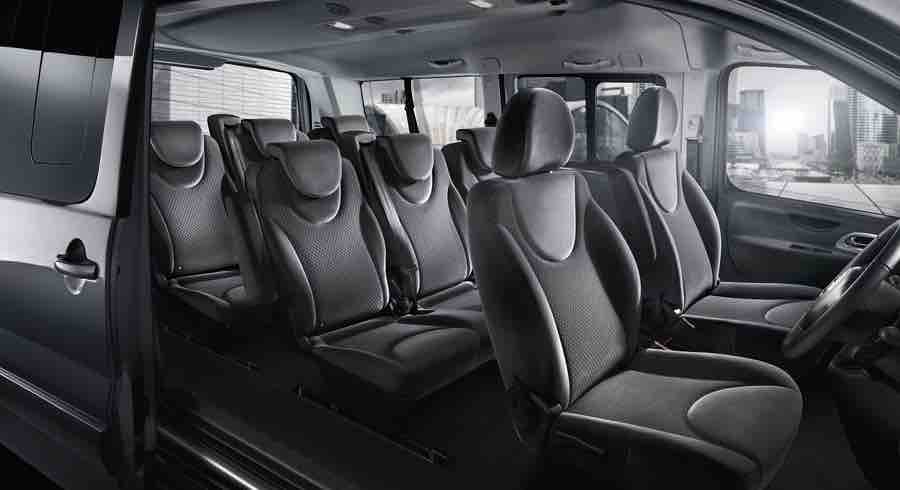 Fiat Scudo Combi - Interior Seating View
Car Enthusiast
Car Enthusiast drove the L2H1 12Q Family eight seat 2.0 multi jet Scudo in or around 2011. They like the space and its price. They also love the cargo space available with all passengers in situ. They didn't like the difficulty in moving the seats, but did say that folding them forward would give you enough space to get a shed load of stuff from Ikea in. This is good, right? For a Minibus rather than a car its running costs and C02 figures are reasonable. I approve of them listing the competition, which they state are the VW Caravelle, Renault Espace, (not sure about that one), and the Hyundai i800, (agreed). If they weren't considering price I'd add the Mercedes Viano. Their overall rating is 3 out of 5.
BuyACar
The BuyACar experts reviewed the Scudo Panorama in 2007. They go into a lot of detail about where it originated from and comment on its dimensions and power abilities. Although, at that time, it only came with one trim level it is said to be quite a good specification. I like the way they call the Scudo Panorama the sensible option. I also liked their spiel on how you change your opinion on cars when you have children. It's a nice review with some interesting information. They scored the Scudo Panorama a 7.0 out of 10.
RoadTestReports
There are 66 reviews from Scudo owners. This is impressive considering not many other car review experts have. I'm not pointing the finger, but I couldn't find anything on the WhatCar or Top Gear sites. Anyway, onto the review of the review. Individual reports go from good to bad, with some average scores too. A guy who owned a 2008 panorama had quite a few mechanical faults, whereas someone with an older version didn't.
The more negative reviews seem to come from newer models. I'm not sure whether this is because people expect no problems with newer cars or don't complain when things go wrong with older ones. However, out of 66 consumer reviews the overall score is 2.5 out of 5.
Main Fiat Write Up
As the Scudo Passenger Transport Vehicle is part of Fiat's Commercial range there isn't any information on their main site. All relevant information is on their professional, (commercial) page. No scoring I'm afraid.
Conclusion
The Scudo Combi Panorama MPV is practical if you have a massive family or run an Airport transport service. If you need to move the seats in an out then it may not be for you. But seriously why would you move them in and out that much anyway? My only advice would be to consider verifying what the warranty covers and make sure you are covered as best you can be for the price you pay. Oh wait, that advice covers any car you'd buy!
The Average Car Review Scores from above give 58%.
.more...