Fiat Scudo Combi
Scudo Passenger Transport (5 to 9 seats)
When Fiat are able to release a people carrier version of their Scudo van, you know that the emphasis is going to be on space. Sporting up to nine seats and enough room to comfortably add luggage on top, the Scudo Passenger, is truly a multi purpose vehicle, (MPV).
Also due to this large amount of internal space and ease of access, with large sliding side doors letting people slip in and out without having to climb over mountains of seats, it is often a favourite of drivers who regularly have to transport large groups of people from place to place.
Fiat seem to be calling these range of vehicles the Passenger Transport with the Combi being either a regular 5/6 seat vehicle, or a 8/9 seater or option 943 with increased capacity, (assumingly for luggage, etc).
Purchase Price
A new on the road, 5-6 seat Scudo people carrier will set you back £19,445 (plus VAT). For that price, though, you do get a useful 2-litre diesel engine. More money will get you more seats.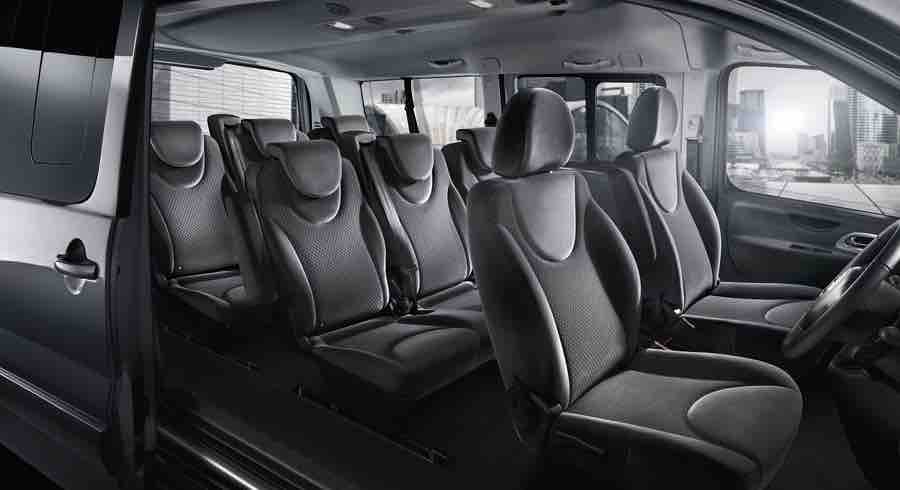 Fiat Scudo Combi - Interior Seating View
Running Costs
Keeping a Scudo running can prove affordable, as servicing at most approved garages costs around the £100 mark. However, should new parts be required out of warranty the repair bills can become cumbersome. This shouldn't be a major issue, though, as Scudo Combi's bought from new generally have very long warranties.
Car Tax Emissions
Thanks to it's diesel engine, the Fiat Scudo Combi has relatively low emissions for a vehicle of it's size, churning out just 186g/km. This efficient engine places it in Car Tax Band J for tax purposes.
Standard Equipment
The Scudo Combi comes as standard with many things that you'd expect from a people carrier, with power steering, a height adjustable front seat, seatbelt pretensioners and an immobiliser all included in the list price. However, many safety features such as ABS and extra airbags are optional extras, meaning the price may creep up for families looking for added protection in their car.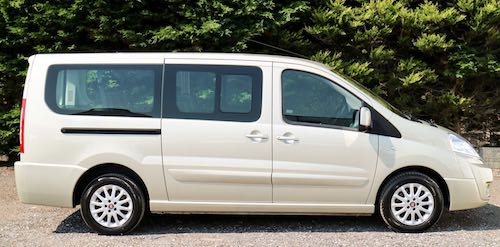 Fiat Scudo Combi pictured above.
Performance
The Scudo Combi remains economical with engine sizes ranging from 1.6 litres to 2.0 litres, the top of the range model 9-seater version getting up to 60 mph in just over 12 seconds with a top speed of 106 mph. Unsurprisingly all models are diesel. This all adds up to a very respectable 40 miles per gallon on fuel, which is extremely economical by the standards of the average 7-seater.
The manual transmission version features 6 speeds as part of a driving experience that feels decidedly like that of a normal car in many ways – just take a look at the dashboard and the steering wheel setup.
Insurance
The Scudo Combi finds itself placed in Group 7 for insurance purposes. However if you choose the option with up to nine seats you will be charged a lot more for insurance as it is classed as commercial insurance. So beware!
Conclusion
Overall, the Scudo Combi is a perfect car for large families who need to transport big groups of people, not just small children, from place to place as well as a solid option for those looking for a large yet comfortable trade option. The Fiat Scudo Combi is also a perfect choice if you wanted to hire an 8-seater car. Detailed information isn't available on the main Fiat website, to get the Nitti Gritty info you'll have to visit their professional site.
It is extremely popular with taxi drivers. Able to comfortably fit between 5 and 9 passengers, the extended version of the Fiat Scudo van is a sizeable people carrier with plenty of excess space for baggage. The large sliding door which improves access for multiple passengers and large rear hatchback boot only improves its usability. The Fiat Scudo Combi has the rear of a people carrier and the front of a saloon, and it works.
.more...