Hyundai Santa Fe
Hyundai Santa Fe - Expert & Owner Reviews
The Hyundai Santa Fe has been reviewed by Experts (8) and Users (170). Its score is 81 out of 100. This is based on 178 reviews in toal.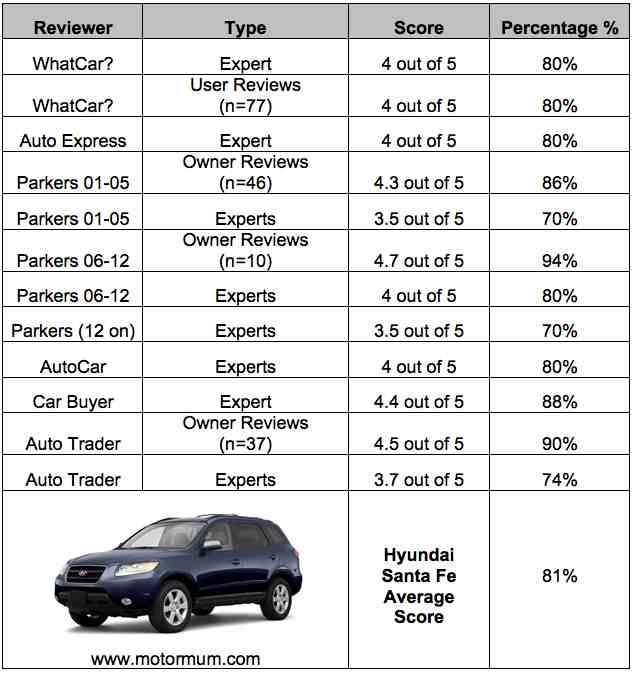 The Hyundai Santa Fe has been around since 2001. What Car, Parkers, Auto Car and 170 actual owners have reviewed it. There are two changes since 2001; one in 2006 and another in 2012. It can also be driven off road.
What Car - Expert
What Car think the Santa Fe is good to drive and can cope with mild off road duties. Its rarity is stopping the car competing with the big guys for popularity and makes it harder for us to get hold of a second hand ones. They like the 2.2 CRTD CDX model but advise against the 2.7 V6 CDX+ variant. I'm assuming this is because of the increased running costs, they don't say. Score 4 out of 5.
Owners generally love their Santa Fe. One owner of the 2.2 CRTD 150 GSI 5st 5dr version had problems with cruise control, which by the sounds of it is taking a long time to remedy. Most people like its ride, handling and sixth and seventh seat. However some are winging about the running costs. A total of 77 individuals left a review for the Santa Fe which averages the overall score to 4 out of 5.
Hyundai Santa Fe pictured above
Auto Express - Expert
Auto Express reviewed the Hyundai Santa Fe in December 2012. They like that it looks less like a people carrier and could perhaps look quite premium compared to its price. That explains their value for money description. As a bonus the Santa Fe has scored 5 in the NCAP rating and according to Auto Express has cheap servicing costs. Score 4 out of 5.
Parkers - Expert
There is so much information on the Parkers site about the Santa Fe that its difficult to summarise without writing a novel. Overall 10 owners of the 06-12 models scored it well. Only one owner scored it lower, but he wanted a Volvo XC90 but bought a Santa Fe because it was cheaper. Seems the MPG is thirstier than the official stats. The Expert reviewer of the 06-12 model loves its looks but complains about some body roll in bends. Seriously do we actually know what that means? I guess the experts do.
Parkers also review the 2012 Hyundai Santa Fe and score it slightly lower than its predecessor by half a mark. Seems the body roll problem is still an issue in newer models. But the 2012 Santa Fe's are slightly bigger with more middle row legroom and blue tooth control rear folding seats. Now that's a gadget I'm sure many people will love. The average score from the 46 owners on the 01-05 models is 4.3 out of 5, whilst the expert scores only 3.5. The expert review of the 06-12 increases to 4 out of 5 whilst the new 2012 model drops to 3.5 out of 5.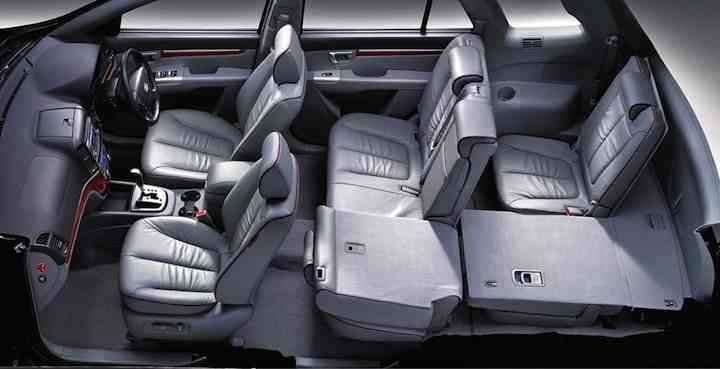 Hyundai Santa Fe seating pictured above
AutoCar - Expert
Auto Car prefer the 2012 model to previous ones and they call its design striking. They credit Hyundai for increasing making more legroom without increasing the wheelbase. Although they dislike the lack of tumbling seats as it makes accessing the third row seat tricky. They like its practicality, style and price. Score 4 out of 5.
Car Buyer - Expert
Car Buyer really liked this 7 Seater Car. They must have because they've scored it highly. They think its great value for money and the five-year warranty is appealing. They agree with the difficulty in accessing the rear seats and don't like the poor resale values. I'm not quite sure what they mean by saying the five seater makes less sense. Again the cheapest model is also quoted as being the greenest, this is the 2.2 CRDi Style 5dr 7 Seat 4WD 5dr.
Their video is detailed and definitely worth a watch. Although she did sound like she said the Honda Santa Fe the rest of the video is informative. They love the blue lighting and leather bound knobs. Apparently it has a wade depth of 500ml. So that means you can drive through a river 50cm deep. That's handy in the UK. Their score is 4.4 out of 5.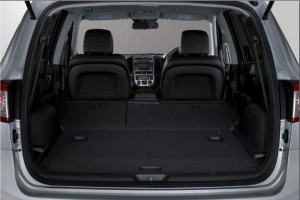 Hyundai Santa Fe boot space pictured above
Auto Trader - Expert
Auto Trader test-drove the 2006-2012 Santa Fe in December 2009. As with most reviewers they like its warrantee and standard kit. Ride and handling are given the lowest score of 3 out of 5 whilst Interior and performance are given 4's out of 5.
Auto Trader say you should buy it because its one of the cheaper 4WD vehicles with 7-seats out there. As well as the expert review a whole load of owners took their time to tell us about their experiences. Thirty Seven owners have reviewed the 06-12 model and given it a score of 4.5 out of 5. The expert's were less generous, only giving 3.7 out of 5.
The AA: NCAP Crash Test
The AA NCAP Crash Test was undertaken on November 2012 on the 2.2 Diesel Comfort 5 Door SUV model. The results scored 5 out of 5.
Conclusion
It is a cheap 4WD option for those who can't afford an XC90 or BMW X5 M SUV, but despite the 5 year warrantee there are a few dealer issues. There are also grumblings about MPG not being as expected. Apart from that people love the way it looks especially the blue lights on the dashboard.
The Average Car Review Score for the Hyundai Santa Fe is 81%.
.more...