Hyundai Santa Fe
Compact 4WD 7-Seater
The Hyundai Santa Fe 4WD MPV is one of the most promising cars in Hyundai's line up, with a strong diesel engine, versatile 7 seat option, roomy interior and comfortable ride. The Hyndai Santa Fe also benefits hugely from several economic benefits, as it is much larger than other models in it's price range when bought new and cheaper than other cars of a more comparable size. However, buyers should be aware that the Santa Fe struggles to retain its resale value, and second hand prices drop dramatically.
This SUV is a success story that keeps on rolling. For buyers, it has become synonymous with among the lowest insurance rates in this segment, an exemplary safety record and demand that has rarely dipped since it was first launched at the turn of the new millennium. In fact, this is a vehicle that has at times sold out.
Purchase Price ONR and 2nd Hand
Prices for a start from £24,775 for a basic model, while upgrades can push the price up to as high as £27,945. Privacy glass costs and extra £315. The new Generation Santa Fe can be purchased over 36months with a 11K deposit and £359 a month thereafter. Second Hand Prices range from £1,000 to around £25,000.
Running Costs
Despite it's relative economy when compared to similar models, one factor which can push up the cost is the insurance, with all models being placed into insurance groups 13 and 14. As for fuel consumption this ranges between 30.4 to 50.4mpg. The Car Tax is Band I to J. Co2 emissions range from 176g/km to 197g/km.
Hyundai Santa Fe pictured above
Accessories
With basic models, you get a perfectly serviceable 2.2ltr CRTD diesel engine, ABS, air conditioning, allow wheels, body coloured bumpers, CD player, air bags, Isofix anchors, PAS, full electric windows and traction control. On models, which are upgraded, climate control, cruise control, an electronic drivers seat, leather trim and parking sensors are also available, as is a superb 2.2 CDRi engine.
5 Year Warranty With all New Purchases
One of the biggest benefits with buying one of these is that all cars come with a reasonably comprehensive 5 year warranty, which should cover all of your needs. If you need to pay for servicing, though, it's recommended that you check local garages as prices can vary widely nationally.
Performance
Although there are a number of different engine options, the best by a long way is the diesel 2.2 CRDI manual. The 4 cylinder DOHC dwarfs the other engine options, including a hugely uneconomic 2.7ltr petrol engine, by reaching a top speed of 118mph, accelerating from 0-60mph in 9.8s and still providing around 40mpg. With an automatic gear box, though, this performance is slightly dented and it tales around 10 seconds to go from 0-60mph.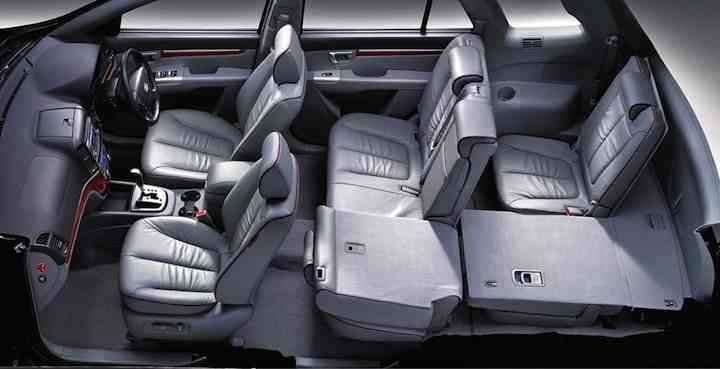 Hyundai Santa Fe seating pictured above
The downhill brake assist system is designed to help the driver on steep slopes. This comes with all trim levels except the SLX manual edition. As ever, there's a choice between an all-wheel drive version and a 2WD edition.
Dimensions
The width is 4.685metres, its is 1.89m wide and 1.760m high. The luggage capacity ranges from 969 litres with the seats up to 2,247litres with the seats down.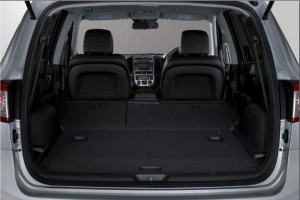 Hyundai Santa Fe boot space pictured above
Safety
The car has been heavily criticised for it's lack of protection for pedestrians – during the pedestrian safety tests, the Santa Fe scored a zero. However, it features traction control, electronic stability control, rollover sensors and six airbags. It's these impressive safety features, which have led to five-star ratings on safety by standards bodies. Overall this is a sporty MPV that is both safe and reliable - and it won't break the bank.
Conclusion
The Hyundai Santa Fe remains a great car for those looking for all of the benefits of a four wheel drive car without wanting to match the large price tags which can accompany them. For 2012, Hyundai has made a few changes to the Santa Fe but most are due with the 2013 edition which will mark the third generation of this impressive vehicle. The aesthetic changes are more tinkering than a complete reworking of the body. There's a restyled front underside and changes to the skid plate both front and back, plus new alloy options available. New body colours for the 2012 include titanium sliver, superior red, and carbon grey and blue spirit.
.more...