Kia Sorento
Expert and User Reviews
The Kia Sorento has been reviewed by Experts (10) and Users (107). Its score is 70 out of a possible 100. This is based on 117 reviews in total.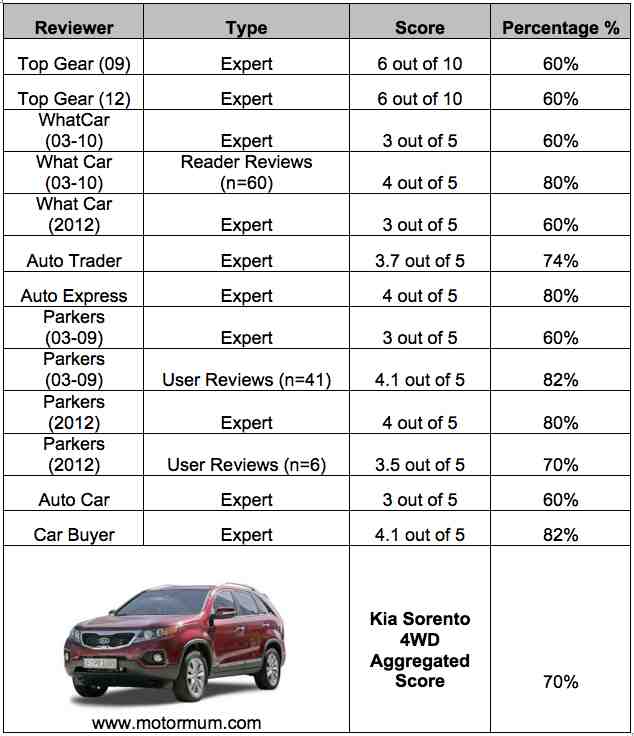 When calculating the above figures I have taken scores from experts such as What Car, Top Gear, Auto Express and individual owners.
Top Gear
Top Gear reviewed the level 2 model in October 2009. Although they don't say much about how the car drives they're impressed with Kia's redesign. Apparently Kia sold more cars than Ford in the first half of 2009, which only goes to show how popular Kia is getting. Top Gear like this. Notwithstanding their admiration of Kia they still scored the Sorento 4WD a mere 6 out of 10.
In December 2012 the they drove the face lifted 2012 7 Seat Sorento and even though there are more positive comments the score is still 6 out of 10. No improvement there then. They like the way it looks and that it's a full seven seater, although they say the rear seats are only suitable for kids. How can it be a full 7-seater if the rear seats can only accommodate little ones? Not sure. They say it's worth a look. So go and have a look.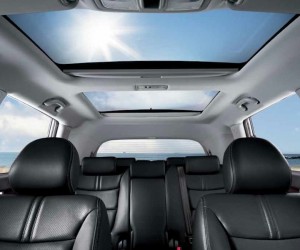 The Sky Window features above is only available on the KX3 version of the KIA Sorento.
What Car
What Car reviewed the 03-10 model but they've made a bit of a typo and called it a Sedona. This is the Sorento's older (more sensible) big brother. They come to their senses later on and are back calling it a Sorento. Apparently its value for money and has five seats. There is no mention of the few models that have flip 6th and 7th seats. They say it has vague steering. What does that mean? Rather vague comment I'd say.
The expert review for the 03-10 Sorento was given a score of 3 out of 5 whereas actual owners were more generous and averaged 4 out of 5. The new 2012 Sorento was considered 3 out of 5 by the expert reviewers.
The owners of the 03-10 models are a happy bunch. Most people think it's the best 4WD within its price range. A lot of buyers use the Sorento for towing caravans and horseboxes. A very happy chap saved a lot of money getting a Sorento instead of a Range Rover Freelander. Now there's a price difference? I wonder if he went on holiday with his savings. Despite only giving a 3 out of 5 one reader describes the gear box as wonderfully smooth.
The Boot Space of the Kia Sorento is large enough to carry an 8m x 5m Outwell Vermont 7SA (7 berth) Air Tent and all camping accessories. Luggage is stored in the roof box.
The extra 12V outlets are handy for all those pesky children to be plugged into too. Most owners say nothing has gone wrong and a few are even on their second. A bit greedy, eh? This is all sounding too good to be true. Someone must have something bad to say? One CRDi XT 5dr owner had a few gearbox troubles but despite his woes is commending the dealer for bending over backwards to resolve the problem.
What Car - 2012 Sorento
No readers have reviewed the 2012 model but the What Car experts have. Top marks go to performance, space, practicality and equipment whilst average scores are given to everything else. Although ride and handling only scored 2 out of 5. Apparently the big door wing mirrors create some noise at speed and the suspension isn't squishy.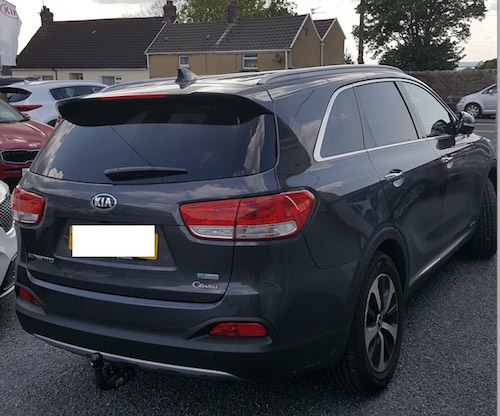 Auto Trader
Auto Trader reviewed the Sorento in June 2009. They concur with all other experts about its value for money, spaciousness and generous 7-year warranty. Although they aren't keen on its off road ability and limited choice of engines. I think Kia got it right, why give people so much choice? That is why I shop in Aldi rather than Tesco. I prefer less choice. More choice just brings confusion. I would say that most people want an economical or fast engine. Highest marks are given for performance, especially the 2.2 L CRDI with 194bhp that can get to 62mpg in less than 10 seconds. Its torque is good too. What does 311ib/ft of torque actually mean? Score 3.7 out of 5.
Auto Express
Auto Express gives talks in general about all Sorento models. They like the newer version (2013) even though it hasn't changed too much. Their summary is that it's a large SUV at a good price. Oh and there's no lip in the boot. On the video they show a toy car doing a circuit in the extra boot space. The reviewer in the video does a good job at showing the room and flexible seating options.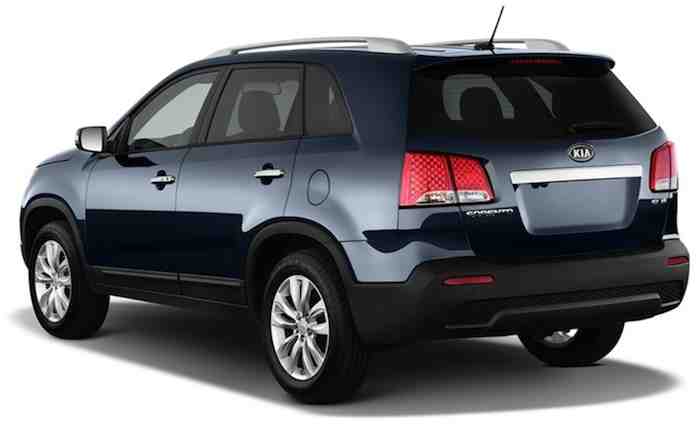 Second row passengers have a lovely big foot well with a small transmission tunnel so that middle seat passengers also have somewhere to put their feet. Score 4 out of 5. Top marks are given for its reliability. Reasons given are its long warranty and full five star NCAP test rating.
Parkers
Parkers give detailed reviews on the 03-09 and 2010 models. There are also reader reviews. In 03-09 they liked the extra equipment you got for the price but didn't score it well for its eco green credentials. Owners generally liked their Kia Sorento with nearly all scoring at least 3 out of 5. One owner who gave a low score in 2006 still thought it was generally okay and good for towing. The 03-09 model scored 3 out of 5 by the experts and 4.1 out of 5 from the 41 owners who participated.
Parkers gave a higher score for the more stylish 2010 model. They were impressed (as other reviewers are) at how Kia is progressing in the Automobile industry. There is an added paragraph about the 2012 version that tells us the trim comes in three KX levels with varying levels of technology available. The detailed paragraphs are positive about the Sorento with only a medium 3 out of 5 given for selling the Sorento on. Residual values do seem to be poorer than other SUVs. Experts gave the 2010 Sorento a 4 out of 5, whilst the owners averaged 3.5 out of 5.
Only six people left their review on the newer Sorento (2010) and it seems they either love or hate it. The haters had clutch problems but loved the seven seats.
Auto Car
Onto my favorite reviewers the experts at Auto Car. Apparently the newer Sorento 7 Seater can't tow as much but is prettier to look at. They call it a soft roader. They generally like it but think Kia is pushing it with the purchase price. Score 3 out of 5.
Car Buyer
The video on Car Buyer is identical to the one on Auto Express. They get around a bit? Despite this they tell us that the 2.2 CRDi 4WD 7-Seat KX1 5 door is the greenest, cheapest and fastest. So you don't need to read anymore. Just buy that one. If you want to check what I'm saying is correct. Score 4.1 out of 5.
Conclusion
Kia are upping the anti when it comes to looks and the Sorento is one of its best re-inventions to date. They want people to buy their cars through desire rather than practicality. It seems to be working. The older Sorento could tow more, but the newer one looks better. I wonder which one will sell more. You decide.
The overall percentage score for the Kia Sorento is 70%
.more...