Land Rover Discovery
Aggregated Reviews
The Land Rover Discovery has been reviewed by Experts (10) and Users (344) Its score is 83 out of 100. This is based on 354 reviews in total.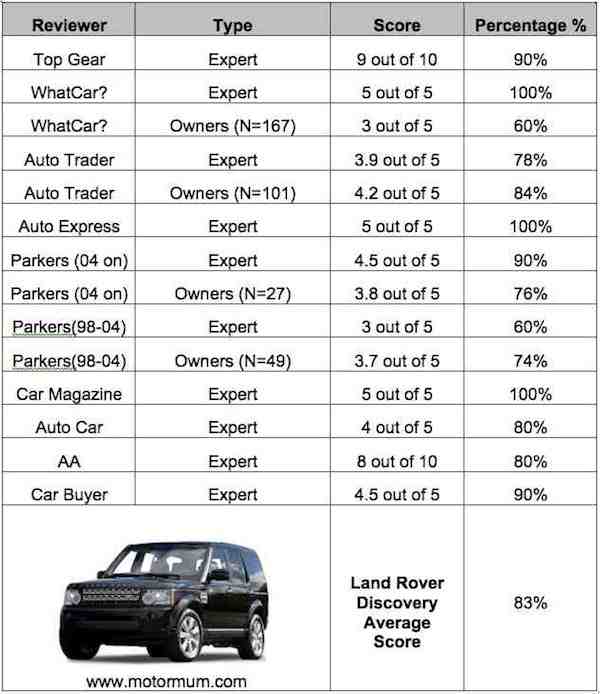 Top Gear - Expert
According to Top Gear the Disco is the best looking box with seven seats. Oh and the heaviest plushest one at that.
The 2010 refresh (renamed Disco 4) has improved the suspension and on-road ability. Nothing negative is said about its off-road capability which kinds of leads us to believe it is a great 4WD. Land Rover makes the best off-roaders. Their short and sweet review gave a score of 9 out of 10. For Top Gear this is quite impressive. It's the first higher score I've seen from them.
What Car - Expert
The XS version is the What Car favorite. Top marks are scored across the board for performance, ride, handling, refinement, safety, security, space, practicality and equipment. Is there anything they don't like? There's only a 3-litre engine available but they like it. They say seven adults fit easily when seated but to forget boot space if they are. The extras sound generous too, for example the HSE models get everything electric. What does everything electric mean? The What Car experts score this luxury 4WD SUV box a 5 out of 5.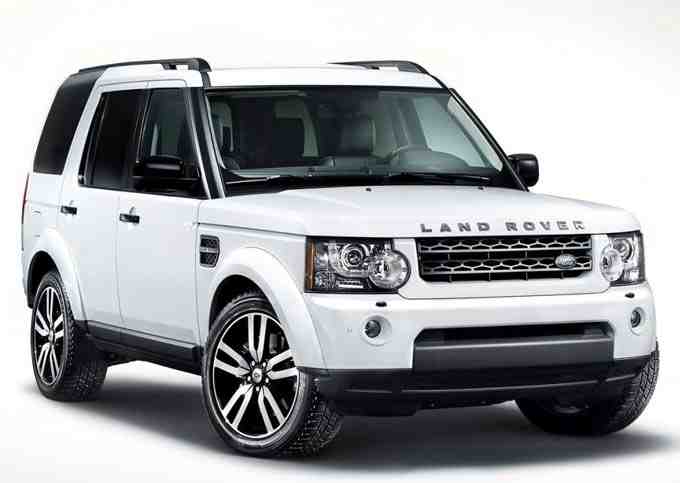 Land Rover Discovery pictured above.
What Car - Readers (N=167)
I'm impressed with the one hundred and sixty seven reviews (as at May 2013). Not bad going. People like talking about their macho 4wd. Generally people either love or hate them. Miles per gallon achieved are lower than the quoted manufacturer figure and repair costs are high.
Notwithstanding the negatives the reviews are detailed and cover 27 different models on 42 pages from 2004 to 2013. I'm surprised that one chap thought it is a bit of a pope mobile. Is it really? The aggregated score is quoted as 3 out of 5 overall. Wow, one guy says that Discovery's are as reliable as a chocolate fireguard in an open fire convention. I wish that guy wrote reviews for me. I think I'd like him.
Auto Trader - Expert
Auto Trader reviewed the Discovery 4 in November 2011. They call it handsome and boxy. The Disco is another SUV to incorporate LED lights to give it a bit of sparkle. Top marks go to exterior, ride, handling and reasons for buying. Lower marks are given for reliability and running costs. The aggregated score is 3.9 out of 5.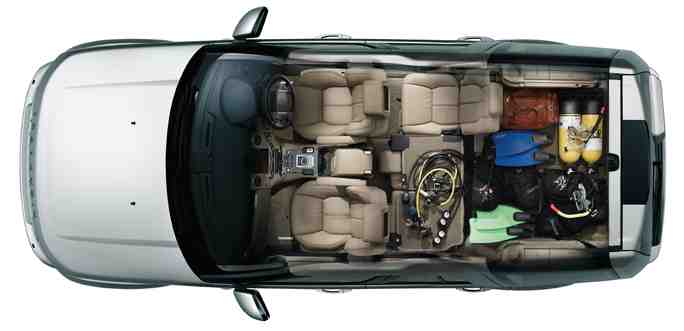 Land Rover Discovery seating pictured above.
Auto Trader - Owners (N=101)
Since 2004, 101 reviews have been uploaded to the site. I like the option of splitting the reviews into three categories; 2004 on, 1989-1998 and 1998-2004. Similar gripes over running costs and repair bills are repeated in these reviews. People either love it or hate it. Their reason for disliking is linked to the excessive costs after buying. The reviews who like this SUV love it and can't recommend buying one enough. The overall score given by Auto Trader Disco owners is 4.2 out of 5.
Auto Express - Expert
The Auto Express review mirrors other opinions about the appealing styling, driving and practicality. It is the daddy of all off-road SUVs but people may struggle to achieve the quoted MPG. Score 5 out of 5.
Parkers - Expert
Parkers are one of the most renowned car information websites available. They go into great detail about costs, performance, safety, equipment, comfort and company car information. Despite the excellent information I did find it tricky to find where the reviews were on the site. I did and here they are:-
Parkers reviewed the Discovery 2004 model in 2009. A used one of these could be picked up for only £8,000. Information includes company car information and prices. The aggregated car score is 4.5 out of 5.
The 27 real owner reviews for 2004 versions include write ups on the 2.7 Td V6 XS 5d (7 seat) manual and automatic versions from 2005 to 2012. Aggregated scores work out at 3.8 out of 5.
In January 1998 they looked at the 98-04 models. Again the same detailed information is included. Used prices vary from over £1,000 to just under £10,000. They call it thirsty with varying reliability but do love its off road ability. The overall score awarded was 3 out of 5.
Alongside the expert review 49 real owners left their opinions. If you look at the scores overall you can see that the feedback is more positive than negative. This is reiterated with the score of 3.7 out of 5. Models reviewed include the 2.5 Td5 ES or GS 5d (7 or 5 seat) auto or manual models, the 4.0 V8i ES, GS and XS models. The aggregated score is 3.7 out of 5.
Car Magazine - Expert
The new Land Rover Discovery (from 2010) is 29% more powerful, 9.7% more fuel efficient and has 36% more torque. Still not sure what torque is. They also drove it through a river to test its off-road ability and it passed the test with flying colors and mounted the bank afterwards with ease. Sounds like a winner, but we already know that from all the other reviews. The Car Magazine Expert scored it a fantastic 5 out of 5.
Auto Car - Expert
The Auto Car review is good with history telling us that the Discovery 3 was released in 2004 and the Discovery 4 in 2009. Bargains can be had with the "3". They dedicate a whole page to the design features, which really could be summed up with a sentence saying it has more than you'll ever need.
The Disco 4 is 176mm longer, which has improved the space available in the third row sixth, and seventh seat. Who knew that 17.6 cm could make such a difference? There are lots of safety features and it is a whopping 2.5 tonne in weight. Good performance, ride and handling with detailed statistics to back up the statement. However MPG and running costs are still a niggle. The experts scored this impressive SUV 4WD a 4 out of 5.
The AA: For the Road Ahead
The 2004 review from the AA talks about the Land Rover Discovery 3. It has been scored 8 out of 10 overall. They think Land Rover is showing other 4WD Sports Utility Vehicle manufacturers how it should be done. Competitors include the BMW X5 (also a 7 seater), Volvo and Toyota options. In 2004 they thought the Disco was designed for the 25th century, but the new Disco 4 has LED lights so perhaps not.
Car Buyer - Expert
Car Buyer look at the Disco 4. The video shows the fantastic space available for adult third row seat passengers. There's a great view of the road ahead from all seats. Split tailgate is handy for shopping. There are lots of cubbyholes and a clear dashboard with touch screen controls. It has a very good quality cabin feel. In their video they drive one uphill and through some picturesque woods. Apparently it does its own breaking. Car Buyer think it's good on a normal road too whilst being comfy and smooth around corners. Handy advice about not driving over a bomb crater – shouldn't be too many of them in the UK. They don't like its largeness because it makes parking tricky. According to Car Buyer the Discovery is three cars rolled into one, namely an off-roader, a people carrier and a luxury limousine. Quick where do I sign? The score awarded by Car Buyer is 4.5 out of 5.
Conclusion
People love their discoveries for varying reasons from its macho pulling power to its higher road viewing platform. But there are repeated niggles and gripes about fuel costs and repairs. Undoubtedly one of the best 4WD SUVs in Britain today, which maybe why people buy them without looking at the extended costs of servicing, repairs and running costs.
The overall percentage for the Land Rover Discovery is 83%. This is amoung the higher scorers.
.more...