Mercedes Benz Viano
Aggregated Review
The Mercedes Benz Viano has been reviewed by Experts (5) and Users (11). Its score is 53 out of 100. This is based on 16 reviews in total.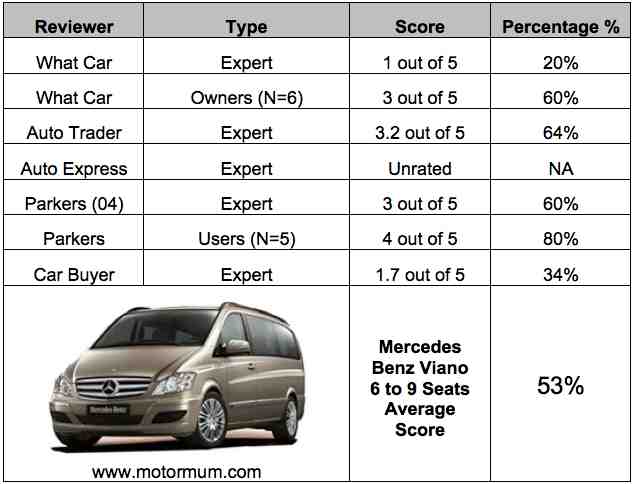 What Car - Expert
What Car call the Mercedes Benz Viano a van like vehicle that is spacious and expensive. They aren't too impressed with its performance implying that any power is achieved after pushing the engine quite hard. The engine is noisy but gets quieter when cruising, although at speed the wind noise increases. Low marks are given for handling. What Car say that if your in one of these MPV's you're in for a bumpy ride. There are two diesel engines available; a 2 Litre and a 2.2 Litre, and more recently there are three lengths available. What Car don't seem to be impressed with either engine.
Sitting behind the wheel is given top marks because everything is adjustable and controls are easy to use. Apparently the Viano isn't practical because removing the seats is difficult. They say that other MPV's have fold flat seating options. However the seats in the Viano are proper sized ones that adults can sit in comfortably. So if you're using it as an MPV all the time I think it's perfect. Sorry What Car, I disagree with you. This car comes with seven seats as standard or the option of 6 to 8 depending on your needs. The overall rating from the What Car reviewer is only 1 out of 5.
What Car - Readers (N=6)
The Viano 8 Seater owners are a bit more positive despite only six leaving a review. One purchaser of the 2.2 CDI Ambiente LWB 5dr model wasn't sure about the van styling at first but now feels unlikely to part with it. They like the luxury of a table (that's what they said) and say the load capacity is extremely useful. Another owner (2.2 CDI Trend XLWB 5dr) wasn't so positive. He thought it was the worst car (or van) he'd owned. He calls the VW Caravelle bigger and better. For this poor chap everything went wrong with even the seats falling apart. He says this car is underdeveloped. Other reviews are positive with practicality and space scoring the highest. Score 3 out of 5.
Auto Trader - Expert (2004)
In opposition to the reviews above Auto Trader say the Mercedes Viano is one of the plushest MPV's available. They criticise the difficulty in removing the seats but I personally don't think that is a bad thing. As I've said before people will buy this car because the seats are big and comfortable and suitable for adults on a regular basis. They nit pick at its van like cumbersomeness but that's how you seven individuals sit in relative comfort. High marks are given for practicality, reliability and interior whilst low marks are given for handling. There is one theme these reviewers are agreeing on and that is the Viano's handling. The three wheelbase choices improve the flexibility this MPV can offer. Miles per gallon varies between the low and high thirties. Safety has only scored 4 starts in Euro NCAP (2008) and if you want extra air bags at the front and side you'll have to pay. The overall rating is 3.2 out of 5.
Auto Express - Expert
In 2003 Auto Express says the V-Class is dead and Mercedes are trying to develop a cheap people carrier. They are trying to fill a niche. There are good ratings for space practicality and refinement. This is the first review that has mentioned the Viano swivel chairs. This enables people in the second row to turn around and face the third row passengers. I assume the table is in the middle. Unfortunately the write up is not rated.
Parkers 2004 - Expert
Parkers like the practicality and comfort provided for seven passengers or more. They are put off by its size and van like appearance. Newer models look slightly less like a van, but these 2003 variants definitely just looked like a Vito with windows. Low marks are given for handling by Parkers too. The final score is 3 out of 5.
Parkers - Owners (N=5)
Five users wrote about their Viano MPV. Four out of five owned the Long Wheelbase variant. This is the one between the shortest and the one with lots and lots of room. Nobody has written anything that negative, with all reviews scoring at least 3 out of 5. One reviewer says it's comfortable on long trips, but that tyres wear out quickly. This guy owned the Mercedes-Benz Viano 2.0 CDI Trend 5d (Long) (2005/05) and liked the multitude of 12V ports in the car. Useful for kids I suppose.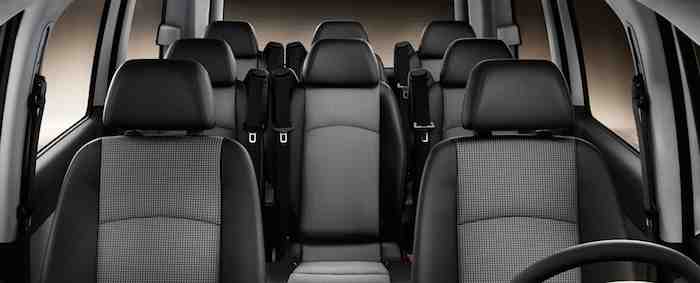 Mercedes Benz Viano seating view pictured above.
Another owner, this time of the 2.2 CDI Ambiente (Ex Long 2010) 5d Tip Auto loved it and will be buying a new one in 2015. He liked the parking sensors, electric windows, sliding doors and spaciousness. Although he did have a niggle about the tyres he wore through. Parkers owners rated the Viano a generous 4 out of 5.
Car Buyer - Expert
Although only scoring a 1.7 out of 5, Car buyer call this an excellent motor cruiser with loads of space. This actually sounds perfect to me. According to them the interior plastics are cheap and it's difficult to park. I guess that is why the Parkers guy above liked the parking sensors. Maybe the Car Buyer guy is rubbish at parking. Or perhaps in fact the Viano is difficult to park. You decide?
The greenest, longest and surprisingly fastest is currently the Viano 2.2 Extra Long Ambiente 5 door. Another surprise is that the cheapest is the CDI Compact 5dr Sport. How can a sport model be the cheaper? This review must be quite recent (although doesn't specify) because it says the recalls and problems from earlier models have been ironed out. As for value for money it pitches itself more expensive than an Expert Tepee from Peugeot and cheaper than the VW Caravelle. The overall rating is 1.7 out of 5.
Conclusion
The Viano 8 Seater van can sit everyone in comfort (up to eight at least). There is loads of space and lots of length choices (three). Luggage will load easily and you can have between 5 and 7 seats as an option. Older models have handling issues as well as an increased tyre wear problem. The Mercedes Viano people carrier is priced well for a Mercedes and at the middle top end of the market for MPV's. Although overall scoring isn't that great I think Mercedes have done a great job at providing a product for the MPV lovers out there.
The Mercedes Viano (or previously known as Vito) has scored 53% overall in the aggregated Car Review score.
.more...