Mitsubishi Outlander
Aggregated Car Reviews
The Mitsubishi Outlander has been reviewed by Experts (12) and Users (21). Its average score is 67 out of 100. This is based on 33 reviews in total.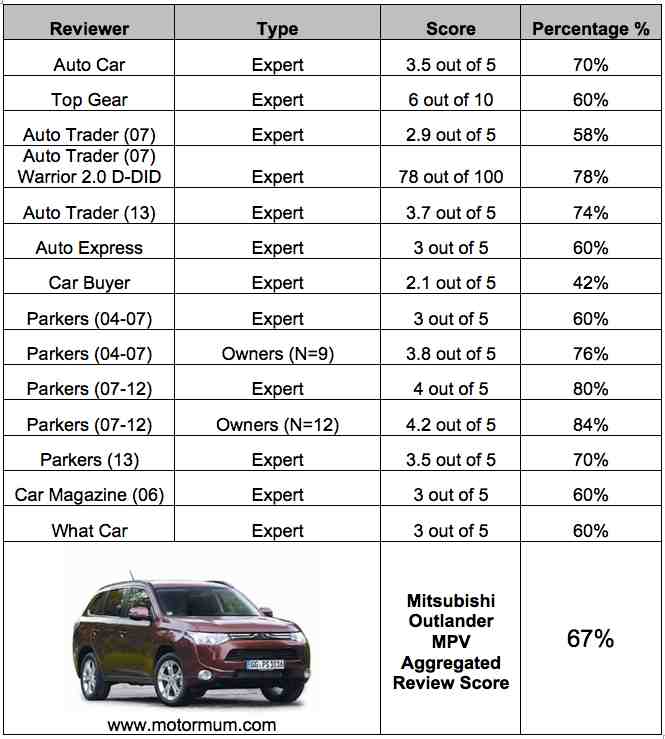 Auto Car - Expert
Apparently no other manufacturer is doing more to be the most environmentally friendly. Quite a sweeping statement as I think there are other manufacturers making progress with meeting and exceeding environmental standards. The 2013 diesel Outlander engines are more economical, less powerful and a whole lot cleaner than 2007-2012 variants. Being environmentally friendly hasn't stop it carrying seven people and towing stuff.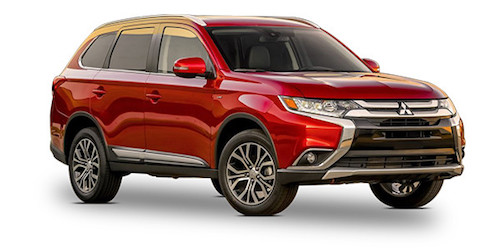 Mitsubishi Outlander pictured above
There are some lovely pictures to look at which include both interior, exterior, boot and wheel views. The Mitsubishi Outlander, has everything you need in a family car including 4WD, seating capacity and lower fuel costs. As it has a higher driving position (in the typical 4WD format) it is easier to load small children in and out of car seats. The overall score given is 3.5 out of 5.
Top Gear - Expert (12) Review
Top Gear review the 2012 Outlander which has had a re-design under the bonnet to accommodate the ultra green version that will hit the dealers in late 2013. This ultra green Outlander is claimed to do over 150 miles to the gallon with only 50g/km of C02 being emitted. Sounds amazing, but we'll see whether the purchase price will negate any fuel savings. Top Gear tell us the UK's most popular variant is the 2.2 diesel and 4WD option. Their review is rather "Meh!" There is nothing too complimentary and the tone is very average. The rating given is 6 out of 10.
Auto Trader - Expert (2007)
In 2009 Auto Trader reviewed the 2007 Mitsubishi Outlander. The rear seats are cramped and it doesn't compete well with the Land Rover Freelander. Apparently it isn't cheap which is reflected in the cabin quality. It must be a cheaper than a Land Rover though? One of these can be picked up between £20 and £30K, and a Land Rover is well over 30K. So what is Auto Trader taking about. The Juro edition has alloy wheels and more standard features but apparently still lacks the finesse of a Freelander.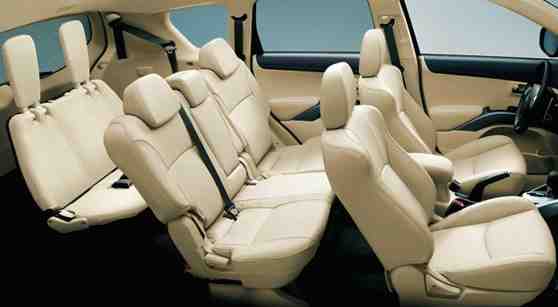 Mitsubishi Outlander seating pictured above
The rear seats are annoying to fold and leave limited boot space when upright. When the third row is flat the boot space opens to 541 cubic metres. Auto Trader says it is "quite" enjoyable to drive. In 2007 there were two diesel engines available; but you can vary your options with manual or automatic gearboxes. Unfortunately this model had a few official recalls between 2008 and 2010 but all seems to have been dealt with smoothly. The overall score is 2.9 out of 5.
Auto Trader – Warrior 2.0 D-ID
In November 2007 Auto Trader undertook a ten point test on the Warrior 2.0 D-ID Mitsubishi Outlander. Out of its similar looking siblings (Citroen C-Crosser and Peugeot 4007) the Outlander is described as the most sober looking. Are they saying the C-Crosser and 4007 look a tipsy? To be honest I'm not quite sure what they are saying? The car scored 7 to 9 out of 10 on all points, with higher marks given to practicality. I believe this is due to the 4WD capability and 7 seats. According to Auto Trader the rear seats are easy to manoeuvre. This opposes what they say in 2007 (see above). Maybe this depends on which model you buy? The overall score is 78%.
Auto Trader - Expert (2013)
Auto Trader recently undertook an in depth review of the 2013 model. The overall score was 3.7 out of 5. This is an improvement on the 2007 review and on a level with the Warrior 2.0 D-ID review. They call the third row seats a negative but in my mind this is a positive because they are there. Having the option to cart extra children is such a benefit when owning a family car. The 2013 Outlander has been refreshed to look different to the 4007 and C-Crosser. Mitsubishi are aiming to create an individual identity for the Outlander. This Family SUV is described as smooth and rounded which also helps to improve fuel efficiency. The interior has also been made over. They like the chunky controls. On this model with all seats folded (row 2 and 3) you get a completely flat floor. You don't get this in the 2007 model; that's an hour glass shape because of the wheel. There's a 2.2 litre diesel option which is a little slow off the mark but once warmed up performs quite well. Mitsubishi's reliability is quoted as another positive. According to Auto Trader you don't get seven seats or alloy wheels with the GX2 only the GX3! With the GX3 you get a whole lot of extra kit too. The rating given is 3.7 out of 5.
Parkers Expert - Expert (04-07) – 1st Generation
Parkers say the Outlander's competition is the Land Rover Freelander. Am I suffering Déjà vu or is this the same as what other experts have said. Parkers aren't keen on its price and cheap interior. There is nothing new to learn by reading this review despite it being well written and clearly laid out. The overall rating given is 3 out of 5.
Parkers Owners - Expert (04-07) – 1st Generation
At the moment there are nine owner reviews on the site. They are written by real owners between 2004 and 2006. All owners had either a Mivecc Sport or Equippe. Two owners converted their Outlander to use LPG. There isn't anything too negative written, with all reviews scoring from 3 out of 5. There are niggles about rear visibility when reversing but nothing too dramatic to report. It seems that any problems (all be they small) are fixed immediately by the Mitsubishi warranty and excellent dealerships. Manufacturer and dealer feedback is positive. All reviewers owned an Outlander with an automatic gear box. Fuel consumption isn't rated highly but that maybe because the owners who wrote a review all owned an automatic gear box. The overall score is 3.8 out of 5.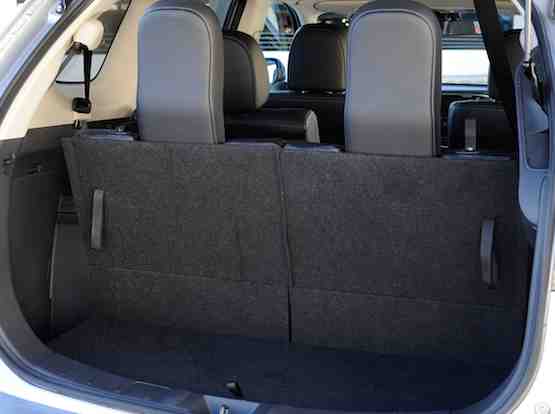 Mitsubishi Outlander boot space pictured above
Parkers Expert - Expert (07 to 12) – 2nd Generation
Refreshed and revised the second Generation Outlander is muted as one of the best cars to come out of Japan. Remember this was in 2007! The engine is from VW which I'm assuming is good. The new 2.0 litre engine is economical. But rear seat space is limited for 3rd row seat passengers. Not much has changed here then? The rating given is 4 out of 5.
Parkers - Owners (07-13, N=12) – 2nd Generation
Twelve owners left their review on the Parker website. Ratings vary from 2 out of 5. This is more varied compared to the 04-07 feedback. Reviews written range from 2007 to 2012 and cover a variety of models. The overall score is 4.2 out of 5. Customer ratings have improved from 3.8 in 2007 to 4.2 in 2012
Parkers - Expert (2013) - 3rd Generation
It seems Mitsubishi have listened to the winging about rear seating space because the 2013 (3rd generation Outlander) has increased leg space by 80 mm. This has improved leg and hip room. The boot space has gone up by 50 litres. The increased boot space is only available when the five seats (not sixth and seventh) are in use. Reliability and practicality have scored top marks which are fundamental when buying a family car. It's still not the most spacious MPV but it has improved on its predecessor. Parkers recommend buying the 2.2 GX5 DI-D Outlander. The rating given is 3.5 out of 5.
Auto Express - Expert (2013)
Auto Express favour the 2013 improvements and discuss the soon to arrive hybrid Outlander. They call it a rugged off roader (as opposed to soft roader). This is another expert saying the Outlander a competitor to the Freelander. To be honest I don't see it, but people are entitled to their own opinion. Although it lacks sparkle (apparently) it does what it says it will do and has LED lights. I'm assuming the LED adds a little sparkle. Tyre noise is a problem on the motorway but fear not tensile steel has made the body tougher and safer. The 3rd generation scored top marks in the NCAP Crash Test. Improvements have been made to the rear seat bench, it is now a 50:50 folding seat with individual adjustable backrests. Running costs are excellent with over 50 miles to the gallon achieved in the diesel around 140mpg plus from the Hybrid. The rating given is 3 out of 5.
Car Buyer - Expert
Although Car Buyer only give 2.1 out of 5 as an overall rating they quote the Outlander as being cheap to run and a good off-roader. They describe the Outlander as "Class leading space" what? It is also good for towing. They are the only site to mention the 5K grant available when buying the Hybrid.
Low marks have been given for its drive and both hybrid and diesel engines suffer wind noise at speed. Although reasonably spacious the second row isn't that comfy for six footers. It is very reliable, practical and value for money. The greenest and cheapest option (not hybrid) is the 2.2 DI-D GX5 Auto 5dr whilst the fastest and top of the range variant is the 2.2 DI-D GX5 Auto 5dr.
Car Magazine - Expert (2006)
This is an old review about the 2007 Outlander however it still contains good information. At that time it was described as a soft off roader. They like its refreshed look compared to the first generation. At that time fuel consumption was around 40MPG. The overall rating given is 3 out of 5.
What Car - Expert
The What Car expert thinks that the big boot and seven seats are both positives. But, they don't say the big boot is only available when 5 seats are in use. It is either a big boot or 7 seats - not both! The interior is described as dull. The overall rating is 3 out of 5.
Conclusion
The Mitsubishi Outlander 4WD MPV with seven seats has been on sale in the UK since 2004. There are three generations to choose from and a new Hybrid version coming during the later part of 2013. The diesel engines (especially the newer ones) are very economical.
The practicality of seven seats is a bonus, as is the boot space when your not using them. There are few manufacturing problems discussed, but any issues that owners have come across are dealt with promptly by Mitsubishi. All in all a safe and practical choice. The 3rd generation Outlander scored top marks in the Euro NCAP Crash test whilst earlier generations only scored 4 out of 5.
The overall aggregated percentage for the Mitsubishi Outlander is 67%
.more...