Mitsubishi Outlander
Mitsubishi Outlander - 4x4 7 Seater
The new Mitsubishi Outlander 4x4 with seven seats is considered one of the best family models on the market produced by the Japanese manufacturer, offering it's drivers a durable, spacious car with a very generous standard trim.
This vehicle is also very similar to the Peugeot 5008 and the Citroen C-Crosser. There is a 2WD and 4WD Option. New models come with a generous 3-year service plan, which can help to keep the costs down and cover some replacement parts.
Purchase Price
A brand new Mitsubishi Outlander will cost just under £23,000 to over £30,000 depending on the exact model and any extras. Although basic versions of the car come with a generous trim. Older Outlanders can be bought for between £2,000 and £27,000.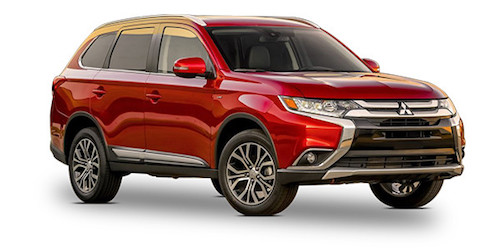 Mitsubishi Outlander pictured above
Servicing
Servicing on a Mitsubishi Outlander starts from around £100 with independent garages, although prices do vary locally so it is best to check prices.
Engine Options
This MPV comes with a selection of engines from both Volkswagen's DI-D range and Mitsubishi's own MIVEC selection.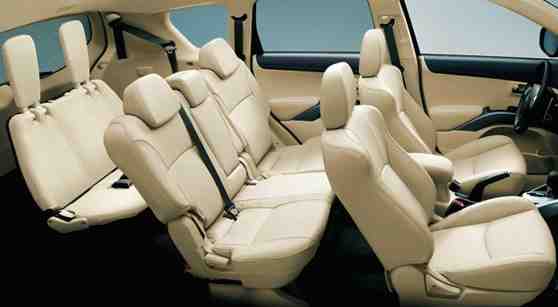 Mitsubishi Outlander seating pictured above
The most economical of these engines, though, is the 2.2 DI-DC, which produces 163g/km of CO2. Most of the other engine options find themselves producing around 189g/km. There is no longer a petrol option when buying new. The insurance groups rank between group 10 and 13 depending on the model.
Fuel Economy (MPG)
The majority of the strong engines average around 45mpg, giving an excellent economy considering the Outlander's size. The petrol engine, (if buying second hand) only provides drivers with around 30mpg combined. Vehicle Excise duty bands range from G to J.
Additional Features
It comes with a very generous standard trim which includes ABS, a CD player, driver's and passenger's air bags, Isofix points and electric windows and mirrors. On upgraded models, options such as cruise control, side air bags, a DVD player, leather trim, parking sensors, electric seats and a Sat Nav system are available.
Performance
The 2.2 DI-DC engine will reach 60mph in 9.8s and travel at a top speed of 124mph. The uneconomical and inefficient petrol engine reaches 60mph in 10.5s and reaches a top speed of 118mph. This second edition model features a 16-valve 2.4-litre engine, electronically controlled four-wheel drive and Mitsubishi's RISE safety body, which received a four-star rating from Euro NCAP in its car safety assessment.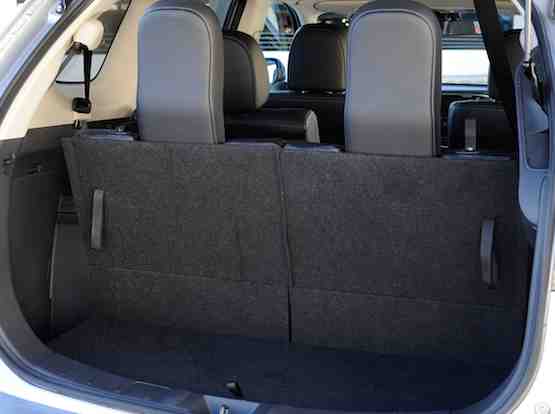 Mitsubishi Outlander boot space pictured above
A neat feature unique to Mitsubishis and available on this model is the flap-fold tailgate, which is made up of two sections that are integrated into the rear bumper. It folds down to make loading easier and serves as a bench upon opening the tailgate.
Hybrid Version
Having released teaser images of a hybrid version, the Japanese carmaker says the vehicle represents "a transformation in Mitsubishi's design language". It's all part of the company's move towards a more eco-friendly, global brand, with a hybrid Outlander tipped for a 2013 release and this new vehicle, whatever it is (most probably a remodeled Outlander), due to hit dealerships in November.
Well in my opinion it's about time. The Mitsubishi Outlander has only received one facelift since its launch in 2001 and that happened more than seven years ago. Since then sales have slowly dropped off, as would be expected, meaning the market has most definitely been waiting for a major revamp of this model.
Conclusion
Although the Mitsubishi Outlander is a economical, high value 7 seater car, it does have one or two small faults. The rear seats are just small enough to be uncomfortable for adults, making them only really suitable for smaller adults and children, while there is also not enough room in the cabin for seven people and a large amount of luggage.
Some drivers have also reported finding the ride too firm. Since Mitsubishi cancelled the Grandis last year, the Outlander remains the only 7-seater still on its books, and therefore a lot is riding on its success. No wonder the latest version of this vehicle has been so hotly anticipated.
.more...