Nissan Pathfinder
Expert & User Reviews
The Nissan Pathfinder has been reviewed by Experts (9) and Users (87). Its average score is 60 out of 100. This is based on 96 reviews in total.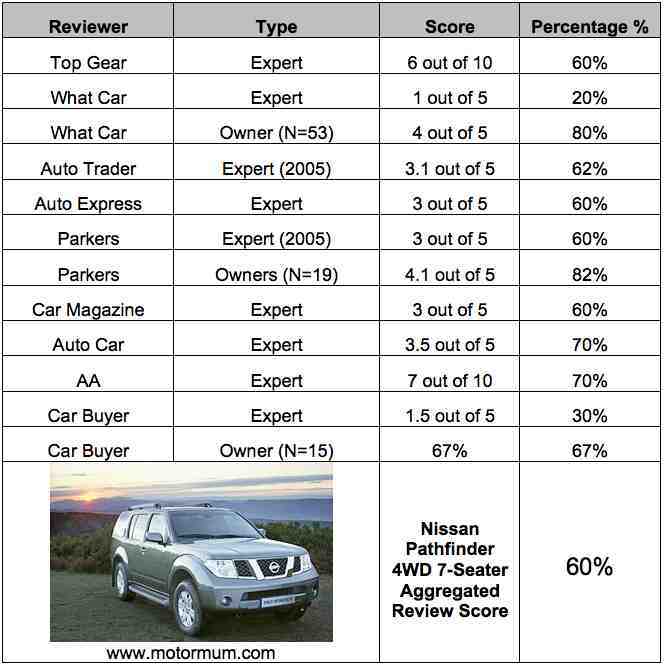 Top Gear - Expert
The Experts at Top Gear compare the Nissan Pathfinder to the Land Rover Discovery a lot. They lovingly called it the Disco. Apparently the Nissan Pathfinder isn't as nice inside but is certainly built to last with good quoted residual figures. It's best engine, the 2.5 dCi 4 cylinder diesel, doesn't quite beat the Disco engine but never mind the seat material is hardwearing.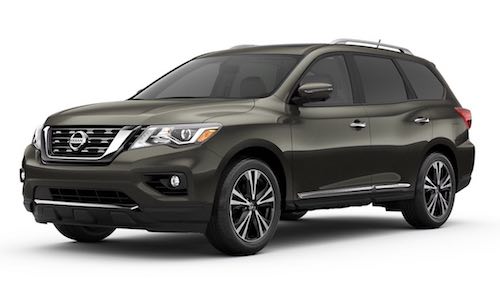 Nissan Pathfinder pictured above.
It's a lot cheaper than the Disco too (£35K approx.) Watch out for high business tax costs, but that don't matter if you need a capable off roader! Those extra rear seats make it a 7-seater but if you sit in them you are excluded from the claim that it is a comfortable ride. The rear most seats are only suitable for smaller people. The overall score is 6 out of 10.
Top Gear - Expert (4.0 V6 Five Speed Auto)
In December 2005 Top Gear wrote about the 4.0 V6 Five Speed Auto Nissan Pathfinder. They reiterate its likeness to the Disco. The write up is more of a story than a review and there are no picture to remind us what either the Disco or the Pathfinder look like. It's a big 4WD SUV that is powerful enough, but handling wobbly when pushed. My advice – Don't push it! Of course they'd rather have a Land rover or an M-Class but they can probably afford one. Unfortunately there is no rating given.
What Car - Expert
In contradiction to Top Gear the resale values are quoted as "weak." However they agree that it is very capable as a pick up truck but compared to other 4WD's out there it simply isn't as sophisticated. Despite not being sophisticated they are impressed with the standard kit. Their pick of the bunch is the 2.5 Dci190 Acentra 5dr. They don't really like the Pathfinder and only give a rating of 1 out of 5.
What Car - Owners
Fortunately a whole load of owners have been kind enough to leave their opinion on the What Car site; 53 in fact. Thirteen models are discussed from 2.5 to 4 litre engines, Tekna or Acenta variants and 5 or 7 seat versions. Overall the fuel consumption scores badly, but this is expected for a large car intended as a workhorse. On the whole people love their pathfinder's, which is reflected in the higher score of 4 out of 5.
Recent owners are on their second Pathfinder and one is even considering buying a third. Kit is impressive and value for money compared to a Land rover wins every time. Fuel consumption has a lot of gripes and people hope this will be resolved in newer models. A few have had equipment niggles, but most have been covered under warrantee. For those out of warrantee a typical service seems to cost upwards of £500!
Auto Trader (2005)
This review was written in 2011 and is based on the 2005 onward Pathfinder models. They call it rugged with an interior that lacks the flair of comparable seven seat SUVs. The boot space with all seven seats is limited, but without them you get 515 litres. With all rear seats folded flat you've got yourself a removal van – well one with 2091 litres anyway. Access to the boot is made simpler with an opening glass tailgate as standard. As with most vehicles of this type the driver can choose 2 or 4 wheel drive. For those unable to master hill starts you could get "hill hold" fitted. The Pathfinder is mechanically tough but the test model supplied had a few niggles. The rating given is 3.1 out of 5.
Auto Trader - Expert (May 2010)
In May 2010 Auto Trader detailed the newer more efficient models that came to market. As expected fuel economy is increased and c02 is reduced to 224 g/km. Other snippets of information are given such as model names etc. No overall rating is provided.
Auto Express - Expert
Auto Express reviewed the 2005 model. They say it holds its price, is a spacious 7-seater that comes with loads of kit. Their favorite is the Acenta 2.5 dCi. The 7-seat layout is flexible but isn't as luxurious as the Discovery. Auto Express concur with most other reviewers, in that you get a lot more for your money compared to more expensive SUV's. They say it isn't stylish as it has a boxy design. It's huge and the Tekna models stand out more with their 18-inch alloy wheels. Low marks (2/5) go to driving. The overall rating given is 3.0 out of 5.
Parkers – Expert (2005)
Although Parkers title this review 2005 they also discuss the 2010 improvements. The Nissan Pathfinder is a rugged 4x4 that's poor to drive. It used to compete with the Land Rover Discovery, but now it competes with the Mitsubishi Shogun and Toyota Land Cruiser. It scores well (4/5) for safety and reliability. The overall rating given is 3 out of 5 out of 5.
Parkers - Owners (N=19)
A third of owner reviews have given 5/5 as their score. With another third giving 4/5. Only two people gave a one or a two out of 5. So ignoring what the Experts say, the real owners love the Pathfinder. The owner reviews go from 2005 to March 2013. They give a good outline of what real owners actually think. All reviews are based on the 2.5 litre engine. I did find one reviewer who scored a 5 out of 5, but didn't leave any comments at all. None! The overall rating calculated in September 2013 (by myself) is 4.1 out of 5.
Car Magazine - Expert (2.5 dCi Aventura 2008)
Car Magazine call the Pathfinder a brute of a car that doesn't match the green credentials of the Land Rover. It's handling isn't rated highly and they call the body roll ridiculous. Legroom in the third row seats is described as ample, but guess what it's not as good as the Land Rover Discovery. I'm sure the Pathfinder is starting to feel a little inadequate compared to the Disco! It's fantastic off road provided you're not driving the automatic. The overall rating given is 3 out of 5.
Auto Car - Expert
I love Auto Car reviews but when reading about the Disco, again in the first line of text I just want to scream and move onto the next review. However there are some fantastic pictures and a clear statement that the Pathfinder is around £4k cheaper than the (can you guess)…. The Disco! The door bins can hold a map and a small drink. It's expensive compared to an XC90 but cheap compared to a Shogun or Land Cruiser. The rating given is 3.5 out of 5.
The AA
The AA review was undertaken in 2005. It breaks its review into 8 different headings including; value for money, costs, comfort, safety, controls, space etc. It scores well across the board and achieves an overall rating of 7 out of 10. According to the AA Nisan have created a family vehicle (that would be adding two seats) to a 4WD that can tow a caravan. A useful gripe to know about is the spare wheel underneath which if driving off road could be damaged. The automatic gearbox is sluggish but it is competent on road and impressive off it.
Car Buyer – Expert Review
Low marks are given for comfort and driving. Although it is brilliant at passing over those potholes smoothly the car shakes when going over rough terrain. The diesel engine is loud. High marks are given for reliability and practicality and although it is cheaper than rivals they only scored it a 2 out of 5 for value for money. The greenest and cheapest is the Acenta 2.5 dCi 190 Euro 5dr. The fastest and top of the range Pathfinder is the Tekna 2.5 dCi 190 Euro 5 Auto 5dr. There's about £6K between the lowest and highest specification. Low marks are given for running costs. The overall score given is 1.5 out of 5.
Car Buyer - Owners (N=15)
The simplistic feedback method Car Buyer use is a credit to them. An owner can either indicate thumbs up or down if they recommend the Pathfinder to a friend or not. Other criteria scored are its reliability, performance and running costs. The electrics appear to be the most common occurring problem as 3 reviewers mention it as a problem.
One person had a dreadful time with things going wrong, but went to another dealer who fixed all of them within a day. Overall people buy this car because it can drive off road, and can fit the family in. That's why they love it. The overall score given is 67%.
Conclusion
There is a consensus that the Nissan Pathfinder's off-road ability is pretty awesome and it's on road ability is rather Meh! It's spacious enough for families and can cart them and their stuff off to Unit with available space in the boot. Running costs are higher than average but that is down to it's sheer size. And remember, as if you haven't already forgotten, the Nissan Pathfinder is not as good as the Discovery - but it is cheaper!
The overall rating given for the Nissan Pathfinder is 69%.
.more...