Nissan Pathfinder
Pathfinder 4WD Family Car
The Nissan Pathfinder is a great 4x4 car for large families who often find themselves on the go. Where as most 7 Seater cars are made to just run around town every day, the Nissan Pathfinder 4WD is designed for those who live a more active lifestyle and is a perfect vehicle for taking off road and towing. The new model for 2013 features a regular 3-3-2-seat formation with ample space throughout, and the second and third rows can be folded flat to produce among the largest cargo areas in this price bracket.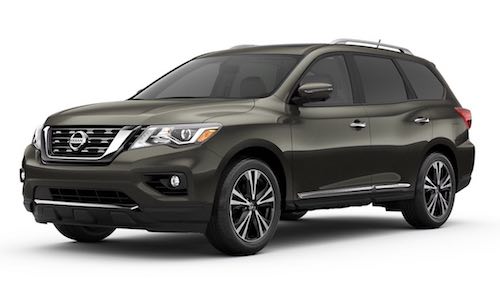 Nissan Pathfinder pictured above.
That's where this vehicle really shows what it's made of – performing in this increasingly competitive segment of the market means packing in three rows of seats and providing plenty of interior space without getting too bulky.
Purchase Price
Buying new costs between £32,445 and £37,305, however all models come with a generous standard trim. A good quality second hand model will cost between £5,000 and £21,000.
Servicing Costs
Servicing needs to be undertaken on a Pathfinder every 9,000 miles and should cost between £90 and £150, however prices vary nationally so check with local garages. MOT tests can be given by any local garage and cost around £50.
Running Costs
As the Nissan Pathfinder is designed as a 4x4 that is meant to be taken off road, the engines available focus more on power than economy. Most models come with a 2.5 dCi diesel engine, which will emit between 224g/km and 238g/km of CO2 depending on the specific model. There is also a 4.0 V6 petrol engine available on second hand models, which emits 327g/km. Newer Nissan Pathfinder models are placed into Group K and L Car Tax whilst older models can fall into the highest bracket M. The Nissan Pathfinder falls between insurance groups 14 and 16 depending on the model.
Miles Per Gallon (MPG)
As the Nissan Pathfinder has it's focus on power and off road driving rather than economy, the fuel consumption is high. Most of the 2.5 dCi diesel engines can only manage between 33.2mpg and 31.4mpg on the combined cycle. The older 4.0 V6 petrol engine will only give a tiny 20mpg on the combined cycle.
Standard and Additional Features
There are three new models available; the Accenta, Tekna and Manual and Automatic. With each model there is a different trim specification. The standard trim on is very generous, with features such as ABS, power steering, driver's, passenger and side air bags, folding seats and a full sized spare wheel. Top end models also feature-parking sensors, a Sat Nav system, front fog lights, roof rails and cruise control. The 2nd row of seats, (the sixth and seventh seat) have fixed ISOFIX anchoring points. For a little bit extra, well quite a lot actually you could have 18" Sendai alloy wheels (x4) for a mere £1,156.00.
Performance
The 2.5 cDi engine will reach 60mph in between 10.6-11.5s and reach a top speed of around 115mph depending on the model. The 4.0 V6 petrol engine will reach 60mph in 8.6s and reach a top speed of 118mph.
Dimensions and Boot Space
To pack in all those seats this vehicle is 1.862m high and 4.813m long. This helps the seating arrangement have up to 64 different variations. The Boot space with all seats upright is 190 cubic litres. Whilst with the third row folded flat the space increases to 515 cubic litres. If you need to transport your teenager off to college the 2091 cubic litres behind the first row of seating should suffice.
Seating Room
Are you sitting comfortably? Well let's begin. The front two seats are generously spaces with ample head, leg and knee room. The second and third row isn't too bad either. There is 613mm and 473mm of knee room in the 2nd and 3rd row respectively.
Conclusion
There are few cars on the market which can match this vehicles performance off road. It is a perfect vehicle for large families living in remote areas or those who like to regularly go off the beaten track and explore the countryside. A great deal more homely than its original off-road incarnation that started out in 1986, the new Nissan Pathfinder is a classic crossover SUV. Re-launched at the Detroit motor show in 2010, it's a vehicle that would certainly feel more at home picking up the children from boarding school than off-roading in the foothills of the Himalayas. This says as much about how this market has evolved as it does about the changes to the Pathfinder itself. Simply put, why can't four-wheel drive vehicles also cart around the family?
.more...