Nissan Quashqai + 2
User & Exert Reviews
The Nissan Qashqai+2 has been reviewed by Experts (9) and Users (31). Its average score is 76 out of 100. This is based on 40 reviews in total.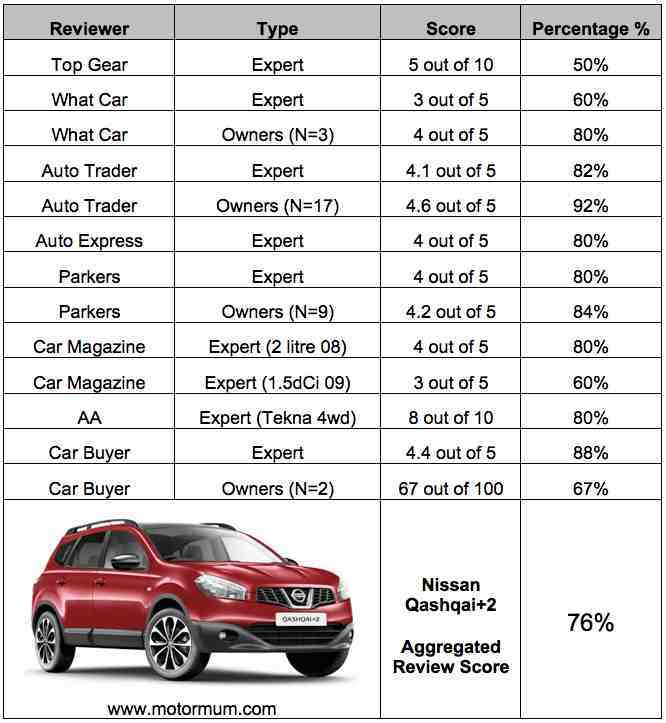 Top Gear - Expert
Top Gear reviewed the Nissan Qashqai+2 in 2008. They expected a lot because they loved the original Qashqai (x5-seater). Unfortunately they think the squashed rear seats serve no purpose but to reduce boot space. Apparently there is no legroom even if with 211mm of extra length. The overall rating given is 5 out of 10.
What Car - Expert
The What Car experts agree with Top Gear but go further by warning owners to only use the rear seats in emergencies. Those extra two seats add quite a cost too. Although equipment, refinement, quality and safety score highly; space, buying and owning don't. They call it a crossover - I'm assuming that's because of the 4WD option.
They call the Nissan Qashqai+2 hefty but purchasing the 2-litre model does give extra needed power. Reverse parking is tricky but on the plus side there's stability at speed. The favoured model is the 1.6 dCi 130 Visia 2WD s/s 5dr variant. The overall rating given is 3 out of 5.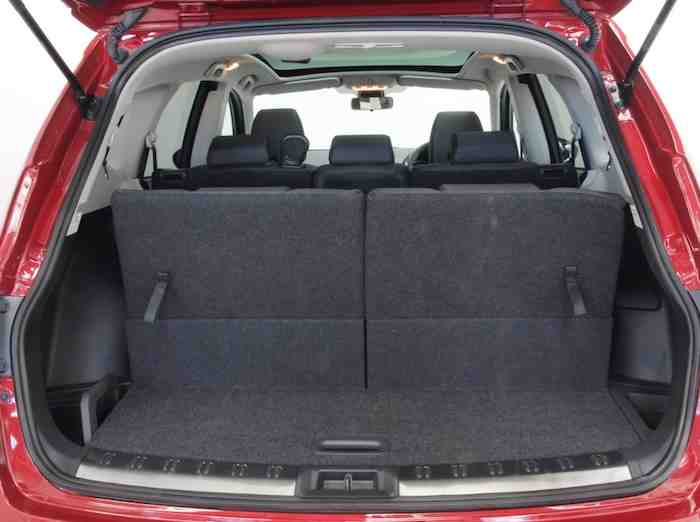 Nissan Quashqai+2 boot space pictured above
What Car - Owners (N=3)
When you click on the drop down list to read a review there are over 40 models to choose from (I'm guessing) but only three reviews are available. The overall rating is 4 out of 5. Average MPG ranges from 33 to 60. Sixty miles per gallon is achieved in the 1.6 dCi 130 Tekna 2WD S/S 5door Qashqai+2. Despite this excellent MPG the owner only gave a score of 3 out of 5. He calls it efficient but not very exiting. Apparently falling into a lower league than a Skoda. He calls the rear seats pathetic! Bland and reliable was his summary.
The second review is positive with top marks all round and that's after owning it for two years. He calls it faultless with running costs that contradict the What Car expert opinion. He goes on to say seven individuals can ride in comfort. The third owner is very happy especially with the 4WD. His first service cost £250.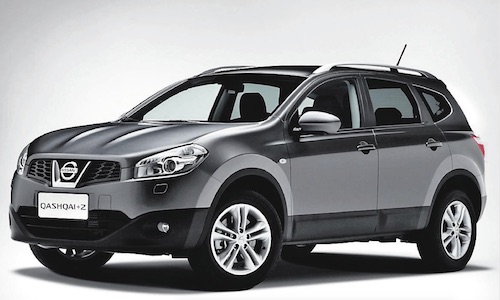 Nissan Quashqai+2 pictured above
Auto Trader - Expert
Auto Trader have given high scores for all ratings. They detail the poor boot space with all 7 seats in use but compared to the 5-seater your getting about the same space but with extra seats (450 litres with 5 seats and 915 litres with all rear seats folded). Suspension has improved in 2010. Performance wise, they are happy with the 110-120 mph top speeds. Running costs are given a 3 but it's hard to put a 54.3-mpg diesel in the same category as a 2.0 petrol engine isn't it?
I suppose that's why it's only an average score. Safety is scored high because of the excellent EuroNCAP crash test scores, both adult and child protection results are excellent. Apparently the Qashqai is Britain's most popular MPV. Really? The overall score is 4.1 out of 5.
Auto Trader - Owners (N=17)
Seventeen owners have written about their Qashqai+2. All reviews are based on the 2008 models onwards, as you'd expect because it was released in 2008. Models reviewed include the Tekna, N-Tec and Acenta. A recurring theme is the excellent fuel economy. Most people would buy another one. One guy test drove the Ford Kuga and thought the Qashqai+2 was better. Another reviewer felt the car was just as good as a 50K BMW X3. Oh and the rear seats are considered okay for teenagers.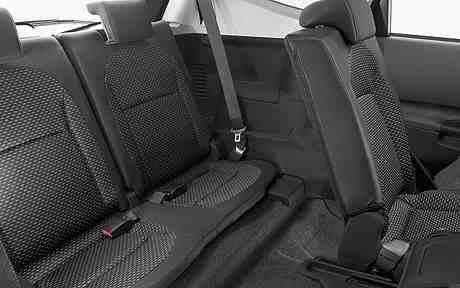 Nissan Quashqai+2 third row seats pictured above
Auto Express - Expert
Auto Express like the styling but not the cramped third row seats or lack of engine choice. The dashboard is described as low rent but no worries because A/C and blue tooth is standard across the range. The ride is comfortable whilst the higher driving position gives you a good view of the road. It's very reliable with excellent safety and practical scores. It is a bog-standard review. The rating given is 4 out of 5.
Parkers - Expert
The Parkers expert concur with other reviewers. The rear visibility is poor as is the third row seating comfort. It is considered more spacious than the 5-seater and has some really economical diesel engines. In 2010 insulation, its looks and suspension got better! The rating given is 4 out of 5.
Parkers - Owners (N=9)
A good range of reviews have been written on the Parkers site. Six owners had the 2.0 engines, whilst the other three had either the 1.6 (2) or 1.5 dCi engine. Most reviews are positive. I get the impression that although men say it's their wife's choice of a perfect family car they are wowed over by the low insurance bracket and high MPG figures. The demand for a Qashqai MPV is high meaning there is less chance of a discount. I suppose you'll get your saving back in fuel costs. These excellent fuel figures are achieved in the diesel engines and not the 2.0 petrol ones (just put that in for those that may not know). The overall score is 4.2 out of 5.
Car Magazine Expert (2 litre 2008)
Car Magazine reviewed the larger 2.0 litre engine in 2008. It has a pinch of this and a sprinkle of that. It's the flavour we love because this is Nissan's biggest selling car ever. Yes the +2 is bigger. It ticks a box and gives those family car lovers something meatier to drive whilst offering space for extra people as and when needed. The split third row seat is a bonus because if you only need six seats then there's up to 550 litres of boot space to play with. Access to the third row seating is tricky with extra legroom given by sliding the middle row seats forward. Overall Car Magazine gave 4 out of 5.
Car Magazine Expert (1.5 dCI 2009)
Car Magazine aren't keen on this lower sized engine because it's performance isn't as good. I think they're missing the point. People want good MPG and lots of seats an in MPV. It ticks all those boxes for real mums like me. Who wants anything else when you're looking for a good 7-seater family car? On the upside the fuel economy isn't affected too much whether you're carrying a full load. Oh and as long as your less than 1.6 meters in height the third row seats are absolutely fine. The rating given is 3 out of 5.
The AA Experts
The only extra information gleamed from reading this review is that there's a divider in the boot so you can keep your groceries safe. There is also a parcel shelf. It is an informative review but if you've read the ones above you should already know what there is to know. The rating given is 8 out of 10.
Car Buyer Expert
The pros and cons from Car Buyer mirror other expert opinions. The greenest is the Tekna 1.6dCi 130PS + stop/start but at over £26K you may opt for the cheapest Visia 1.6. Tekna variants are the higher specification models. In the future the Nissan Qashqai+2 is to be replaced by the Nissan X-Trail (apparently). The limited rear visibility does make parking difficult but visibility looking forward is fabulous. The longer 7-seat version has improved the suspension (something to do with the way it goes over bumps).
Because the Qashqai's is popular in Britain the resale values aren't great. I'm guessing they're talking from a buyer's perspective rather than sellers? You decide! The rating given is 4.4 out of 5.
Car Buyer - Owners (N=2)
Two positive reviews are left on the Car Buyer site. The only niggles are the rear boot doesn't go high enough to avoid banging your head. This is obviously a very serious health and safety issue for those who are clumsy and over 6 feet tall. But again this car is built for the masses and being able to reach the boot door to close it is actually probably what Nissan were thinking about rather than avoiding head on collisions with it's boot door. The rating given is 67 out of 100.
Conclusion
Nissan have ticked all the boxes with this excellent family MPV. High scores across the board with very few niggles. Although it isn't the biggest seven seater out there it is designed to fit the needs of a family wanting an economical car and the requirement to transport more than your average number of individuals. Men like it too! And this matters because we always consider what they want (?) The 4WD option is another tick to this cars appeal. What more do you want? Why not join the other 250,000 people in the UK who've bought one! Go on - you know you want to.
The overall score when taking into account all review scores is 76%
.more...