Nissan Quashqai + 2
Nissan Qashqai +2 - Compact MPV
The Nissan Qashqai+2 is an enlarged version of the Japanese car manufacturer's already popular five seat Qashqai. The Qashqai+2 is taller and wider than the regular model, allowing for an extra row of seats to be put in to turn it into a 7-seater car, while still retaining the same ease of driving and style which made the original popular.
The Qashqai was the quickest selling vehicle from the Japanese Manufacturer Nissan, so the Plus 2 version certainly seems like a logical extension of the model in more ways than one. Indeed, it is a hugely popular crossover SUV some 21cm longer than the 5-seater original, and nearly 4cm higher.
Purchase Price
This compact MPV will set you back between £17,895 and £28,445 depending on the model, while high quality second hand versions are available from between £11,000 and £16,000.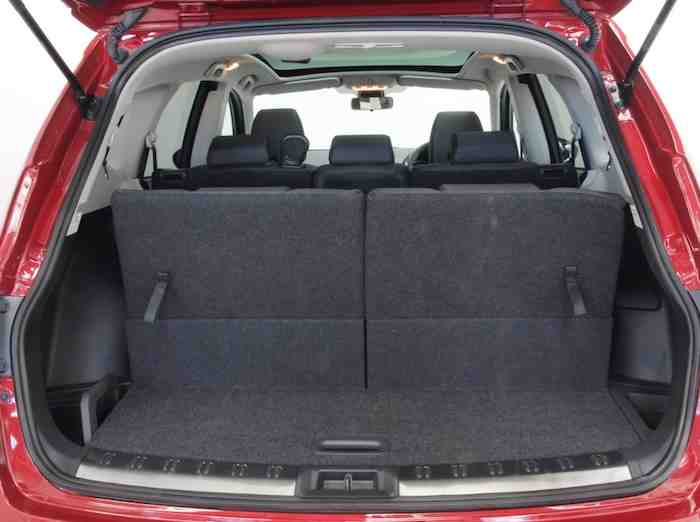 Nissan Quashqai+2 boot space pictured above
There are four models to choose from; the Visia, Acenta, Tec+ and the Tekna. Each type then have a variety of engine and fuel types. An Automatic gear box, a 2.0 litre engine or four wheel drive options are available in the Tec+ and Tekna models.
Third Row Squash
Nissan says the third row is meant for people, namely children, of a maximum 1.6 meters in height. Indeed, any taller and knees would be up at around head level. In terms of fitting in that extra row, Nissan has certainly pushed a squeeze. However, that doesn't detract from the overall level of performance of this vehicle, which remains as impressive as the original.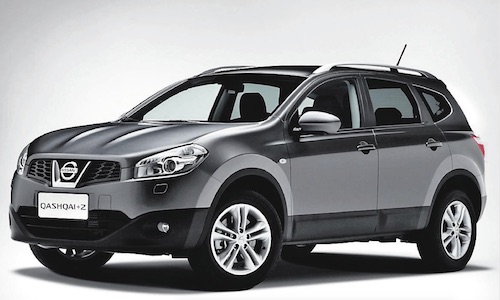 Nissan Quashqai+2 pictured above
Servicing
Servicing on a needs to be undertaken every 12,500 miles, a vast improvement on Nissan's standard of every 9,000 miles, and will cost from around £80. However, prices do vary nationally so check with local garages. An MOT will cost around £50 from any local garage. .
CO2 Emissions and VED Rating
There are a huge range of models from the Nissan Qashqai+2 range available, each with their own emissions ratings based on engine, trim and transition. The more economical versions, such as the 1.5 dCi Visia model, will emit around 140g/km of CO2 (Car Tax Band E) while less economical models such as the 2.0 Tekna 4WD will emit up to 205g/km (Car Tax Band K).
As a rule of thumb across the range of Qasqai+2 models, the most economical cars with the lowest emissions are those with the excellent dCi diesel engines and manual transmissions. VED Bands range from E to J across the range.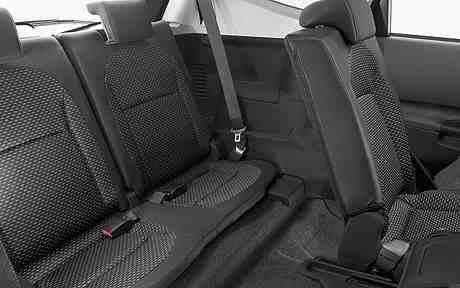 Nissan Quashqai+2 third row seats pictured above
Fuel Efficiency
The fuel efficiency varies hugely from model to model, however the most efficient engine on the range by far is the 1.5 dCi which can achieve up to 56.5mpg combined. The least efficient is the 2.0 petrol engine, which will only do around 32mpg combined. The 1.5dCi model puts it among the best in its class for fuel economy. It may not be built for an army of adults but, for young families on a budget, the Qashqai still has it all.
Additional Features
Due to the huge range of models available in the range, there is no set standard trim. However, basic models are all available with key features such as ABS, power steering, air bags, traction control and Isofix points either included or as optional extras.
Pricier versions include upgrades such as a CD multichanger, climate control, cruise control, parking sensors, a Sat Nav and leather or cloth trim inside the cabin. All standard models come with an MP3 Auxiliary Jack.
Performance
Maximum speed reaches between 108 and 116 miles per hour whilst the benchmark figure of 60miles per hour can be reached in just over 10 seconds.
Dimensions
Measuring 1.645 meters high, 1.780 meters wide and 4.541 meters long this compact MPV falls into the smaller passenger vehicle category. But remember, smaller means more economical!
Insurance Group
Due to the large number of different versions of the Nissan Qashqai+2 available, the cars are in a range of insurance groups. The more basic models are found in group 6, while higher spec models are as high as group 11.
Conclusion
When fitted with one of Nissan's excellent dCi diesel engines, the Qashqai can prove itself to be an economical passenger vehicle. However, buyers do need to be aware that the rearmost seats are slightly cramped despite the increased cabin space and as such are only really suitable for small adults and children. The level of comfort and styling throughout the interior is of a very high level, especially for a vehicle that barely breaks the £17,000 mark for the standard trim version.
.more....