Peugeot 5008
Aggregated Car Reviews
The Peugeot 5008 has been reviewed by Experts (8) and Users (23). Its average score is 76 out of 100. This is based on 31 reviews in total.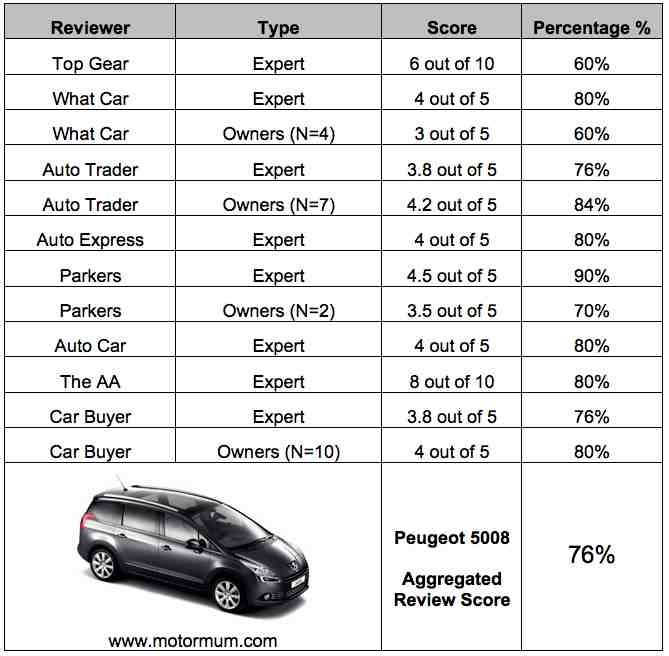 Top Gear Expert
Top Gear start by explaining the Peugeot 5008 is a replacement to the 807 – but apparently it's a lot more refined. This is obvious if you look at a picture of an 807 and compare it with a picture of the 5008. They suggest you avoid the 1.6 VTi petrol engines. This seems to be a consensus with other reviewers.
The 1.6 THP is better if you insist on buying petrol but the engines to opt for (as usual) are diesels. The 115bhp 1.6 diesel seven seater is the most frugal (53 mpg) but for a punchier option go for the 2.0 litre. Their review is average, so it isn't surprising they score the 5008 MPV a 6 out of 10.
What Car - Expert
Similarly to Top Gear the experts at What Car say the 5008 rides well and can handle bumps comfortably. According to What Car it is one of the most refined MPV's out there and would be an ideal choice for long journeys.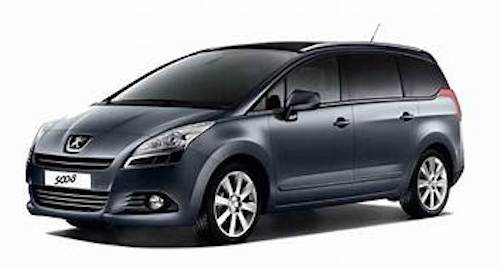 Peugeot 5008 front view pictured above
This has to be when only using 5 seats. Decide for yourself. The overall score is 4 out of 5.
What Car – Owners (N=4)
At the time of writing 4 owners have reviewed their Peugeot 5008 on the What Car site. There's an interesting point about the two floor compartments where someone says they have fallen through. A according to Peugeot he's not covered for a replacement under warrantee as they were stood on. The owner quite rightly asks – how are they supposed to get in and out without standing on the floor compartments? Answers on a post card please.
He's not happy about the lower than expected MPG he achieves (43 MPG) either. There's a far more positive review of the more expensive elusive model (same engine). Perhaps Top Gear is right when they suggest avoiding entry models. The overall rating given is 3 out of 5.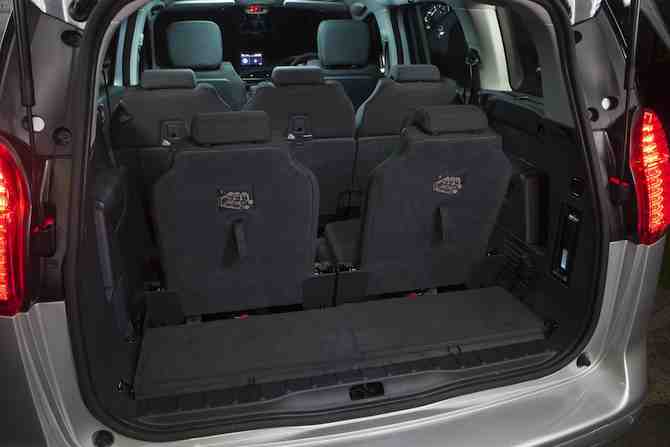 Peugeot 5008 boot view (all seats upright) pictured above
Auto Trader - Expert
The experts at Auto Trader outline in 10 points of what they think of the Peugeot 5008. They like the improved styling, especially the panoramic glass roof. It's practical, without the sporting finesse of a Ford S-max. It does have more flare than a Renault Scenic. Rear boot space (with 5 seats in use) varies between 758 litres and 823 litres depending on how you play with the seats. However it gets quite small in the third row (and boot) when all seven seater are in use. Rear seats should only be used for short journeys and small humans. The rating given is 3.8 out of 5.
Auto Trader – Owners (N=7)
Seven owners have written about their Peugeot 5008. One person thinks the seats are easier to adjust. Another says it's less of a van than a Zafira. According to one person you should steer clear of the automatic version and was glad to get is VW Sharan back. There is no consensus with Auto Trader owners. Most do think it's an extremely practical car for a family, although they don't specifically state that the rear seats are used that much. It's more of an occasional thing. The rating given is 4.2 out of 5.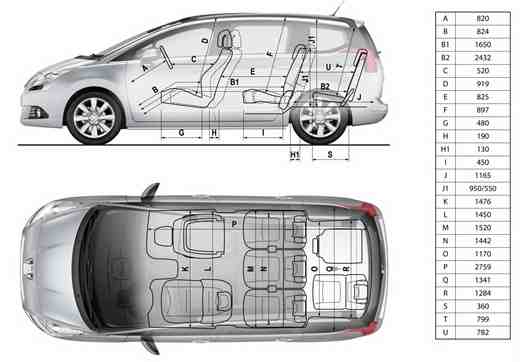 Peugeot 5008 dimensions pictured above
Auto Express - Expert
The Auto Express pictures are excellent. But there's not much new to learn. Everything is positive, with an overall rating of 4 out of 5.
Parkers - Expert
With no significant points of interest, the review from Parkers is positive across the board. Fuel economy seems to be an important factor in upping the score. The final score is 4.5 out of 5.
Parkers – Owners (N=2)
Well you won't learn much from these reviews. It's as if they have been forced to complete a write up. The responses are brief. The overall score is 3.5 out of 5. So score wise it's not appalling.
Auto Car - Expert
I didn't realise that the 5008 engines are shared with the Citroen C4 Picasso's. Really? They look completely different on the outside. Auto Car say there are larger and better 7-seat options but the 5008 is not too bad. The rating given is 4 out of 5. Quite a high score for a , "not too bad!"
The AA - Expert
This review was undertaken in January 2010. They don't like the panoramic roof because it doesn't open. They do like the light it provides. Top marks are given for its family appeal.
The parking sensors do a good job in aiding this slightly longer vehicle to be parked. Isn't that what parking sensors are supposed to do? Only exclusive models come with a posh alarm. The rating given is 8 out of 10.
Car Buyer - Expert
Contradictory to one reviewer (above) Car Buyer say the interior is of excellent quality. Again I think this is directly linked to the model bought. Diesels are excellent and fuel economy is good. But similarly to other seven seat MPV's, the entry models aren't as generous. Again with all models the rear seats are limited to use by smaller people. The score is 3.8 out of 5.
Car Buyer – Owners (N=10)
At the time of writing 10 owners left their review. Although the reviews are good with not much negativity (well maybe one), only 40% would recommend buying one to a friend. That alone is quite telling. The overall rating is 4 out of 5.
Conclusion
Nice looks with cheap (in more ways than one) entry models. Generally the entry petrol Peugeot 5008 just isn't as good as higher specification diesel versions. Go for diesel if you want the economy but ultimately make sure you really think about what your buying because it seems a lot of people wouldn't buy one again. There are also a few narks with getting things fixed under warrantee.
The Aggregated Car Score given by motormum for the Peugeot 5008 MPV is 76%.
.more...