Peugeot 5008
Award Winning 7-Seat MPV
The Peugeot 5008 is a relatively new 7-seater car from Peugeot. It was released in February 2010. It is a stylish and compact 7-seater car that is making no secrets about it's desire to take on some of the biggest names in the market. The 5008 is designed to be highly efficient without being overwhelmingly large and, at the same time, offers a driving experience similar to the Ford S Max or Mazda 5. There are four models available, the Access, SR, Active and Allure.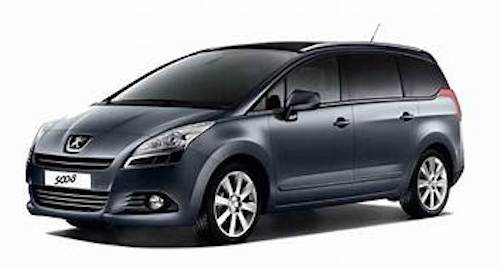 Peugeot 5008 front view pictured above
On the Road Price
Prices start around £17,000 for a basic model and go up to over £25,000 for a top of the line version. Second hand costs range between £2,000 and £23,000.
Running Costs
A service will cost upwards of £90 but parts and any resulting labour being extra, so investigating a service plan may be a good idea. However, prices do vary nationally so check with local garages. The service intervals on a 5008 are long, though, with a petrol engine needing servicing every 20,000 miles and a diesel option every 12,500 miles. Vehicle Emissions (Co2). The range of Peugeot 5008 models is highly efficient, with the 1.6HDi diesel engine only emitting 135g/km of CO2 (Band E). Even the most polluting engine in the range, the 2.0HDi Auto, only emits 178g/km.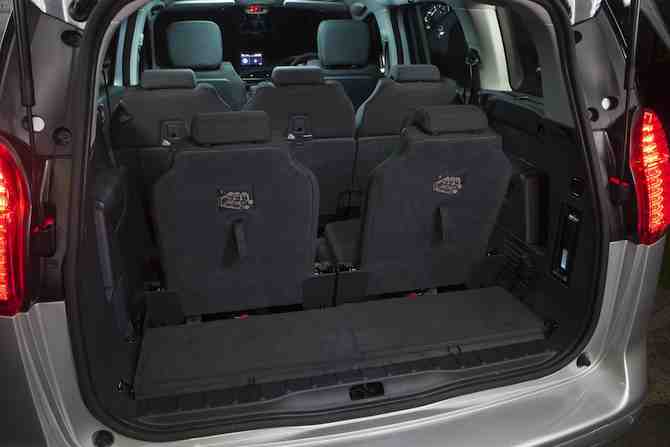 Peugeot 5008 boot view (all seats upright) pictured above
Thanks to the large number of engine and transmission options, models from the range fall into numerous car tax bands from E to I. The 1.6VTi petrol engine will achieve an economy of around 38mpg, and the 1.6HDi diesel engine will achieve 48mph with a manual transmission or 41mpg with an automatic. The most efficient engine, though, is the 2.0HDi, which will achieve a staggering 58mpg combined with a manual transmission or 51mpg as an automatic. Most models are found in the highly affordable insurance group 7, however some upgraded versions can be rated as high as group 10.
Additional Features
The Peugeot 5008 comes with a generous standard trim, including ABS, air conditioning, full air bags, Isofix points, power steering and traction control. Upgrade options include alloy wheels, cruise control, front fog lights, climate control and parking sensors.
Dimensions and Boot Volume
The seating flexibility offer a multitude of options when optimising the cargo space. For example only having one of the third row seats up or having the second row, middle seat flat for a walk through area.
Notwithstanding these options the boot space is quoted as between 679 and 2506 cubic litres. Although I'm not clear whether it is 679 litres with all seats up (7) or just one rear seat upright (?).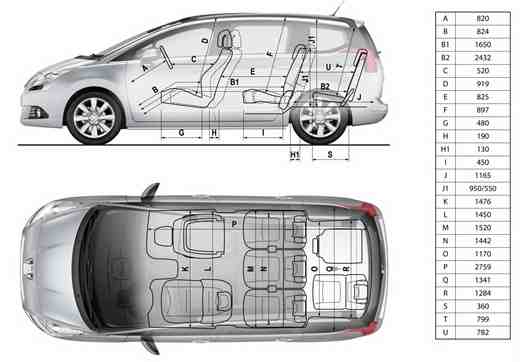 Peugeot 5008 dimensions pictured above
As you can see from the picture above the rear boot space is very small. Probably enough to fit a couple of shopping bags - but that's all! This MPV is 4.530 meters long, 2.118 meters wide and 1.638 meters high.
Performance
The two best performing engines in a Peugeot 5008 are the 1.6THP petrol and the 2.0HDi (150bhp) diesel, which will both go from 0-60mph in about 9.5s and reach a top speed of 121mph. Just behind them are the 2.0HDI (163bhp), which will go from 0-60mph in 10.2s and reach 118mph, and the 1.6VTi petrol engine, which reaches 60mph in 11.9s and tops out at 116mph. Unfortunately, the most common engine – the 1.6HDi (110bhp) diesel – gives the worst performance, reaching 60mph in 12.5s and achieving a top speed of 114mph.
Engine Options
The engine options for the Peugeot 5008 are both sensible and varied. There are 1.6-litre and 2-litre diesels available, as well as two petrol engine 1.6-litre models, one of which is a turbo generating 156 brake horsepower as opposed to 120 bhp. These all give a surprisingly smooth and quiet ride, which overall is what the Peugeot 5008 is all about. This is a vehicle that doesn't need to be the center of attention to be top of its class.
Interior
Inside, it's spacious, solid looking and comes with a sense of quality thanks to the chrome-rimmed dials and plenty of padding in the right places. The two rear rows of seats fold into the floor, as is to be expected these days, meaning this car is as efficient at getting the job done inside as it is out.
Winning MPV
The 5008 has done remarkably well since it first launched in 2009. It was generally better received than other people carries produced by the French carmaker and, in 2010; the 5008 won MPV Car of the Year by What Car? Magazine.
Conclusion
When considering the facts and figures, they certainly make buying one an appealing choice for the financially conscious among us. The fuel efficiency and longevity between servicing combined with the low car tax costs certainly make this a great choice when purchasing a family car. The other thing that makes it unique is that this is a fully-fledged Peugeot MPV, as opposed to the fleet of estates produced by the company stretching back to the likes of the 504 and 505. Peugeot has achieved success with this vehicle while going for less personality than the big-grilled 407 SW, for example, meaning this hardly stands out looks-wise. But in terms of performance, it does a fantastic job.
.more...