Peugeot Partner Tepee
User & Expert Reviews
The Peugeot Partner Tepee has been reviewed by Experts (6) and Users (8). Its average score is 63 out of 100. This is based on 14 reviews in total.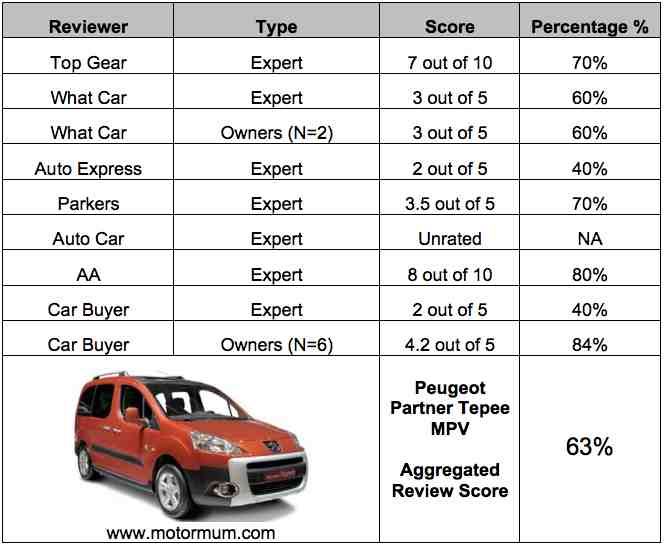 Top Gear
The Top Gear review is short and sweet. They recommend going for the diesel 90 bhp as you'll get 50 plus miles to the gallon. I'm not sure who concerned they really are about fuel consumption.
According to them there is a bit of roll when going fast, but they like the Partner Tepee because it's a van with windows. If it wasn't they wouldn't. The rather generous (for them) rating given is 7 out of 5.
What Car
What Car agrees with Top Gear about the 90 bhp diesel engine. They don't recommend the petrol engine. However if you really have to have petrol they say go for the 118bhp VTi version. Why would you have to have petrol? The Peugeot Partner Tepee is quite fun to drive and okay over bumpy surfaces.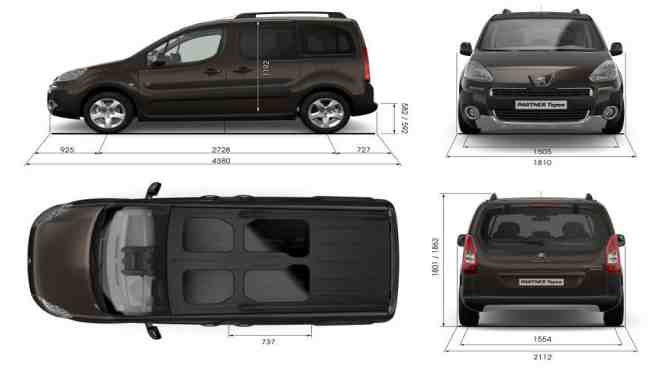 Peugeot Partner Tepee dimensions pictured above.
The inside is quiet to for such a cavernous interior. I think they mean there is no echo. The Tepee is cheap and cheerful with reasonable resale values. However beware of the limited safety features available on baseline models. For any extra safety features you're going to have to pay. The overall score is 3 out of 5.
What Car Owners (N=2)
With only two reviewers it's a bit tricky to get a consensus. Especially as one owner loves his Tepee and the other most definitely doesn't. Interestingly they both had exactly the same model. The positive reviewer talks generally about all Peugeot Partner Tepee's rather than his. This confuses me. Why talk about which colour you would get when you already own one (I'm assuming in a different colour). Yes I know its value for money but do I really need to now that the Berlingo is cheaper? My suspicion tells me this is written by a professional reviewer, rather than a regular person like you and I. The overall rating is 3 out of 5.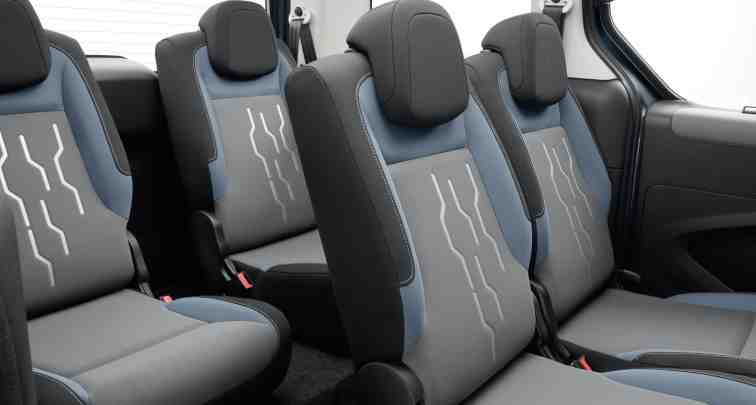 Peugeot Partner Tepee seat view pictured above.
Auto Express
The expert here only scores the Tepee a 2 out of 5. What's gone wrong here? They don't like its cheapness. Come on, to some that is its most redeeming feature. There are three trim levels, so if you can afford it, level up to the better model. The entry model (urban) comes with heated door mirrors. Since when are heated door mirrors a standard feature on a cheap car? Having a glass roof is optional. It is comfortable and reliable with 642 cubic litres of space when five seats are in use and up to 2,800 litres when the second row seats are removed.
Nothing is said about the boot space when all 7-seats are in use. But it sounds like there isn't much space and those rear seats are only for the little uns. There are sliding doors which will help get the little people into the little space. The rating given is 2 out of 5.
Parkers
Parkers love the Peugeot Partner Tepee's practical versatility, especially with the option of having a 7-seater. They don't like the thirsty petrol models. Newer Tepee's are less like a van to drive. What's wrong with driving a van? This reviewer gave 4/5 for safety which is much higher than a reviewer above. Sliding doors are a bonus, but there are alternative plusher MPVs out there. The interior is really tough – handy for kids then? The rating given is 3.5 out of 5.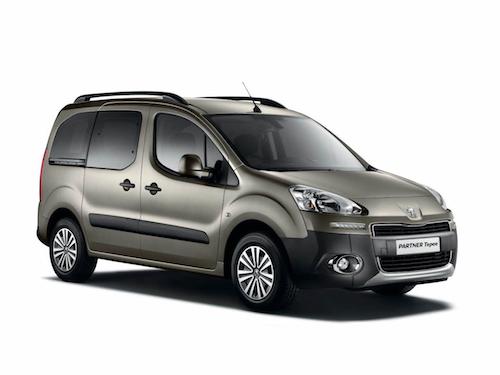 Peugeot Partner Tepee pictured above.
Auto Car
They say the Peugeot Partner Tepee is identical to the Citroen Berlingo to drive with good handling too. They say it's an affordable way to transport passengers. There's lots of discussion on different engine and trim types, but nothing to write home about. It has lots of storage space at the side, in between and above the seats. You'll have to pay extra for the overhead storage. The same goes for removable rear seats. No Rating.
The AA
The AA reviewed the HDi 110 Peugeot Partner Tepee in December 2009. The repeat it's practical versatility. The 2009 design is slightly sleeker. They love the storage space and approve the ability to shelter from the rain with the boot door. This would be very handy if doing a car boot sale, or loading your unpacked shopping from Aldi. The seats can be used or removed. That's handy! Top marks are given across the board. Parking is easy as there's good visibility. Being taller you can slide in an out with ease. Having a car that is slightly higher up is very handy when putting children in and out of car seats. The rating given is 8 out of 10.
Car Buyer
New information that I haven't mentioned above is that roof rails come as standard. If you like a boxy look then this could be a really useful car for you. The seats are easy to adjust.
The rear seats are too (providing you pay for the removability function). French cars can sometimes go wrong. But keeping it simple with this car makes it less likely for anything to break. Newer models have better standard safety kit. Older versions don't. The overall score is 2 out of 5.
Car Buyer – Owners (N=6)
Each of the six reviewers write positively about their Peugeot Partner Tepee. Some are a little disappointed with the less than expected fuel consumption, whereas others are happy with the consumption they achieve (even with passengers). Running costs are low with few repair costs being mentioned. All the feedback is positive. The rating given is 4.2 out of 5.
Conclusion
For what it is (a boxy MPV) the Peugeot Partner Tepee ticks all the boxes. Newer models have better kit and design. Functionally you can't get better. Reliability, practicality and economically the signs are good too. For such a cheap car to buy and with all it can do, I can't imagine many other MPVs can compare. Apart from the Citroen Berlingo which is identical.
The Aggregated Car Score given by motormum for the Peugeot Partner Tepee is 63%.
.more...