Renault Grand Scenic
Aggregated Car Reviews
The Renault Grand Scenic has been reviewed by Experts (10) and Users (124) Its average score is 77 out of 100. This is based on 134 reviews in total.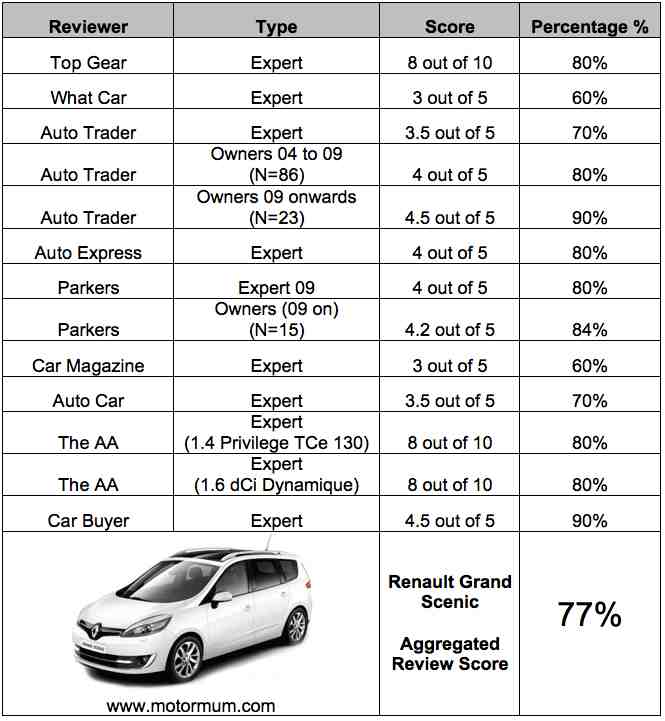 Top Gear Expert - 2010 1.6 DCI 130 Expression
Not much of a write up. It's cheap, economical and doesn't take too long to get to 60mpg (9 seconds). For £2,000 less you can get the 5-seat instead. The rating given is 8 out of 10.
What Car - Expert
What Car keep referring to a 5 seat Grand Scenic. The idea of the grand is seven seats. It is 21cm longer. They tell us about their gripe with the third row seats because don't fold flat and have to be removed to maximise load space. This changes is the newer models. The score given is 3 out of 5.
Auto Trader Expert
Auto Trader outlines what has already been said and concludes with an overall rating of 3.5 out of 5.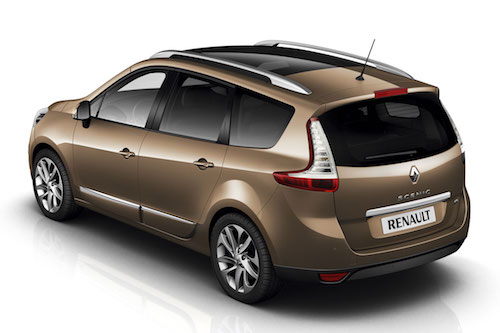 Renault Grand Scenic pictured above (rear view).
Auto Trader Owners 2004 to 2009 (N=86)
There is a huge amount and variety of reviews on this site - a total of 86! This only goes to show how popular this practical 7-seater MPV is. There is a drop down menu, which allows you to filter out each version (there are three). The main gripes are its mechanical faults but forget that because it's one of the most popular smaller MPV's out there. The overall rating is 4 out of 5 this includes write ups from 2004 to 2009, none for 2007 to 2008 and 23 reviews for 2009.
Auto Express Expert
Auto Express also winge about the Grand Espace boot floor not being flat. This changes in the newer versions. The cabin is spacious but the steering has been described as vague (whatever that means). The score is 4 out of 5.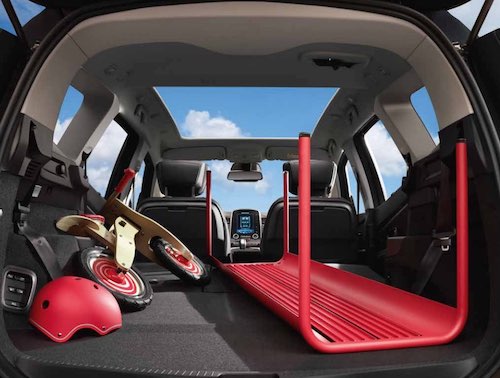 Renault Grand Scenic boot space pictured above.
Parkers Expert 2009
In contrast to Auto Express the expert at Parkers say the engines are quiet and refined. The Renault Grand Scenic is an economical and compact MPV. Having the 7 seats as standard is a bonus. From 2012 there are even better MPG engines to choose from. The rating given is 4 out of 5.
Parkers Owners (N=15)
Two out of the 15 scored the scenic (Grand) a 2 out of 5. The majority of owners gave full marks. Weirdly these negative comments relate to the 1.5 DCI version. It's the fuel economy promised but not got with a full load. I would imagine it is probably a fantastic engine in a smaller car, but a Grand Scenic, I'm not so sure. The rating given is 4.2 out of 5.
Car Magazine Expert
The reviewer have counted 27 cup holders. Do the seven passengers really need 3.8 cup holders each? They like the ease of popping the rear seats up and the headroom for adults. What about legroom? The 11 litre glove box is nearly the size of the suitcase allowed as hand luggage on a Ryan Air flight. The rating given is 3 out of 5.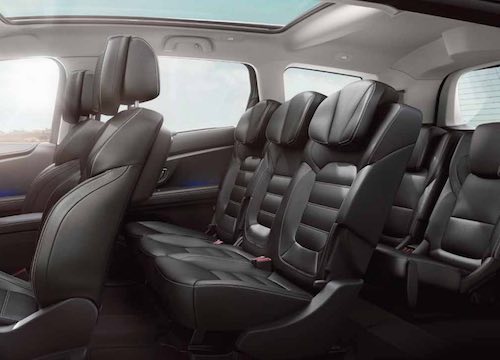 Renault Grand Scenic seat view pictured above.
Auto Car Expert
The emphasise the Grand Scenic as hugely practical. The rating given is 3.5 out of 5.
The AA Experts - 1.4 Privilege TCe 130
This review is based on one model only. There are loads available. It was written in May 2009. They confirm that the Scenic was previously available with a choice of either 5 or 7 seats but now it comes with seven seats as standard. The third generation having sorted out the boot third row seats. Top marks have been attribured for space, practicality, controls and display and full marks for its family car appeal. The rating given is 8 out of 10.
The AA Experts - 1.6 dCi Dynamique
This was written in June 2011 so is slightly more updated. Dexterity is needed to access third row seats. Top marks are given across the board and it isn't surprising the family car section gets full marks (as the review above). Renault is after all the King of MPV makers! Oh and they say parking is easy. The rating given is 8 out of 10.
Car Buyer Expert
As with other reviews the Renault Grand Scenic gets top marks for practicality, economy (greenest is the Dynamique TomTom ENERGY dCi 110 S/S eco2) and safety but lower scores for engine choices, drive and performance.
The fastest being the Dynamique TomTom dCi 130 S/S eco2. The rating given is 4.5 out of 5.
Conclusion
Safe, practical, affordable and in some cases economical. Top marks for being appealing to families too. Nothing much to say other than perhaps the mechanical faults letting this superstar compact MPV down. If it had no faults I'm sure its score would be far higher. The Scenic is also one of the most reviewed cars out there, especially by real owners rather than experts.
The Aggregated Car Score given by motormum for the Renault Grand Scenic is 77%.
Related Information