Renault Grand Scenic
Compact MPV
The Renault Grand Scenic is a family friendly 7-Seater multi-purpose vehicle (MPV). It is part of Renault's MPV range of cars, launched by the French manufacturer in 1996. It was voted European Car of the Year in its launch year and has been a popular compact MPV ever since. If the Espace is a little too, well, spacious, then the Grand Scenic might just do the trick. If ever there was a compact 7-seater, this is it, this is a family vehicle that feels like a normal car and won't cost a fortune when it comes to keeping the tank filled.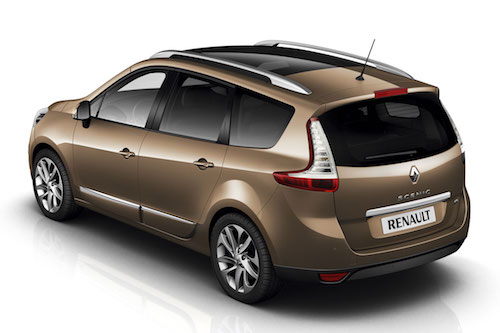 Renault Grand Scenic pictured above (rear view).
On The Road Cost
There are six engine choices with the 7-seat option. The prices range from £19,735 to £22,275. The Grand Scenic combines quality of design with utility for a relatively affordable cost. Second Hand Prices start from as little as £1,000.
Running Costs
Servicing typically costs around £195. A full service with added MOT costs £165. An MOT with a one-year guarantee is £ an MOT with a three-year guarantee is £119. An interim service costs around £130. A word of caution: these prices are indicative and are correct at the time of writing. It is always advisable to check with your local service center before budgeting for a service or MOT. Most Renault's now come with the 4 years servicing, warranty, roadside cover and financing package. The insurance bands range from 15E to 21E.
Emissions
The CO2 emissions range from 114g/km to 178g/km. The lowest emissions coming from the 1.6 dCi 130 Stop-Start model with a 1.6 diesel engine. In fact, this makes it one of the most environmentally friendly MPVs on the market today. Its Eco2 Version range of models are geared towards green-minded consumers who value not only quality and utility but also the environment at large.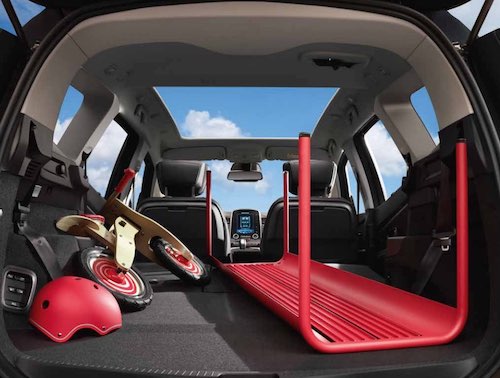 Renault Grand Scenic boot space pictured above.
Car Tax Bands
The Eco2 1.6 dCi is one of the greenest MPVs because it falls into Car Tax Band C. The worst C02 emitting one in the range is the 1.6 Petrol WT 110 model which falls into Band I.
Miles Per Gallon (MPG)
The combined miles per gallon cycle achieved by a petrol Grand Scenic is approximately 36.7 mpg. The 1.6 dCi is far more economical giving 64.2 miles per gallon on the combined cycle. With a fuel tank capacity of 60 litres this gives a potential 811 miles to an entire tank of fuel, making it a perfect family car.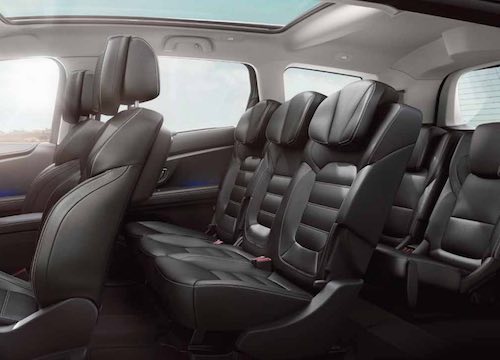 Renault Grand Scenic seat view pictured above.
Optional packages
There are a variety of optional packages. These include a CVT automatic option, TomTom satellite navigation systems, seven-inch DVD compatible screens - to keep the kids entertained - multi-CD player, multimedia connectivity and Bluetooth technology. Interior design can be altered to feature wood or leather finishing's.
Safety Features
Safety features include multiple airbags, a reinforced sides of the car, an electronic stability programme (ESP), anti lock braking system (ABS), tyre inflation kit and a spare wheel. ISOFIX seats are in each of the three seats on row two.
Smaller Rear Seats
There are obvious compromises, however. Although this car is roomy inside, it was never going to be a 7-seater that could comfortably fit seven large adults. The two seats in the third row are designed with children in mind, protruding as they do into the extended luggage area, which itself offers limited cargo space. The second row is hardly swimming in space either, but it can certainly accommodate three adults. How many families are going to want or need to drive around seven adults at any one time anyway?
Dimensions and Cargo Space
In a bid to avoid the bulk of a people carrier, Renault has made the Grand Scenic tall, rather than long, and wide, but thankfully there is no body roll. The benefit of this set-up is a nice, high driving position.
Speed and Performance
The petrol engine options range from 1400cc (108bhp) to 2000cc (138bhp). Diesel engine options are 1500cc (104 bhp) through to 2000cc (158 bhp). The top speed achieved is around 100 - 130 miles per hour. It takes around ten seconds to achieve zero to 60 miles per hour.
Insurance Group
The Renault Grand Scenic falls within insurance groups five through ten with smaller engines falling into lower insurance group categories.
Conclusion
Renault was one of the first manufacturers to develop cars with seven seats. The new Grand scenic has to struggle in a very competitive market compared to previous years. However the fuel economy, range of engines, additional options at an affordable price makes it a great choice in the current climate. Please note that passengers occupying the third row of seating will have less space than in some larger 7 seat MPV's, but is still a good choice when balancing the requirement of transporting extra people and being fuel efficient. Although this vehicle is considered something of a budget MPV, the kit included is impressive. If size doesn't matter too much but budget most certainly does, then this 7-seater delivers excellent value for money.
.more...