Toyota Land Cruiser
User & Expert Reviews
The Toyota Land Cruiser has been reviewed by Experts (7) and Users (55). Its average score is 66 out of 100. This is based on 62 reviews in total.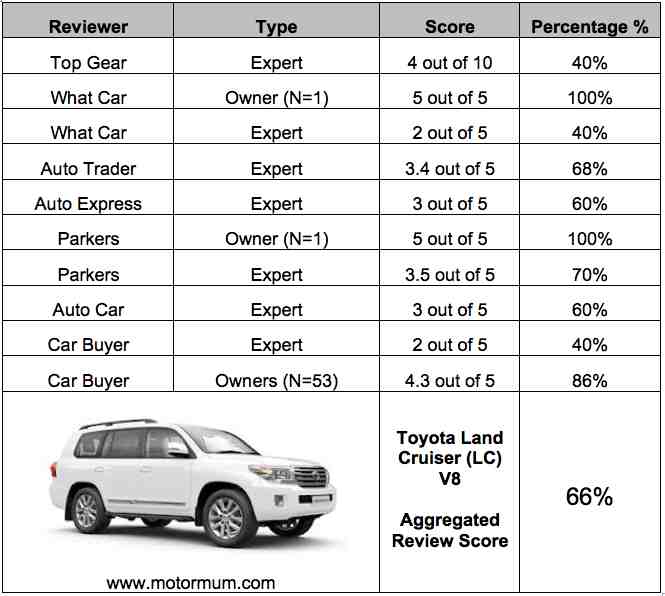 Top Gear - Expert
The Toyota Land Cruiser V8 according to Top Gear isn't stylish but it is capable. They love the LC's ability to tow up to 3.5 tonnes (about two caravans or one very heavy one).
They aren't keen on it looking like a corolla or Avensis on the inside. It is a Toyota so what do they expect? The LC V8 is surprisingly not too much of a gutsy guzzler but is still not cheap to run. The overall score is a disappointing 4 out of 10.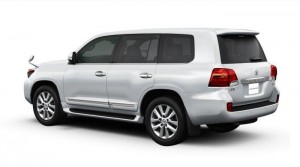 Toyota Land Cruiser pictured above.
What Car - Owner Reviews (N=1)
The What Car owner tested a few similar models (Q7, Range Rover etc) over Welsh Valleys. From experience you'll need a powerful engine to master those hills with ease. The reviewer thought the LC V8 was great overall. He doesn't say much else. The score given is 5 out of 5. Top marks!
What Car - Expert
The expert at What Car loves the size, power and seven seats but criticises the not so big interior (?) Low marks are assigned for most categories. The rating given is 2 out of 5.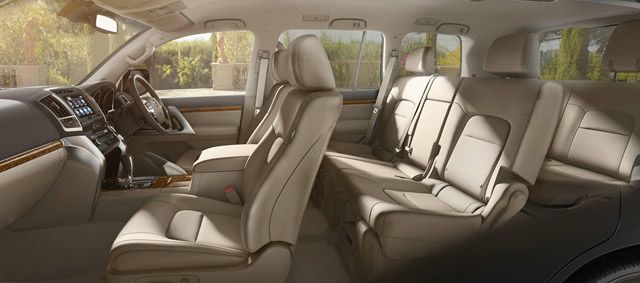 Toyota Land Cruiser (V8) interior seating pictured above.
Auto Trader - Expert
Auto Trader commends the Land Cruiser V8's reliability. Apparently nothing compares. They think it's decent value too (£35K to £47K, really?). Auto Trader like the interior a lot, but say it's dated. They don't like the driving experience, in fact they moan about it a lot. With high running costs (highest CO2 bracket) you're really going to have to need such a monster to justify the cost of a Land Cruiser V8. The rating given is 3.4 out of 5.
Auto Express - Expert
This review focuses on the 2013 model (most recent). There is a whole load of improvements. I like the sound of the pop down Blu Ray DVD player available in the invincible LC V8. Fuel consumption has improved and so has C02. However the Land Cruiser V8 is still at the pricier end of acceptable. Despite other improvements the ride and handling still doesn't have the wow factor. Auto Express love the practical seven seats and 4WD function but not its size. You can't really have one without the other? Reliability and safety are given top marks as they assume the LC V8 7-seater will get 5 stars in the Euro NCAP test. There are usual gripes about luggage space when all seats are in use (267 litres). The rating given is 3 out of 5.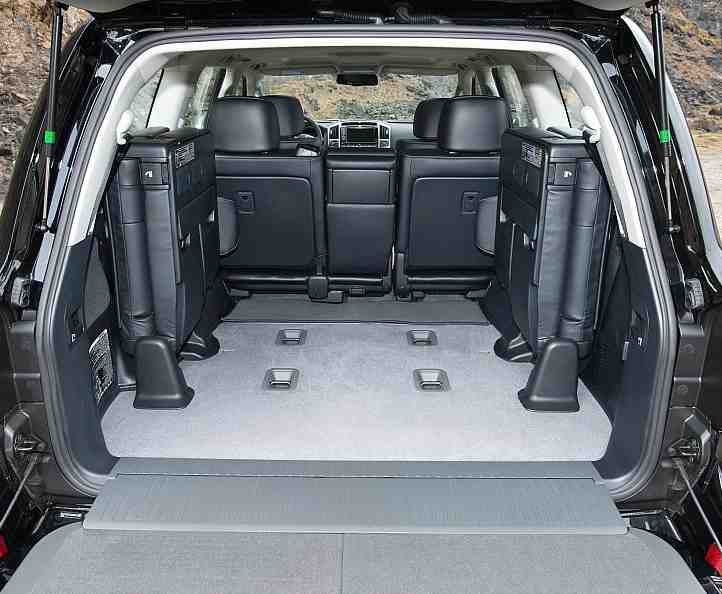 Toyota Land Cruiser boot space pictured above.
Parkers - Owner (N=1)
One owner review has been written in 2010. It is full of praise for the Toyota LC V8. Somehow the car gives orders. I hope this is the Sat Nav and not a Mental Health issue. Parking can be a problem in any car so just because this car is absolutely massive it doesn't mean you won't be able to park it. This guy loves the business & family boxes it ticks. The rating given is 5 out of 5.
Parkers - Expert
Top marks are given across the board, apart from the LC's green credentials & running costs. No surprise there. These two factors lower the overall score. The V8 from Toyota is the best off-roader (with 7-seats) they have. Parkers are not keen on the rear seats that are not foldable. They also think the V8 is cumbersome. It is a big car, so what do they expect? The rating given is 3.5 out of 5.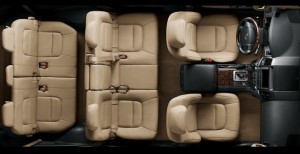 Toyota Land Cruiser interior seating (birdseye view) pictured above.
Auto Car - Expert
Auto Car believe the LC V8 from Toyota is the closest rival to the Range Rover which is equally as tough off road. Toyota is expecting to sell around 700 a year, which is quite low, but still £42 million in revenue (approx.) With our petrol prices the V8 petrol won't be coming here! Auto Car loves it off and on road. They like that it can be both potent off road and smooth on it. Dual purpose if you like. They aren't keen on the lack of basic entry modes and some of those plastic interiors. The rating given is 3 out of 5.
Car Buyer - Expert
Auto car (above) say there is no basic model to buy and Car Buyer say they like that the basic model is cheap to buy. I don't understand. Car Buyer say the LC V8 isn't as comfortable as the Land Rover. But you're not really going to know because we all come in different shapes and sizes. Prices have come down too, with the cheapest (Active 3.0 D-4D Auto) at only £35K.
There is no sixth and seventh seat with this one, but it is the fastest! The greenest is 12K more expensive (Icon 3.0 D-4D Auto) but you do get seven seats. Top of the range model is 52K (the Invincible). That is all I need to say. The rating given is 2 out of 5.
Car Buyer – Owner Reviews (N=53)
I can't quite believe the other massive car sites (Parkers and What Car) only have one owner review, yet Car Buyer has a 53. Nearly all reviewers have scored their Toyota Land Cruiser V8 either a 4 or 5 out of 5 and over 81% would recommend buying one to a friend. I couldn't possibly summarise all 53-write ups. I did read the lowest score review and the owner complained of low MPG, largeness and unreliability. Six people had problems with the breaks (that is 11%). Out of 53 owner reviews the rating is 4.3 out of 5.
Conclusion
The Toyota Land Cruiser V8 is an excellent off roader. It is big and some say expensive. However its reliability and additional seating makes it one of the most practical and powerful "4WD's" available in the UK today.
The Aggregated Car Score given by motormum for the Toyota Land Cruiser V8 is 66%.
.more...