Toyota Land Cruiser
Off Road Land Cruiser for 7
The Toyota Land Cruiser V8 (LC V8) is a 4WD as well as a 7-seater. Toyota has a long history of land cruiser production, dating back to the early 1950s.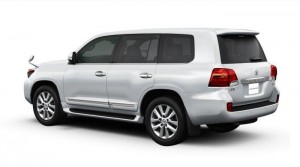 Toyota Land Cruiser pictured above.
The Toyota LC V8 is one of the larger 7-seaters available to buy, it is closely related to the current Toyota LC3, LC4 and LC5 ranges. There is a generous cabin area for all seven seats. Also known as the Toyota 200 Series, the LC (Land Cruiser) V8 first hit showrooms in 2007 as a more powerful version of a vehicle that originally dates back to 1951. As such, it represented the evolution of what many see as the first SUV, and it has remained among the most popular ever since.
Purchase Price
The Toyota LC V8 is a relatively expensive 4WD. Toyota itself calls it the king of all roads. The on the road price is just over £60K. Second Hand prices vary from £4,000 to over £60,000.
Servicing Costs
A full car service costs around £195. An interim service costs £130. A full service plus MOT costs £230. An interim service plus MOT costs £165. A one-year guaranteed MOT costs £59. A three-year guaranteed MOT costs £119. It is always advisable to check prices with your local service provider when the time comes. The currently listed costs were checked online at a major national car service provider.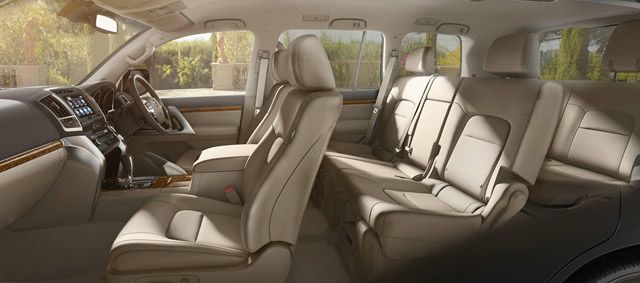 Toyota Land Cruiser (V8) interior seating pictured above.
C02 Emissions
Consistent with its image as a spacious, top of the price range vehicle, it is a relatively high CO2 emitter. The combined mass emission level stands at 270 g/km. CO2 emissions of 100 g/km or less are considered the most environmentally friendly. The Toyota Verso, a compact 7 seater, is a greener choice, with a combined CO2 mass emission level of 158 g/km. Of course, those choosing this vehicle are likely to do so for the space and comfort it affords.
Car Tax (VED)
The Toyota LC V8 falls within Car Tax band (VED) M. Car taxes generally rise in cost year by year.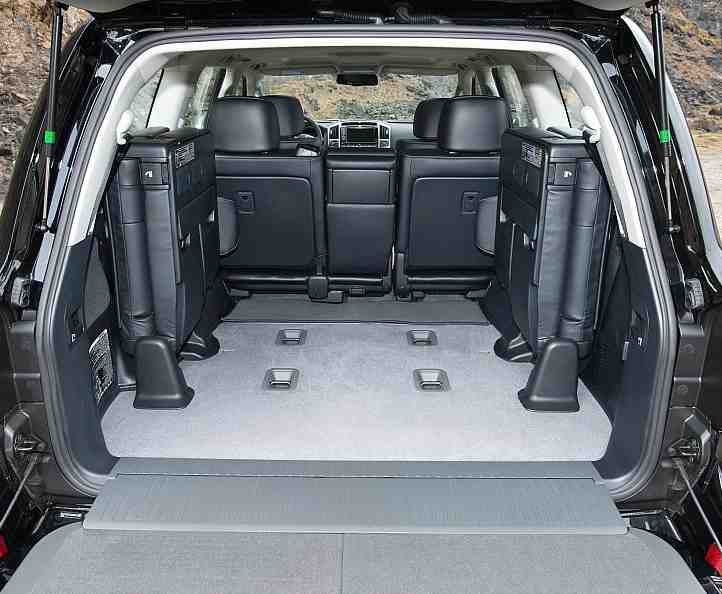 Toyota Land Cruiser boot space pictured above.
Fuel Consumption (MPG)
In terms of fuel consumption, it achieves an urban mpg rate of 23.5. The extra mpg rate is 31. The combined mpg rate is 27.7. The fuel tank capacity is 93 litres.
Accessories
Accessories include the Toyota Premium In-Car Entertainment Pack, costing £1,950; Homelink technology, allowing you to automatically operate up to three home systems such as electronic gates or your garage doors; an electronic tracker system in case your vehicle is stolen; a hands free phone kit and a cool box.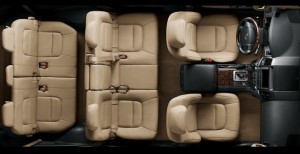 Toyota Land Cruiser interior seating (birdseye view) pictured above.
Safety Features
Safety features include airbags, child proof locks, energy absorbing crumple zones on the rear and side, side impact beams on all side doors, vehicle stability control and traction control. The pricier trim levels come with a whopping 10 airbags that add the finishing touch to a hugely impressive safety record.
This 4WD monster performs strongly on the road; it achieves 0-62 miles per hour in 8.2 seconds and has a top speed of 130 miles per hour. The addition of a turbodiesel engine version means this is a vehicle with plenty of options, ranging from a 4-litre right up to a 5.7-litre petrol variant. In an age where 7-seaters have become less robust and more family-friendly, the Toyota LC V8 does just about everything, and more.
Insurance Group
The Toyota LC V8 falls within insurance group 19. This is one of the highest insurance bands for a seven-seated vehicle. Vehicle insurance bands range from one to twenty.
Conclusion
In all, the Toyota Land Cruiser is a family friendly MPV combining strong on and off-road performance. It was conceived as a Land Cruiser that would specifically appeal to the American 4WD market. However, it soon gained a strong following across the globe courtesy of its combination of power and roominess. It fits seven passengers with ease, even in the back row where there is plenty of room for adults. Some have complained that Toyota wasn't adventurous enough with the exterior styling, but the Japanese automaker certainly was when it came to performance. Just ask NATO, for which this rough and ready 4WD SUV remains the de facto vehicle of choice.
.more