Chevrolet Captiva
Combined Car Reviews
The Chevrolet Captiva has been reviewed by Experts (7) and Users (34). Its score is 61 out of 100. This is based on 41 reviews in total.
| Review Source | Type of Review | Score | In Percentage (%) |
| --- | --- | --- | --- |
| Top Gear | Expert | 5 out of 10 | 50 |
| What Car? | Expert | 2 out of 5 | 40 |
| What Car? | Expert | 2 out of 5 | 40 |
| AutoTrader | Expert 2007 | 3.6 out of 5 | 72 |
| AutoTrader | Expert 2011 | 3.2 out of 5 | 64 |
| Auto Express | Expert | 3 out of 5 | 60 |
| Parkers | Expert | 3 out of 5 | 60 |
| Car Magazine | Expert (Older Models) | 3 out of 5 | 60 |
The combined review score is 61 out of 100 which is 61%.
Top Gear - Expert
Starting with a generic spiel about older versions the Chevrolet Captiva Top Gear review insists that the newer version is better. They say power, look and performance is a great deal better than first generation models. The 7 Seater driven in in October 2011 was the LTZ, which is a top spec option. Despite the wholly positive comments, including a sarcastic one about the enhanced safety features they score the car a mere 5 out of 10. What they do point out, (rather handily) is that the Hyundai Santa Fe is pretty similar yet about £5,000 cheaper.
WhatCar? - Expert Review
Disappointingly WhatCar write another positive yet low scoring review for the Captiva. I suppose when comparing it to a car three times the price, then yes it would score lower; but really for its price its doing well! WhatCar love the look, despite its plastic cabin aspects. Again concurring with Top gear that for the money you are spending there are better rivals. The WhatCar? Experts give the Chevrolet Captiva a 2 out of 5. Contrary to WhatCar normal people like you and I who have given over their time to add their own comments have scored it much better, (4 out of 5). Lower scores came from the running costs but overall it's a pretty popular car with people who've actually bought it. One guy didn't like the manual version, mainly due to the low miles per gallon achieved in the VCDi LT 7st 4WD version. 34 owners have left their review on the site.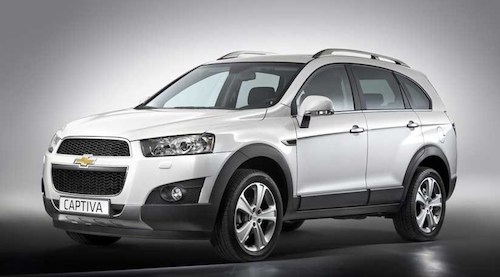 Chevrolet Captiva pictured above
AutoTrader - Expert
AutoTrader reviewed the a Chevrolet Captiva in June 2011 and December 2007. In 2007 they liked the space and value for money and thought it fell into a budget SUV category. They liked the LTX top of the range model with its leather seats. Miles per gallon is stated as averaging around 30mpg, even for the manual. This contradicts one of the user reviews from WhatCar? Overall AutoTrader gave an expert rating of 3.6 out of 5. Scoring slightly lower in June 2011 with a 3.2 out of 5, AutoTrader still like the family appeal this SUV gives. The 2011 refresh is complimented despite a few cheaper cabin materials. They call it a 7-Seater bus at the end, which is slightly confusing when actually it's more of a compact seven seater.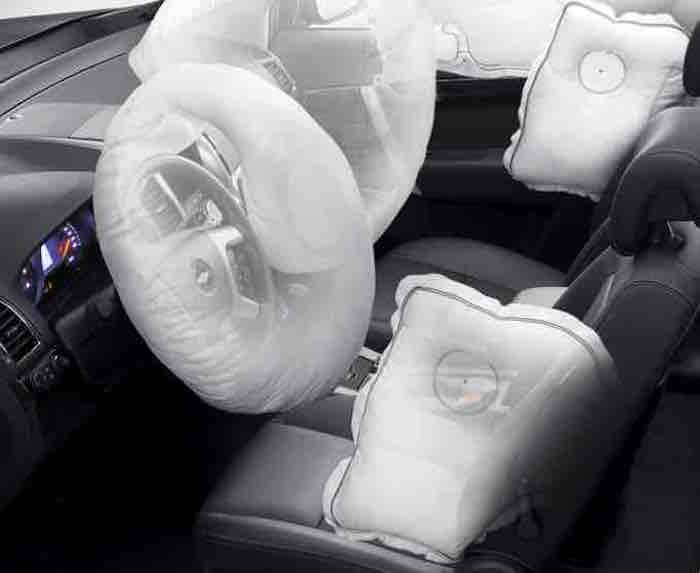 Chevrolet Captiva Airbag featured above
Auto Express - Expert
The Captiva model of choice recommended by Auto Express is the LS 2.2 VDCI 5-Seat. Handy eh? Residual values are described as terrible. Rivals such as the Santa Fe don't' have access to the third row as easy as the Captiva does. They do tell us that with 7-Seats comes 4WD which is a good fact to jot down when shopping for a car. Overall the expert score is 3 out of 5.
Parkers - Expert
The Parker ratings for performance, handling and other tick box queries are pretty average across the list scoring between 3 and 4 for each category. They take into consideration older models and newer 2011, (refreshed) versions. Overall the combined score from Parkers is 3 out of 5. Parkers like the 5-year warrantee and think that for the money you spend you get quite a lot for it. Nothing is mentioned about residual values.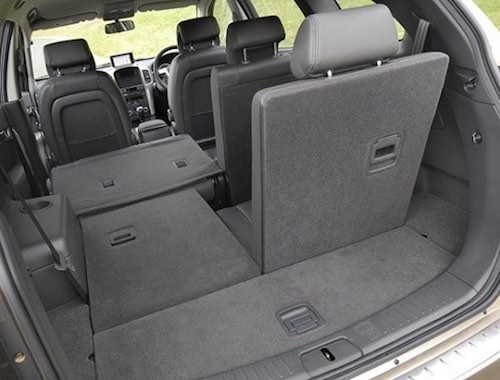 Chevrolet Captiva Boot space shown above
Car Magazine - Expert
Car Magazine drove the Chevrolet Captiva 2.0d LT (2006), they compare its size to the BMW X5. Overall they score it 3 out of 5.
Chevrolet Captiva interior shown above.
Conclusion
Across the board this SUV has scored pretty average with every criterion associated with vehicles known to man. Nothing to extreme has been said and also nothing overwhelming either. There's an air of concern over running costs and cabin quality but nothing to extreme considering it is one of the cheaper 4WD 7-seater cars out there.
The overall score for the Chevrolet Captiva is 61%
.more...