Chevrolet Captiva
4WD +7 Seats
The Chevrolet Captiva is a 7 seater car that is also 4WD. With every one purchased from new you will be given a 5 year warranty, 5 years servicing, 5 years roadside assistance, annual vehicle checks and an MOT warranty until your car is 5 years old. This is all included in the price! Entry models have five seats.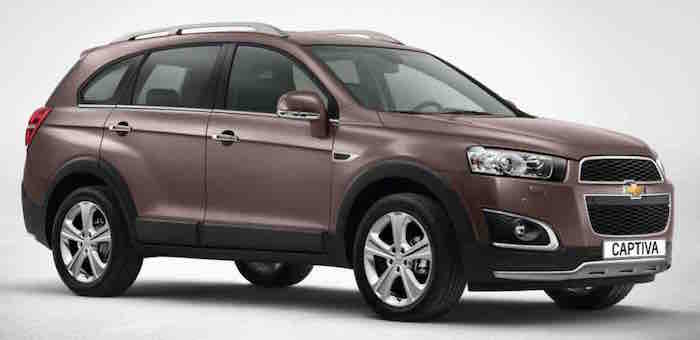 Chevrolet Captiva pictured above.
Second Hand Captiva
Chevrolet ceased UK production in Europe (that includes the UK) in December 2015. They are honouring all warrantees and servicing elements. You will also be able to source parts easily. There are plenty of second hand Chevrolet Captiva's to purchase for a reasonable price.
Purchase Price
The Captiva is one of the cheaper 7-seat MPVs with 4WD available to buy in the UK costing between £19,000 and £27,500. The extended 5-year warranty is also an added bonus. It is likely that more people will hold onto their Captiva only to sell on once the warranty has expired.
Chevrolet Captiva interior shown above.
Second hand models are widely available in the United Kingdom listed online, either as private sales or classified advertisements.
Boot Space
With two rows of seats folded flat the boot space is a generous 972 cubic litres. With the three rows of seat upright the boot space in the Chevrolet Captiva is 477 cubic litres.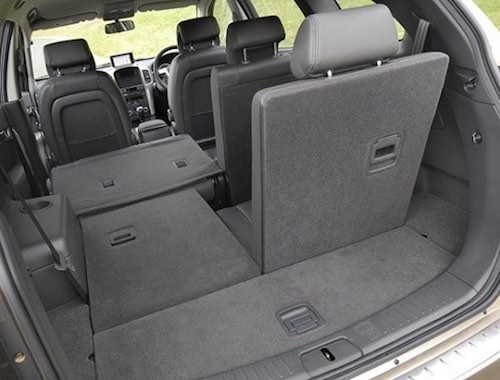 Chevrolet Captiva Boot Space shown above.
Performance
Top speeds for the three diesel engines in 2015 start at 117 (2.2 DSL 163ps 6MT), 118 (2.2DSL 184ps 6AT) and go up to 124 (2.2DSL 184ps 6MT) miles per hour. Zero to sixty is achieved in 9.7 (2.2DSL 184ps 6MT), 10.4 (2.2DSL 163 6MT) and 11 (2.2DSL 184ps 6AT) seconds.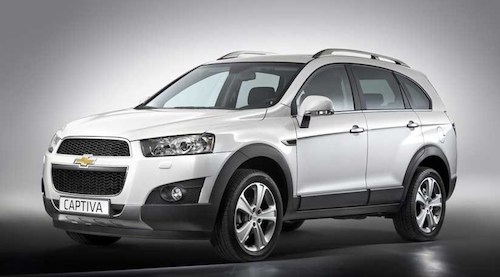 Chevrolet Captiva pictured above.
Servicing
Without the service cover a full service can cost as little as £108 with £82 for an interim service. A full MOT and service is approximately £150. This figure has been taken from a national discount car service provider so the actual cost may vary locally. And remember with all new models purchased the servicing is included for free in the first 5 years.
Car Tax And Co2 Emissions
The Car Tax Bands (VED Rates) are either 172g/km for the 2.2DSL 163ps 6MT Captiva, 183 g/km for the 2.2DSL 184ps 6MT Captiva or 219 g/km for the 2.2 DSL 184ps 6AT Captiva. This equates to Bands H , I and K. This compares reasonably well bands.
Miles Per Gallon (MPG)
The 2.2DSL 163ps 6MT Captiva manages between 34.4 to 50.4 miles to the Gallon. The less economical but more powerful 2.2DSL 184ps 6MT Captiva can do 33.2 to 47 miles to the gallon. The least economical but most powerful is the 2.2 DSL 184ps 6AT Captiva that achieves between 25.6 and 34 miles to the gallon. In the Captiva Review section the experts opinion of MPG differ from the user reviews. This indicates that actual users aren't achieving the manufacturer quoted figures. All three engines are diesel.
Extras
The basic model comes with alloy wheels, part leather upholstery, air conditioning and four electric windows. So you won't need to spend much more on extras.
Safety
The Chevrolet Captiva is packed full of safety features such as; Side impact beams, Height adjustable front seatbelts, Front seatbelts with pre-tensioner, 3x3 point rear seatbelts, Front seatbelt reminder, Height adjustable headrest, Height adjustable headrest with tilting function, Knee protector, ISOFIX child seat restraint system (2nd row outer rear) and Child proof locks on rear doors.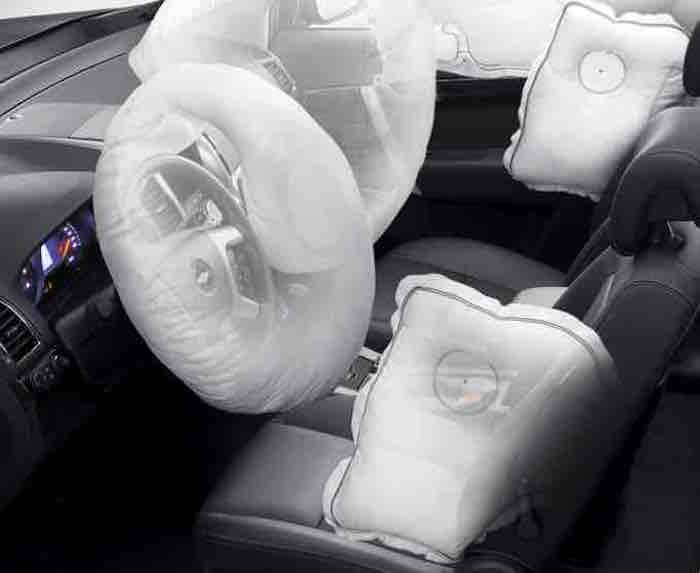 Chevrolet Captiva Air Bag feature depicted above.
The Captiva was given a four star NCAP Adult rating by the European New Car Assessment Programme.
Insurance
Depending on what type of engine you purchase the insurance group varies between 10 and 12.
Colours
The Chevrolet Captiva 7-Seater is available in metallic Carbon Flash (black), City Grey, Deep Expresso Brown, Ice Silver, Dark Burgandy or Sandy Beach Brown. Regular colours include Snowflake White, Summit White, Velvet Red or Glacier Lake Blue.
Interior Trims
Four trims are available. The standard is Jet Black Cloth but you could opt for leather appointed Jet Black or Light Titanium instead.
Towing and Roof Boxes
If you get roof rails or a tow bar in your Captiva you can carry 100kg in the roof box or tow 750kg in a trailer. The maximum recommended weight in the car is 2,500kg.
Dimensions
The Captiva is 1.576m wide and 4.673m long. It is 1.756m high. With the wing mirrors the car extends to 1.849m in width.
Please Note
Please note that unfortunately Chevrolet decided to stop producing new Captiva's to Europe including the UK. This means that the Captiva is now ONLY available second hand. There are many People Carriers available Second Hand and the Captiva is one of the good ones!
.more...