Citroen Grand C4 Picasso
Combined Reviews
The Citroen Grand C4 Picasso has been reviewed by Experts (6) and Users (96). Its score is 67 out of 100. This is based on 102 reviews in total.
| Review Source | Type of Review | Score | In Percentage (%) |
| --- | --- | --- | --- |
| Top Gear | Expert | Not Rated | Not Applicable |
| AutoTrader | Expert | 3.8 out of 5 | 76 |
| AutoExpress | Expert | 3 out of 5 | 60 |
| Parkers | Expert | 3.5 out of 5 | 70 |
| Parkers | Owners (N=22) | 2.9 out of 5 | 58 |
| Car Mazazine | Expert | 3 out of 5 | 60 |
| AutoCar | Expert | 3.5 out of 5 | 70 |
| What Car? | Expert | 3 out of 5 | 60 |
| What Car? | Onwers (N=74) | 4 out of 5 | 80 |
The Citroen Grand C4 Picasso averages a score of 67 out of 100 which is 67%.
The Citroen C4 Grand Picasso has been expertly reviewed by Top Gear, Auto Express, Car Magazine and at least 74 real owners. It is a popular choice in the UK with many versions available old and new.
Top Gear - Expert
Top Gear drove the 2.0 HDi Picasso in April 2007 without being kind enough to give it a score. I can only assume that scoring was not their thing at the time. The model tested was the 2-litre top of the range version. Apparently the buttons and things on the dashboard are set out differently to other cars, which may cause some confusion. They love the look of the car but not the performance. From the tone of their review I reckon it sounds about a 3 out of 5, but that's just a guess.
AutoTrader - Expert
AutoTrader say the Picasso has a spacious interior but not in the third row. They love the practicality despite its poor ride experience. There is an excellent safety kit but the cabin materials aren't so spectacular. Apparently there is no spare tyre. A lot of cars don't have this nowadays. In my opinion they've spent the money where it matters, i.e. on SAFETY!! Good on them. They call the car good looking, probably because it's French. The large windscreen is liked but don't put the visors down because they are big with a capital B. Apparently Citroen is the tenth most reliable car manufacturer in the UK. I think first, second or third positions would be better. High scores are achieved for practicality and safety with average scores given for most other sections. Overall they give the Picasso a 3.8 out of 5.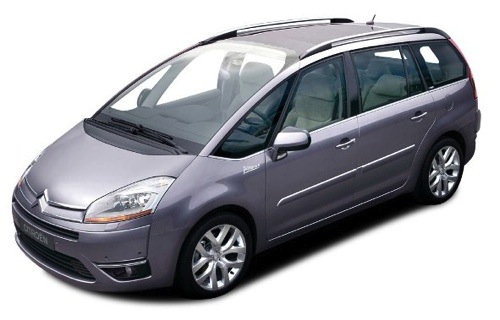 Citroen Grand C4 Picasso pictured above.
Auto Express - Expert
Auto Express like the Picasso's versatile boot because it can be used as a van with up to 1,951 cubic litres available for moving your nans old sofa to the tip. Loading your shopping is easy and their engine of choice is the 1.6 HDi VTR+ model. They get the extra seats in the back by making it slightly longer than the 5-seat variant. They give a nearly 4 score for its running costs. Although to get the 7-seats you'll pay about 2K more initially. Overall they give the Grand C4 Picasso a score of 3 out of 5.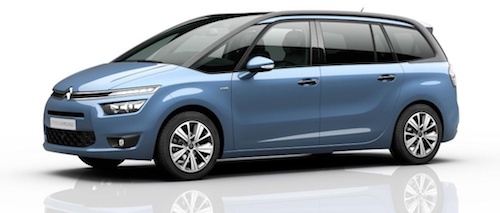 Citroen Grand C4 Picasso pictured above.
Parkers - Expert
Parkers tell us the boot light doubles up as a torch. Does it? How? Does it come loose so you can move it? Does a cable, like the old-fashioned curly wurly telephone type, attach it, or is it just a light in the boot that acts as a light but they are calling it a torch? As Top Gear would say, "answers on a post card please". Good things are outlined about the practicality and boot space, (disclaimer alert – without third row seats in use). There's lots of technological write up which are divided into sections of equipment and driving performance, so you can choose which ones your not interested in and just click onto gallery. The experts at Parkers give this compact 7 Seater Car a 3.5 out of 5.
From 2007 over 20 owners have left their reviews on the site. That was nice of them. I've averaged their individual scores to 2.9 out of 5. Aren't I nice? Most owners have left reviews on the 2.0HDi 16V Exclusive 5d EGS version. What sticks out from reading the user comments is the love of the storage space. I would just like to remind you that if you carry lots of stuff around in your car you would be using more fuel. Just saying!
Car Magazine - Expert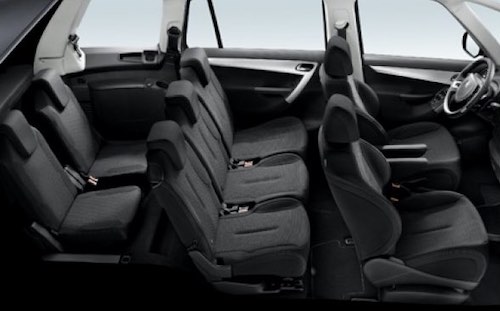 Citroen Grand C4 Picasso seating layout pictured above.
In 2006 Car Magazine reviewed the HDi 1.6 Grand C4 Picasso and state that it has the best quality interior. Maybe they are being sarcastic because they are contradicting what AutoCar have said above. Or maybe the guys above are wrong. Either way it's their opinion and really you should judge for yourself. Nice pictures by the way. They have scored the Picasso a 3 out of 5.
AutoCar - Expert
AutoCar love the style and helicopter type front windscreen but aren't keen on the automatic gear box or residual values. They say that the knee room isn't great in the middle row but it has lots of gadgetry to make you smile such as tray tables, folding, sliding seats and such like. They tested the 1.6 HDI VTR+ in May 2010 and even give details of the weather on the day. Now that is useful information. They more or less conclude that it's a smooth ride but not a great driving experience. They score this practical MPV with seven seats a 3.5 out of 5.
WhatCar? - Expert
WhatCar's nine point review comes out as 3 out of 5. Owners are slightly more joyous at their vote and give a 4 out of 5. WhatCar concur with most reviewers, in that it looks lovely but isn't so great on the road. Highest scores go to its refinement, safety and space.
A mere 2 out of 5 is given for its ride and handling. At the time of writing 74 users had written a review on the various 8 models available. One guy seemed to have a bit of trouble with Citroens customer service, another with the mechanics. There are more positive write-ups. Well there must be, because the users have scored it a 4 out of 5 overall.
Conclusion
Everyone loves the look and practicality of the Grand C4 Picasso. Although the grumblings about driving experience and handling can't be ignored. Most actual owners love their Picasso. Problems muted about mechanical issues and customer service problems don't seem to be the norm.
The overall score given to the Citroen Grand C4 Picasso is 67%.
.more...