Citroen C4 Grand Picasso
The Citroen C4 Grand Picasso has seven seats. This People Carrier is quite popular with over 20 models ranging from basic to luxurious. So finding a one to suit your own needs is easy!
Purchase Price
The cheapest model is around £15,000. It's true! With more specification you could spend up to £25,000. The models range from a 1.6 petrol up to a 2 Litre diesel. They are available new or second hand from online services such as Ebay Motors. Ebay has private listings alongside classified advertisements for all types of vehicles.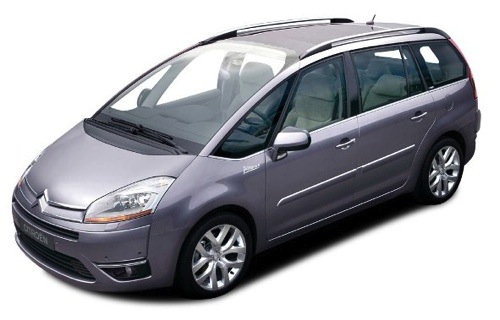 Citroen Grand C4 Picasso pictured above.
Servicing
The Citroen C4 Grand Picasso needs to be serviced every 2 years or 20,000 miles (whichever is sooner). The cost of a service is approximately £240. This is higher due to the full synthetic oil replacement that is required with each service. This price is similar to the C-Crosser and Citroen C8.
The cost of four tyres varies and is dependent on the width of your tyres or whether or not you have alloy wheels. The basic model has 16 inch tyres which are relatively cheap and easily available.
Car Emissions (Co2 g/km)
The emissions range from 140g/km Co2 with the 1.6 Diesel HDI model to 195g/km Co2 with the Diesel 2.0 HDI 16v Model. This MPV is therefore one of the most green and fuel efficient 7-seater car you can buy!
Car Tax (VED Rate)
The Car Tax range from Band F to Band J. This is also the initial payment when purchasing the Car new. Band J is slightly more expensive.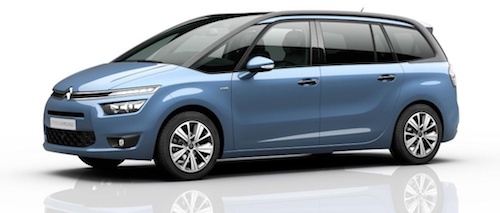 Citroen Grand C4 Picasso pictured above.
Miles Per Gallon (MPG)
The 1.6 Petrol Model averages 38.2 miles per gallon. The Diesel 1.6 HDI model does an incredible 53.3 miles per gallon (on average).
Specification Information
There are over twenty different models of the Grand C4 Picasso and thus much variability in the specification of each. However the CITROEN C4 GRAND PICASSO ESTATE 1.6 16V VTi LX 5dr has 5 speed manual gears a top speed of 116 mph and can reach 62 mph in 12.4 seconds. The 2.0HDi 16V Exclusive Nav 5dr Auto is a diesel with 6 speed auto gears a top speed of 118 mph and can reach 62mph in 12.1 seconds.
Capacity
The Picasso is bigger in terms of capacity when compared to other compact 7-seaters such as the Renault Grand Scenic and Mazda5. In fact it is even bigger than many of the earlier MPVs around, for instance the Citroen Evasion. But then in terms of engine range and price in particular, it is sleeker and on a par with the rising crowd of sporty MPVs.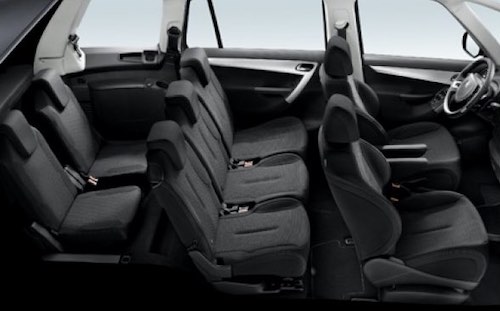 Citroen Grand C4 Picasso seating layout pictured above.
This is largely due to the expansive front wind-shield which seems to go on forever up to and over the heads of the front passengers. This adds a great deal of visibility with the only drawback being glare on those hot, sunny days – in fact just the type of days when the owner might be thinking of taking everyone out for a drive. Thankfully, large sun visors help keep out most of the excess sunlight.
Dimensions
The Picasso C4 is 2.1 meters wide, 1.68 meters high and 4.59 meters long. It has 576 litres of luggage capacity. If ever there was a four-wheel equivalent of Doctor Who's infamous Tardis – an object that appears much smaller from the outside that its interior space suggests – then surely the Grand C4 Picasso is it.
Insurance Group
The models range from insurance group 6 to 9. The lowest insurance group is the basic petrol model. The basic Diesel model is insurance group 7.
Offers
Most dealers will offer you a 0% deal on a new model. Although the dealers may cost slightly more than some online price comparison sites, car supermarkets etc, the overall cost comparison is pretty favourable when its 0%.
Extras
The basic colour of the Grand C4 Picasso is polar white. Metallic paint will cost approximately £384. According to my research there is not much optional equipment with basic models. However with the higher specification models you could buy 18-inch alloy wheels for just over £400, a glass sunroof for £558 or an entertainment pack for £1,363. You may also decide to purchase the Yellow Stone Leather option for the extortionate price of £2,438.
Conclusion
Overall then, the Citroen Grand C4 Picasso is not always what it seems. And thankfully overall, these are mostly good surprises.
.more...