Grand Ford C-Max
Aggregated Reviews
The Ford Grand C-Max has been reviewed by Experts (6) and Users (9). Its score is 82 out of 100. This is based on 15 reviews in total.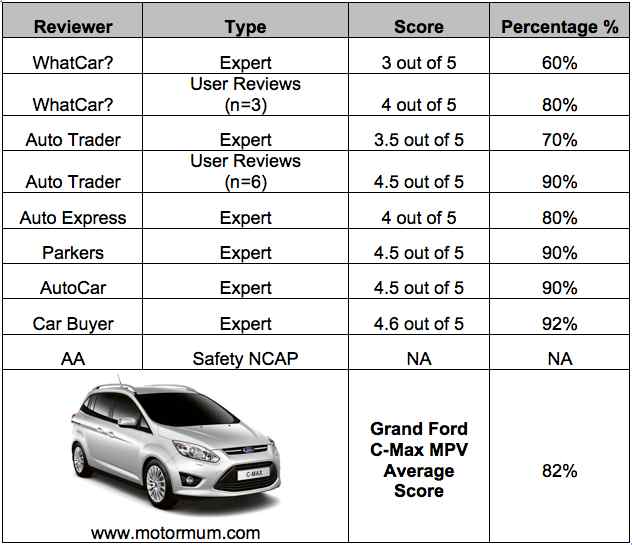 Expert Reviews
The 7 Seat Grand Ford C-Max has been reviewed by the majority of Car Review Websites including Which Car, AutoTrader and Parkers. Overall the C-Max has done well. Amongst other positives, the top safety features come out on top. Well done Ford!
WhichCar - Expert / Owner
WhichCar liked the C-Max's handling and running costs, and think that although it isn't as spacious as other MPVs with seven seats it's sliding doors are a bonus when getting little ones in and out. They tested a few of the engines available and came up with the 113bhp 1.6 diesel as the favourite. That sounds like it would be very economical too. They like the seating position and that you can adjust the steering wheel and seats to suit. The extra 14 cm length in the Grand C-Max provides the space for the rear seats. It's a clever car in that the middle seat in the second row folds away into the other seat, so that passengers can use it as a walkthrough from the third row. I'm assuming this would also provide an area for third row passengers to put their legs. The spec is good even for the cheaper models. WhichCar give an overall score of 3 out of 5.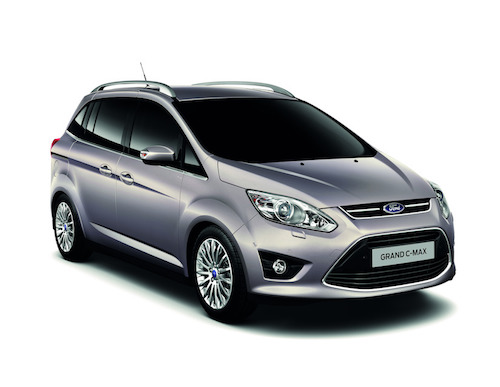 Grand Ford C Max pictured above
Considering the mass appeal of a Ford car and also 7-seaters I'm surprised that only three readers have left their opinion. Maybe its because the Grand Ford C-max is relatively new. Actually that is probably the reason. Reviews are from 2011 to 2013. The scores are high in comparison to the experts with the overall score being 4 out of 5. Generally users love the sliding doors and easy access. One person who scored it well did mention that the fuel economy wasn't as good as he'd hoped.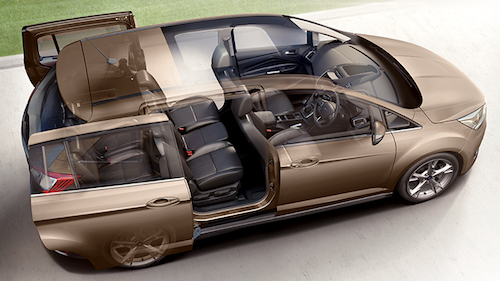 Grand Ford C Max Birdseye view pictured above
Auto Trader - Expert
The review from Auto Trader combines the regular C-Max and the Grand version. I'm assuming this is because there are similar engines in each and not because of the name C-max being in both. They like its interior but aren't to keen on the complicated switchgear. The highest score in their 10-point review has gone to safety. This is because it has achieved a five star rating from NCAP. It has EBD and ESP - I'm not entirely sure what they are but I'm guessing they're good. Their expert rating is 3.5 out of 5.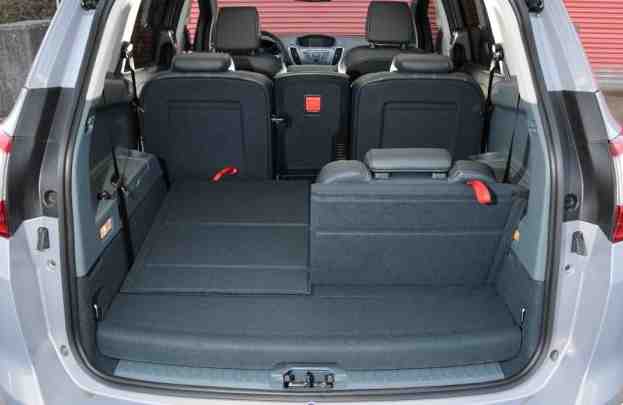 Grand Ford C Max Boot Space pitured above.
The site has six owner reviews on the 2010 models upwards. They are very positive and score it a high 4.5 out of 5. One chap likes the space, although can't believe, (in a good way), how Ford have managed to get two extra seats in the boot and a spare wheel. And he's talking about a proper spare wheel, not one of those aerosol foam canisters. It sounds like the C-max is a bit of a Tardis. One person owns the 1.6 TDCi Zetec 5 door and shares with us that the road tax is only £100 a year. I've got to say for a 7-seater that is amazing. Again there are negative comments about the actual MPV vs. the quoted Ford figures.
Auto Express - Expert
The model of choice is the 2.0 TDCI (138) Zetec variant. They like the regular C-Max but aren't too keen on the appearance of the stretched out 7-seater. They say there is lots of room in the second row for three adults. This is different to What Car's who thought the middle seat was narrower. Boot space is limited to 115 litres when all seats are upright, (7 of them). Based on the manufacturers quoted figures the running costs are explained well and in enough detail to make an informed decision. However do consider the muting's of actual owners who don't achieve the full quoted miles per gallon. The final score is 4 out of 5.
Parkers - Expert
The experts at Parkers have also scored the Grand C-Max highly. The highest scores given to handling and comfort. Not sure if that is for every passenger or just the driver? The review is based on 2010 models. Their review has lots of facts and figures, which are expertly explained. They think that despite its larger size, (were talking of the seven seat version) it handles more like a smaller car. Partners overall score given is 4.5 out of 5.
Auto Car - Expert
Similar themes are discussed by Auto Car. They like the sliding doors, the deceptively spacious interior. They agree with the clever center seat setup. They based their review on the 2.0 Duratorq diesel engine, (138bhp) because it is one of the better performing choices. Their overall score is 4.5 out of 5.
AA: Euro NCAP Crash Test
As every review has mentioned how good the Grand C-Max is for safety I thought it only polite to include a link to something more detailed regarding the actual safety test. The AA does this perfectly. They tested the 1.6 TDCI Tred 5-Door MPV in November 2010. Details such as side barrier impact, child occupant safety and pedestrian safety are all brought together and given an overall star rating of 5 out of 5. This is the maximum score available.
Car Buyer - Expert
The Car Buyer review is similar to the Auto Express write up which isn't surprising considering it is their sister site. What I like about Car Buyer is their video review. It is so much easier to watch and listen than it is to read and think. They quite confidently say that it could even be the best car in its class. I'm assuming the class would be the small MPV one. Not sure. The overall score is 4.6 out of 5.
Conclusion
Everyone seems to love this small MPV so long as you expect it to be a small MPV and not something bigger. Fuel economy is good but when carrying seven you may not achieve the official miles per gallon. In my opinion this car would be perfect for those that only need all the seats occasionally. If the majority of miles are done with just one driver then this car is for you. You then have those handy seats at your fingertips on those weekend trips with the children.
The overall percentage for the Grand Ford C-Max (Mini MPV) is 82%. This is one of the highest scoring MPVs.
.more...