Ford Grand C Max
Compact C-Max
Ford have redesigned and released their Grand Ford C Max model. It is a Mini MPV based on the existing 5 Seat Ford C Max. It was released in October 2010. It has has evolved into a popular, well designed MPV that is looking to take the market by storm. The third generation with seven seats adds lots of new features that makes this a vehicle worth updating.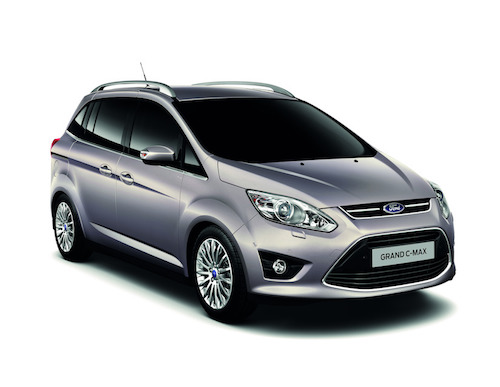 Grand Ford C Max pictured above
Purchase Price
This MPV been around since 2002, but with its younger, zestier brother, the S-Max, doing so well. New styling, seating and more space show it means business. A new Ford Grand C-Max is available from £19,195 on the road.
Height, Width and Length
This car is 4.52m long, 2.065m wide and 1.684m height. The wheelbase is 140mm longer and there is 58mm more headroom. The new chassis is keen, more willing and progressive when driving. The chassis is said to be lighter, stiffer and stronger than before, making the driving performance more rewarding.
Standard Features
There are sliding rear doors, remote child door locks and two third row seats, and allows the middle seat to foldaway, meaning there is a walk-through to the rearmost seats. Standard equipment on both models is good, with a DAB digital radio, a Thatcham alarm, air-conditioning, USB and Bluetooth connections, and 16" alloy wheels. Optional extras include a blind spot information sensor, a powered tailgate, a panoramic glass roof, an active park assist and a rear view camera.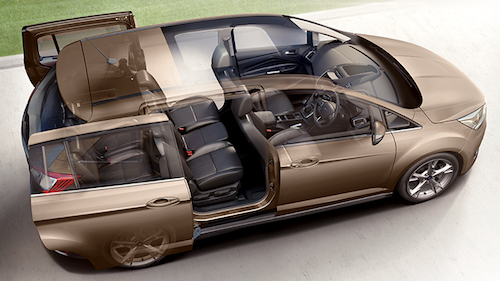 Grand Ford C Max Birdseye view pictured above
General Running Costs
The Petrol 1.6 falls into Car Tax H (159 Co2 g/km) and does between 31.7mpg and 49.6 with a combined MPG of 40.9 miles to the gallon. The Ecoboost version doesn't do much better on the combined and urban cycle but can manage up to 51.4 miles to the gallon in the Extra Urban cycle. Fitted with the new EcoBoost range of petrol engines, not only is there an improvement in torque and power, it also delivers 18% more fuel efficiency which seems like a great deal. The diesel version has also seen a reduction in fuel requirement with the Duratorq engine. Similarly, Ford claims its new Power Shift transmission delivers a 10% reduction in fuel usage.
The most fuel efficient is the 1.6 Tdci which can do up to 64.2MPG, (48.7 Urban and 57.7 Combined). This model is also the most environmentally friendly with a low Co2 of 129 g/km. This falls into car Tax bracket D. The fuel tank holds up to 60 litres of fuel.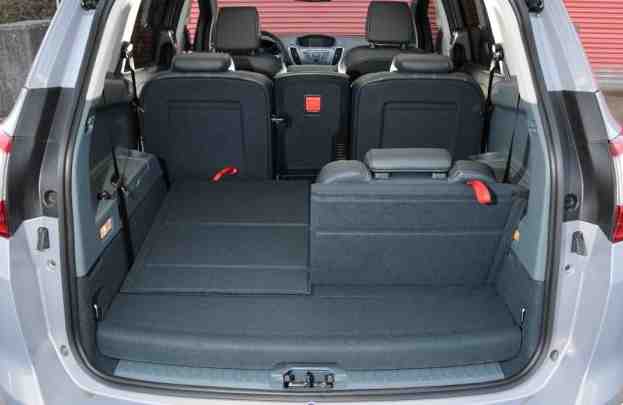 Grand Ford C Max Boot Space pitured above.
Performance Specifications
Top speed for all models maximises at around 120 miles per hour with acceleration taking about 10 seconds. There are three 1.6-litre petrol engines, only differing in power outputs; 104, 123 or 148bhp. Two diesel engines are available; the 1.6 (113bhp) or the 2.0-litre (138bhp). The latter comes with Ford's latest twin-clutch power shift automatic transmission and is a popular choice.
Interior Design
Inside it is a typical Ford, being versatile and practical. In recent years the company has made a real effort in style and design of the interior. The swooping dash leans heavily towards being ergonomically brilliant and all of the controls are light and have a positive 'click'. The dash layout is excellent and there are cubby-holes, drinks holders and storage bins galore. The steering wheel has radio control buttons, allowing drivers to keep their hands on the wheel. There is a sleek Sony DAB Audio system with USB, MP3 and iPod connectivity.
The console looks and feels like an upgrade and there is a starter button instead of the old key system – just press it in and hold the clutch to start things up. There is a new panorama roof as well which lets in a great deal more light compared to older versions, plus there is a power-operated sun blind. Other new features include a new overhead storage console, the new easy fuel system which means the fuel cap has gone, a blind spot information system and a speed limiter that stops you going above a predetermined speed. The luggage capacity with all seats upright is 755 litres.
Conclusion
In the eight years that the C-Max has been around, there has been more than 130,000 sold. With the new model's practicality, versatility and sheer good looks, this figure could easily be double in the next eight years. In fact, the S-Max's sales figures could even take a dent due to the C-Max. It really is that good!
Choice Model in Range
The choice model would be the Grand C-Max with titanium trim level it might cost a little more, but with all of the electronic gizmos and gadgets that come with it, it will take a while before the rest of the car manufacturers match or better the C-Max, making it a sound investment.
Overall, the fit and finish are superb. There is ample head and leg room in the front and back seats and the rear third row seats are ideal for smaller people. The interior is attractive, bold and at the cutting edge of design. In terms of practicality, there are few seven-seaters out there that could beat it. The boot is positively cavernous with the seats folded away, and the sliding rear doors on the Grand C-Max make parking in tight spaces a breeze.
.more...