Mercedes Benz E Class Estate
Expert & User Reviews
The Mercedes Benz E-Class Estate has been reviewed by Experts (9) and Owners (79). Its score is 83 out of 100. This is based on 88 reviews in total.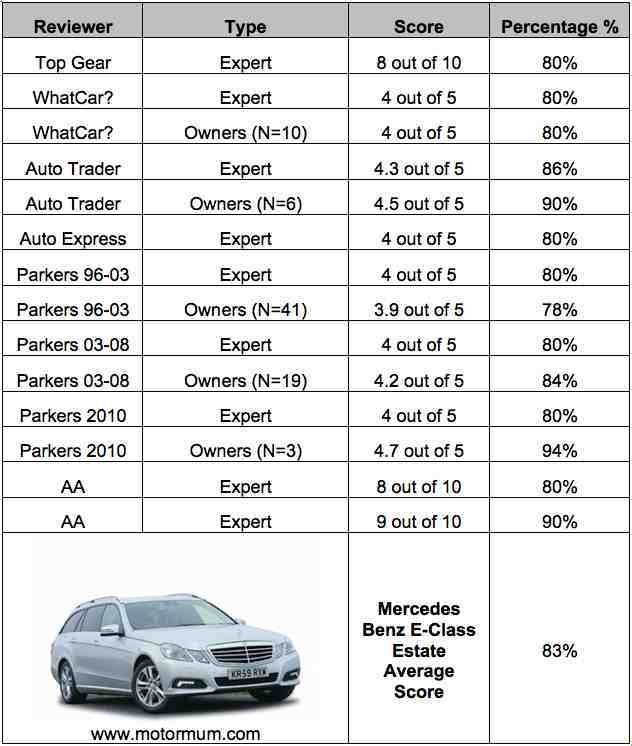 Top Gear - Expert
This recent review (2013) focuses on the face lifted version. Top Gear like the improvements and say this Estate (with two seats in the boot, making it a 7 Seater Car) will last forever. It is a quality drive with more boot space than an Audi A6 or A5. They call the initial purchase price irritating but say it's worth it. Top Gear also suggest that if you buy one of these you're not going to be that concerned about the higher running costs. At over £70,000 I tend to agree. The score given is 8 out of 10.
What Car - Expert
The experts at What Car gave top marks for space, practicality, safety and security. No stone has been left unturned apparently. Lower scores are given for refinement and apparently the interior feels a little plastic and disappointing. They also think the controls are fiddly. They gave a score 4 of out of 5.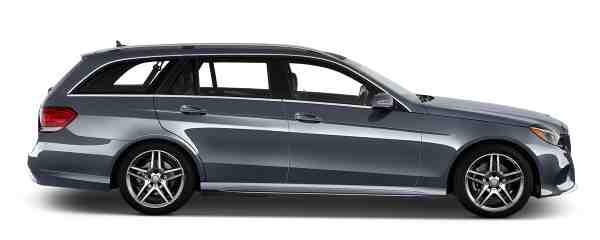 Mercedes Benz E Class Estate pictured above
What Car - Readers (N=10)
Ten people wrote about their Mercedes Benz E-Class and although What Car give the option of showing one of 30 models, there are only ten different models discussed. Running costs come out as a 3 out of 5, although one owner of the E220 CDI Blue Eff Sport 5 door gets 200 miles to the gallon. I'm sure that's a mistake. Oh hang on, when read in full they only get 47mpg on the motorway and 25mpg around town. That sounds more believable.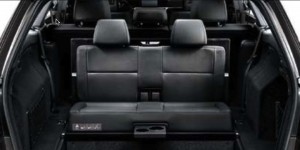 Mercedes Benz E Class Estate (rear seats facing backwards) pictured above
All but one review is positive. An owner of the CGI Blue Eff SE 5dr thought the car was very noisy. A repeated theme is the lower than expected fuel efficiency. Notwithstanding this people love this ever so large estate 7-seater. The ultimate score is 4 out of 5.
Auto Car - Expert (2010)
In March 2013 the experts at Auto Trader reviewed the most recent Mercedes E63 AMG Estate. They like its luggage capacity, performance and styling but aren't keen on the ongoing running costs. They also say the Audi RS6 Avant is a little faster. Lowest marks have gone to running costs but if your buying a £75,000 car you might not be that concerned about mid teen MPG figures. Safety features have been improved with the addition of a drowsiness detection system and a Pre-Safe mode. Score 4.3 out of 5.
Auto Car - Readers (N=6)
Six readers from Auto Car have left their review. The overall score is 4.5 out of 5. One owner absolutely loves it, despite not needing the extra space he likes the comfort. Oh and if your bored you can play with the massage setting. Another owner says it ticks all the boxes. Reviewer number three says it's a joy to drive but the MPG isn't as good as the manufacturer has stated and the gearshift isn't as smooth as he'd like.
Auto Express - Expert
Auto Express look at the 2009 model. They like its size, capacity and styling but aren't to enamored by its initial cost, the running costs and feel it doesn't really stand out as much. The overall score is 4 out of 5. Their vehicle of choice is the E63 AMG model. Compared to one of the readers from Auto Car, Auto Express say the seven speed twin clutch gearbox gives lighting quick gear change.
Parkers - Expert (96-03)
High marks across all criteria are given by Parkers, although only 2.5 out of 5 is given for economy. But if you're comparing it to a 1.6 diesel engine then it will only achieve 50% of the MPG. However they indicate the positives as low depreciation, longevity and integrity. I like the way they describe the E-Class estate being a car that whispers success rather than shouts it. This would be my kind of car – if I were successful! The overall score is 4 out of 5.
Parkers Owners 96-03 (N=41)
Quite a lot of owners have taken their time to write their comments on the E-Class estate. Not many mention it's 7 seat function. Four reviewers only gave 1 or 4 out of 5. This is low in comparison to the other scores, which are topping full marks. We know what's good about this estate, so lets summarize what isn't.
One person thought it was overpriced with horrendous fuel consumption and useless dealers. Another owner of the E320 V6 Elegance 5d Tip Auto (2000) thought it was a rust bucket. He bought it for ££7,500 because he always wanted a Mercedes and liked the 7-seat option. However he only sold it for £1,600 meaning that from new, in 9 years, it had depreciated by nearly 40K. Wow – that's quite a drop. It must be remembered that these negative reviews aren't felt across the board. There appears to be only handful of individuals who came across problems. The overall score from owners is 3.9 out of 5.
Parkers - Expert 03-08
In 2006 the experts at Parkers looked at the 03-08 variant of the Mercedes Benz E-Class . The green credentials criterion only scored 2 out of 5. That's not like the current 2010 version. However they liked its long distance cruising ability and luxury feel. They think other estates handle better. Despite this they still scored it a 4 out of 5.
Parkers - Owners 03-08 (N=19)
Nineteen owners have written how much they liked their E-Class but a small number of them, two in fact, only gave a 1 or a 2 out of 5. These are of course a lot more interesting than the positives. An owner of the E270 CDI Classic 5d (2004) thought it was a waste of money to buy, it was unreliable and expensive to repair. He seemed most displeased at the front trailing arms wearing out. He also recommends not using the main dealers for repairs. On a brighter note he loves the flippy up cubbyholes. The other negative reviewer spent £37,000 to buy one but experienced nearly everything not working properly. Quite a lot of money later (£22,000) it runs well. Sounds like a bargain! Not? Despite these comments the overall score is 4.2 out of 5.
Parkers - Expert 2010
The expert at Parkers say there should be far less problems with newer models. There's a strong focus on safety and company car owners will like some versions, as they are competitively priced. There is nothing but positive stuff from their write-up. The overall score is 4 out of 5.
Parkers - Owners 2010 (N=3)
Three owners wrote about the 2010 model. All owned a variant of the CDI Blue Efficiency version. They all loved it , especially the seven-seat option. One guys favorite gadget is the Distronic radar cruise control. What? The overall mark is 4.7 out of 5.
AA - E220 CDI E-Class 2007
In 2007 the AA wrote about the E220 CDI E-Class. They call it elegant in comparison to other executive cars and say it has more comfort. It is described as being safe. Standard models are relatively cheap (really) but if you opt for extras your costs will increase dramatically. This estate is large and practical with well laid out controls and displays. There are more air bags than you'll ever need and it will tick the box for all family and car driver requirements. Not bad for a 2007 model, not bad at all! This is why the AA scored it an 8 out of 10.
AA – E-Class E280 CDI 2006
A year earlier than above the AA reviewed the E280 CDI Avantgarde. They commend Mercedes ability to combine luxury with load capacity. It has some of the better diesel engines around and when used as an MPV offers the best driving experience. The overall score is 9 out of 10.
Conclusion
The Mercedes E-Class Estate is one of the biggest estates on the market whilst also being the most expensive. It ticks all the boxes for practicality, load capacity, comfort, safety and driving experience. As it should for what you'd pay to own one. Older models may have some technical problems, which may require some interactions with the customer service side of things. Fuel economy isn't great, but if you're spending this kind of money you're probably not looking to squeeze that many miles out of a gallon.
The overall percentage for the Mercedes Benz E-Class Estate with two rear facing third row seats is 83%.
.more...