Mercedes Benz E Class Estate
Rear Facing 3rd Row Seats
Whether you have a large family or regularly need to carry more than four other passengers, you'll need a seven seat car. Unfortunately, if you don't want to turn up in a pseudo-mini bus, then there aren't many options for you, apart from a Mercedes E Class Estate. Offering Mercedes' celebrated engineering and refinement as part of a reasonably priced package, the E-Class has been something of a game changer for the German automaker.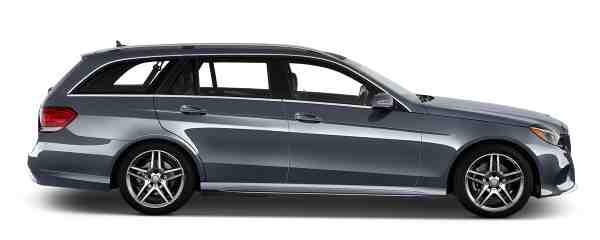 Mercedes Benz E Class Estate pictured above
Purchase Price
Prices for the E220 CDI BlueEfficiency start at £32,005 and go all the way up to a heady £76,710 for the E63 AMG model. Second Hand prices vary from £1,000 for really old models to £69,000 for hardly used AMG ones.
Running Costs
Fuel efficiency for the base model ranges from 43.5 to 64.2mpg with an average consumption of 54.3mpg. The E63 AMG model, whilst being extremely more powerful averages only 36.2mpg. The fuel tank changes size with the more money you spend, (59 litres to 80litres). For the base model C02 emissions are at their lowest of 136g/km when you have the 16 inch alloy wheels. C02 increases to 141g/km when opting for the 19inch wheels. As for the AMG, well the emissions are stated as 234g/km! Subsequently the Car Tax brackets range from E to K. The insurance group starts at 32 and goes up to 47 as stated by the manufacturers website.
BlueTec Diesel Engine lowers Carbon Footprint
Mercedes always seems to push the boundaries of what is required and the latest E350 BlueTEC diesel engine not only meets the EU-6 regulations for diesel cars. That regulation hasn't even been applied yet and isn't due until 2014! The BlueTEC technology squirts a spray of water down the exhaust pipe, which reduces nitrogen oxides and converts it into completely harmless water and nitrogen. It's a technology that completely revolutionises exhaust emissions and should really be applied to all new cars.
Boot Space for Cargo
If you're struggling with your trolley in the supermarket, the Easy-Pack function, allows you to open the boot lid from afar and it electronically removes the load compartment cover too. In the boot, there is 695-litres of space, with the rearmost seats in place which makes it the largest in its class, beating BMW's 5 Series and Audi's A6 Avant. What's more, there is an additional 112-litres under the boot floor. Fold all of the seats down and there is a van-like 1,950-litres of space.
Sixth and Seventh Seats
The Easy-Pack Quick fold seats can be folded away with just one finger and don't require any headrests to be moved or the seats in front to be slid forward. When its fully-loaded with seven people and their baggage, the self-leveling air suspension brings the car back to its normal height, which allows you to scoff at those other estates dragging their rear-end on the motorway on a bank holiday.
BlueEFFICIENCY
There are three diesels and two petrol engines to choose from, all of which have undergone 'BlueEFFICIENCY' measures that have stripped unnecessary weight, given enhanced energy efficiency and better aerodynamics to aid fuel economy.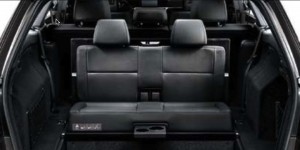 Mercedes Benz E Class Estate (rear seats facing backwards) pictured above
Safety Features
Yet more clever technology is available, with Attention Assist – for those sleepy drivers that forget they're behind the wheel – which detects drowsiness and beeps until you wake from your slumber. There are nine air bags, so if you are caught in an accident then you will feel like you've landed inside a balloon!
Performance
The most powerful car in the range is the 6.2 E63 AMG Estate, which does a very nifty 0-60 in just 4.4 seconds and a maximum speed of 155 miles per hour. The AMG is electronically limited, so even though it can go faster it won't let you. The more efficient E-Class manages 62mpg in 8.8 seconds and has a top speed of 137mpg. The turning circle in all the engines is around 11metres.
Weights and Capacities
All versions weigh just under 2000 kg and have a 695kg to 1950kg load capacity. The AMG does not have a stated towing capacity but the regular E220 CDI BlueEfficiency can tow 2100kg braked.
Conclusion
This estate has been around for almost 30 years now and its popularity hasn't waned at all in that time. With hundreds of gadgets and gizmos, Mercedes' reliability, great looks and acres of luggage space, it has stood the test of time well.
.more...