Mercedes G Class
Aggregated Revews
The Mercedes G-Class has been reviewed by eight experts. Its score is 44 out of 100. This is based on 8 reviews in total.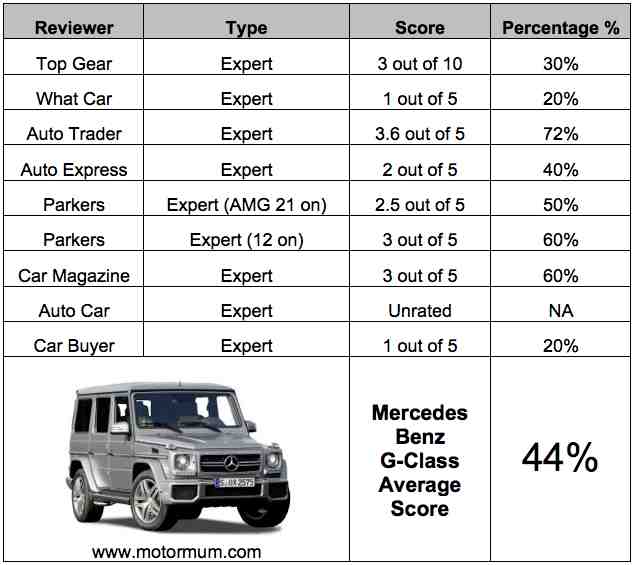 Top Gear - Expert
The Top Gear experts don't like the Mercedes G Class and only score 3 out of 10. That is one of the lowest scores I've seen. They say it's like a tractor, only be used off road. It's not for the city. The seven speed gearbox is slow to respond which is pretty unacceptable when you're spending up to £122K.
What Car - Expert
Even less liked by What Car the G-Class is expensive with through the roof running costs. But that's okay because it's awesome off road and you can pimp up the interior to your hearts desire. Whoop Whoop! The two engines consist of diesel and whopping 5.8 litre petrol. Who needs that much power?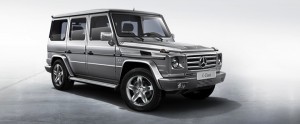 Mercedes G Class pictured above.
Top marks for power but very low, and I mean low marks for refinement, ride and handling. Your seated high off the ground but apparently the seat doesn't slide back far enough (so no god for long legged people). The overall rating is a meagre 1 out of 5.
Auto Trader - Expert
Auto Trader seem to love the boxy 4WD Mercedes Benz G-Class and say it's the car for rappers. Well I suppose they can afford it. One of the negatives is that footballers buy these. Surprisingly they give running costs a 3, which is incredibly generous considering this beast, does around 25MPG. The newer design has reduced visibility when reversing and the seats are fiddly to remove. Once they are gone there's 2250 litres of boot space to play with. Happy days! The overall score is 3.6 out of 5.
Auto Trader Unrated Review - G AMG Version 2012
Just to add confusion to the mix Auto Trader wrote about the AMG G-Class without scoring it. They call it a military looking vehicle that would be seen outside a footballer's house. There is an eco friendly model, the G350 Blue Tec, but seriously, is 20-30MPG considered Eco Friendly? Depends what your comparing it to I suppose. The Mercedes AMG G-Class is expensive and blingy. This is the type of car Katie Price would love. That's about it.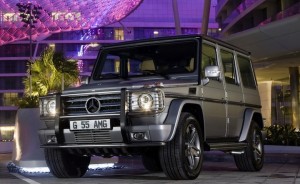 Mercedes G55 AMG pictured above.
Auto Express - Expert
Well according to the experts it's a rugged off roader. The luxurious interior doesn't sit well with them when they see the G-Class knee high in mud. They agree with others on the ridiculously expensive running costs. They say it'll be reliable and run thousands of miles. According to them it is slightly squashed when sitting inside and shouldn't be a consideration if using it as an MPV or SUV. The overall score is 2 out of 5.
Parkers – Expert - AMG (12 on)
The AMG version is the expensive variant. Parkers reviewed the 2012 model in February 2013. They call it absolutely bonkers. This is a good and a bad thing. The power is incredible and its retro design will appeal to some. The interior has everything you could wish for and for those that want to drive some crazy off road courses it will tick that box too. But it's not really a competitor against the Range Rover, BMW X5 or any other MPV SUV for that matter. Not much is mentioned of those two extra seats that made this an occasional 7-Seater. The overall score is 2.5 out of 5.
Parkers – Expert (12 on)
Parkers reviewed the regular G Class (12 on) in October 2012. It has a prestige badge, which probably justifies the price (really?) It is amazing off road and everything inside is luxurious. This review is similar to others and it repeats that the G-Class was first released in 1979. The overall score is 3 out of 5.
Car Magazine - Expert
The reviewers looked at the G63 AMG in March 2012. This new AMG has more power, but they indicate it really isn't necessary to add more as it has enough already. Power, torque and RPM are up! Performance is through the roof but handling has only scored a 2 out of 5. The overall score is 3 out of 5.
Auto Car - Expert
Auto Car write another review but decide not to rate it. The G-Class' closest rival is the Land Rover Defender. Their boxy shape makes them look similar but have different prestige badges to differentiate between the two. Lots of power costs lots of money. What else can I say? I like that they've called it an oil burner. Quite rightly so! There's even a TV tuner on the options list and the all-important ISOFIX Seats. They imply it's not good on road bumps, which for an off roader isn't good. Apparently the G-Class is the least comfortable SUV whilst the Range Rover is the most comfortable. There is no final score given by Auto Car.
Car Buyer - Expert
The greenest and cheapest is the G 350 Blue TEC 5dr. But as I've asked before is 20-30 miles per gallon economical? No! The bonkers version is the fastest top of the range G63 AMG five door. I can't afford one of these. With only a score of 1 out of 5 the compliments from Car Buyer site are few.
Although very uncomfortable on the road it is excellent off it. It feels solid and well made but the engine is noisy. They aren't keen on the way the door opens. Outwards instead of upwards, which could cause problems in small spaces. It isn't value for money and is not priced well.
Conclusion
The Mercedes G-Class either the regular or the AMG variant are both expensive and luxurious, well built and excellent off road. The running costs are through the roof but forget that because they come with inbuilt TV Tuners if you want. If you are crazy enough to buy one of these instead of a Range Rover then more fool you. This isn't really a family car and I wouldn't recommend you buy one if a Family Car is what you need.
The overall percentage scored by the Mercedes Benz G-Class is 44%. This is one of the lowest scores.
.more...