Mercedes G Class
Mercedes G-Class - 3rd Row Bench Seat
Inspired by military vehicle design, the Mercedes G-Class offers a solid vehicle that is tough and to the point. The 6th and 7th Seat is a bench seat in the third row of the G55 Model. The Mercedes Benz G class is part of a family of Mercedes Benz MPVs including the E-Class, GL, Viano, G55, and R-Class.
Renowned for its versatility and power for three decades, this vehicle represents the pinnacle of power by the German automaker. After all, this is a car that is used to drive the Pope around, albeit a heavily modified version with bullet-proof glass.
Purchase Price
The on the road price for one of these beauties is a whopping £82,945 for the G350 BlueTec and a mere £123,115 for the G63 AMG . This cost increases with the more gadgets you add. The G55 AMG model is the 7-seater in this family of vehicles, selling about one third of all G-Class vehicles worldwide. As opposed to the ever-increasing selection of crossovers, this is a real off-road vehicle, but it's equally at home on the motorway. The driving position is as high as it gets, offering superb visibility.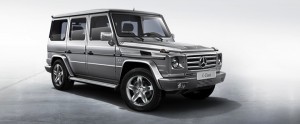 Mercedes G Class pictured above.
Miles Per Gallon
There are two engines available in the United Kingdom the G350 BlueTec diesel with an average of 25.2mpg (20.8 up to 28.8) and the G55 AMG Petrol version which averages 20.5 mpg, (16.4 to 23.9mpg).
C02 Emissions
The Co2 emissions are also from economical with the Blue Tec emitting 295 g/km and the G55AMG emitting 322 g/km of C02. This equates to the higher car tax bands.
Engine
It's in the power stakes where the G55 AMG really comes into its own. It offers a super-charged 5.5-litre V8 engine that Mercedes hand assembles courtesy of a single, hugely experienced engineer who provides a signature on the engine plate as a sign of quality.
Performance
Performance-wise, even Mercedes has rarely produced anything as powerful. The G55 AMG generates a whopping 507 break horsepower that pulls the vehicle along from 0 to 60 miles per hour in less than five-and-a-half seconds. This all adds up to some 700 Nm of torque, meaning hefty trailers can be handled with relative ease and off-roading in even the most difficult terrain.
Luxury Options
Inside, the level of luxury appears at first to be out of place on a vehicle that looks so rugged from the outside. It comes with the Mercedes COMAND multimedia system, which features a hard, drive-based navigation console including a traffic message channel, a six-disc CD and DVD changer as well as MP3 compatibility and four GB of storage space so you can save all your favourite songs. There are some other nifty options available, including a reversing camera that is integrated into the rear-view mirror. Passengers in the second row of seating also get an LCD multimedia display that can be set to play DVDs with the use of wireless headphones.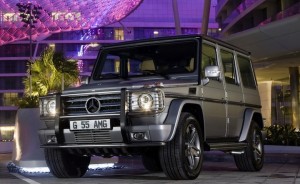 Mercedes G55 AMG pictured above.
Seat Set up
Other functions are practical and rarely thought of when it comes to competing vehicles. The driver is able to precisely configure the set-up of the seat; head restraints, exterior mirrors and steering wheel, saving three variations so you won't need to fiddle everything back into position when there's a change of driver.
Wear and Tear Reduced
Alloys come as standard, and there is an optional tyre pressure monitoring system, meaning you won't have to guess when more air is needed. This not only reduces the amount of work required to keep the G-Class at optimum performance, it also means everything is checked over to reduce wear and tear.
Conclusion
Overall then, the Mercedes G-Class is for drivers that are serious about motoring, both off and on road. In truth, the G55 AMG offers more in the way of performance than most drivers will ever need. It's a major investment, but one that will last the distance, and then some.
.more...